'Wordle' #237: Today's Word of the Day Answer and Clues to Help You Win 5-Letter Puzzle
The Wordle puzzle for Friday, February 11, has an odd combination of letters, making it rather difficult to guess unless you happen to get lucky with your starting word. To help you reveal as many yellow and green tiles as possible, Newsweek has prepared some useful clues.
Currently hosted on The New York Times website (after a seven-figure acquisition earlier this year), Wordle has experienced a level of success that nobody could have possibly anticipated. When the unassuming puzzle game launched in October 2021, it barely had 90 active players. Now, it's consistently attracting over a million visitors each day and things are showing no signs of slowing down. For a visual illustration of this growth, check out the graphic from Statista below.
Given how unexpectedly popular Wordle has become, there is obviously a lot of competition when it comes to solving its daily brainteasers. Everybody has their own starting words, unique strategies and different playstyles.
As such, you'll need to be smart if you want to keep up with the best Wordle wizards out there. To really impress on social media, you'll need a results grid that is dominated by green tiles and has only a couple of rows.
To help you get the best possible outcome for Wordle #237, Newsweek has put together the following guide.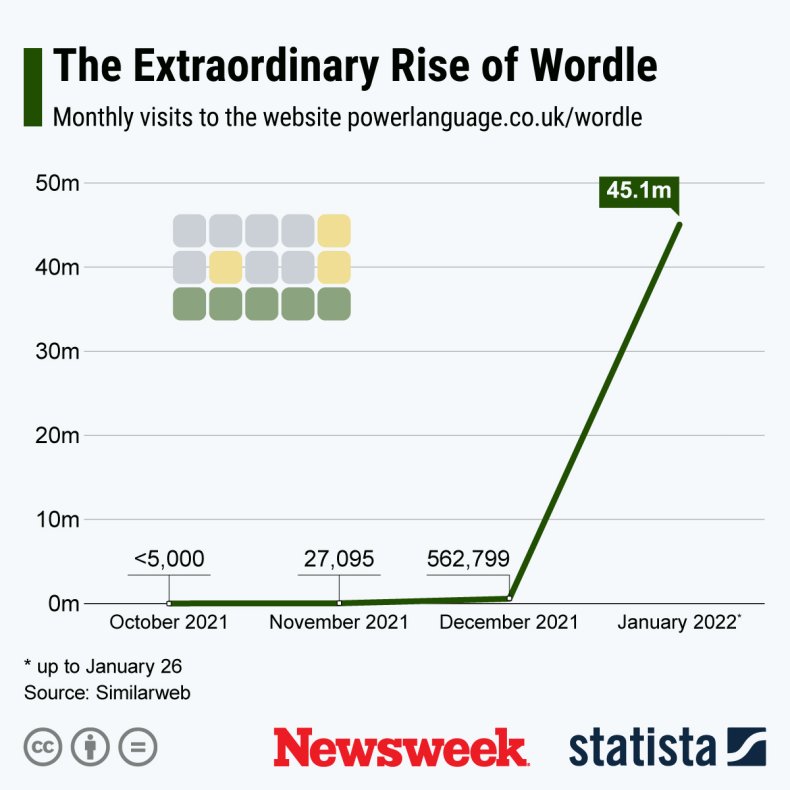 Wordle #237 Clues for February 11
For those who don't want a blatant spoiler, we have saved the final answer for Wordle #237 until the very end of this guide. Before we get to that, here are a few hints and tips.
Hint #1: Wordle #237 is a noun comprising two vowels and three consonants
Hint #2: A good starting word for figuring out what some of these letters are, and where they are placed, would be "udder"
Hint #3: Wordle #237 is a medical term for something that can be either serious or trivial, depending on where it is located
Hint #4: It is an anagram of "cruel"
Hint #5: Merriam-Webster defines the latest word of the day as "something that festers and corrupts like an open sore"
Wordle #237 Answer for February 11
The answer to Wordle #237 is "Ulcer." There aren't too many words in the English language that begin with "UL" (especially not short, five-letter ones), so identifying those characters significantly narrows things down.
Wordle #238 will be available at 7 p.m. ET, when the daily refresh occurs.