Today's 'Wordle' Word of the Day: #256 Answer and Hints for March 2, 2022
Wordle #256 is not as difficult as some recent puzzles, but it could flummox you if your starting word doesn't too reveal many green or yellow tiles. To help you whittle down the possibilities, Newsweek has prepared a short guide.
There are many viable strategies for solving the daily Wordle brainteaser. For instance, you might prioritize finding all the vowels in your initial guess, or you could focus on using up as much of the alphabet as possible (a tactic that is favored by the game's developer, Josh Wardle).
None of these approaches is inherently wrong, but their effectiveness depends on a number of factors. If the word of the day includes a lot of repeating characters (as it did on February 25) then Wardle's strategy isn't going to serve you very well. Similarly, some answers contain only a single vowel, which can make starting words such as "adieu" next to useless.
If you're having trouble with the puzzle on March 2, there is no shame in looking for a bit of help. Before we get to our hints and tips though, it is worth reflecting on Wordle's extraordinary journey. When the unassuming guessing game launched in October 2021, it had just 90 active players but is now attracting over 1 million users every day.
Wordle has become so successful that it has not only inspired a craze for similar puzzles, but has also been acquired by The New York Times Company for a low seven-figure sum. This astronomic growth is depicted in the below chart from Statista.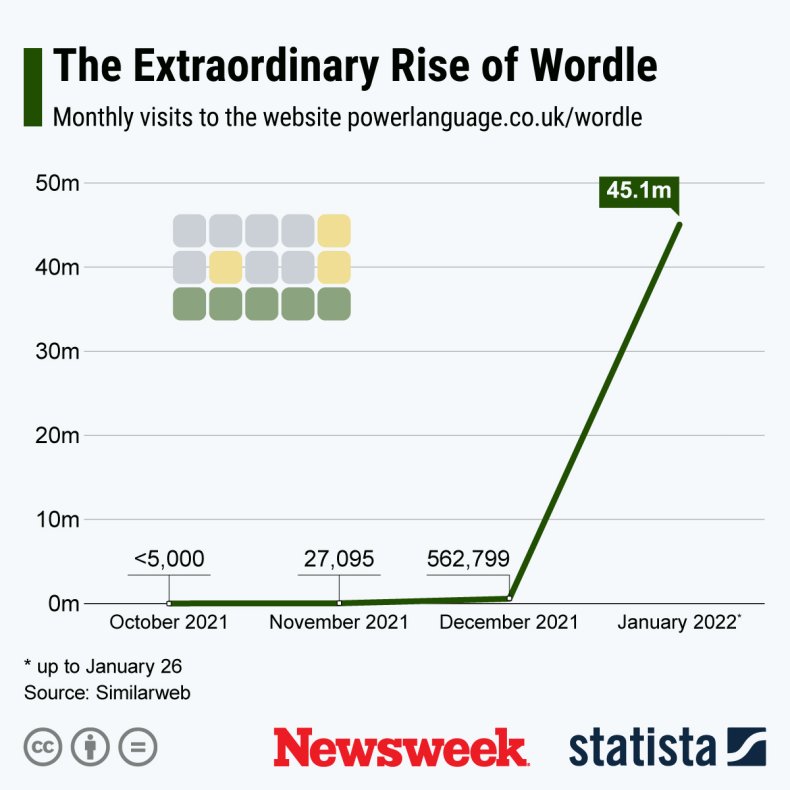 'Wordle' #256 Clues for March 2
The final answer to Wordle #256 will be published at the end of this article. However, if you just want a gentle nudge in the right direction, here are a few clues.
Hint #1: Wordle #256 has either one or two vowels in it (depending on whether you count the letter "Y").
Hint #2: A good starting word is "haste," which will reveal a total of three green tiles.
Hint #3: The word of the day is synonymous with "unpleasant," "horrible," "awful," "obscene," "disagreeable" and "vile."
Hint #4: The word for March 2 is also an anagram of "antsy."
Hint #5: Merriam-Webster defines Wordle #256 as "disgustingly filthy" or "physically repugnant."
'Wordle' #256 Answer for March 2
The answer to Wordle #256 is "nasty."
Wordle refreshes every 24 hours at 7 p.m. ET. While you wait for the new puzzle to become available, you might want to tide yourself over with the math-themed Nerdle or an alternative word game.