'Wordle' Answer May 4: Today's Word and #319 Puzzle Clues
Wordle can prove to be a difficult game to solve on some days, and when the daily brainteaser is too tough then a clue or two might be required.
For those in need of some assistance with the puzzle game look no further than Newsweek's helpful guide below.
The answer to today's Wordle will also be provided: simply scroll down to the bottom of the article to see what it is.
The Origins of Wordle
Wordle was created by software engineer Josh Wardle for his partner Palak Shah. He first started working on the game in 2013 before returning to the project during the COVID-19 pandemic.
After enjoying the game together, Wardle decided to make it available to the public in October 2021. It became an immediate global hit.
Wordle became so popular that Wardle's website drew in over 45 million users a day, and it also inspired other daily puzzles like the globe-trotting guessing game Worldle and the math-based Nerdle.
In January 2022, Wardle sold the game to The New York Times Company for an undisclosed seven-figure sum, and the puzzle moved over to the publication's platform in February.
The graph below, provided by Statista, shows Wordle's rise in popularity when Wardle originally owned the game.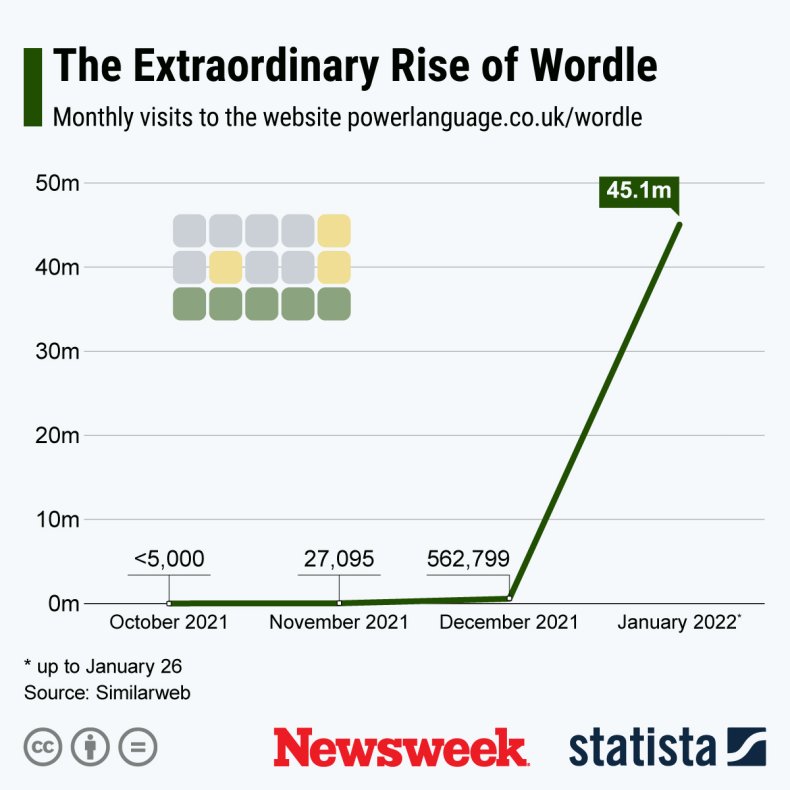 Wordle #319 5 Hints for Wednesday, May 4
Newsweek has put together five clues to help players come up with the correct outcome for Wordle #319 on their own.
Each hint is designed to be more revealing than the last, so fans of the game can either read them all or stop at the point they feel most confident in the answer.
Hint #1: Both the starting word "ouija" and "adieu" will reveal which vowels appear in the Wordle word on Wednesday, May 4.
Hint #2: May the 4th is also known as Star Wars day and so, to keep to this theme, today's Wordle can be used to describe what Luke Skywalker does when he visits Jedi Master Yoda in 1980 film The Empire Strikes Back.
Hint #3: Wordle #319 may also be used to describe a mode of transport that a person can use with a large group of people.
Hint #4: Today's word is also a reference to the part of a bride's wedding dress that is traditionally carried by page boys.
Hint #5: Merriam-Webster defines Wordle's word on May 4 as "a connected line of railroad cars with or without a locomotive" or the act of teaching "so as to make fit, qualified, or proficient."
Wordle #319 Answer for Wednesday, May 4
The answer to Wordle on Wednesday, May 4 is "train."
Wordle refreshes itself at 7 p.m. ET every day, and then the next word will be made available for players to try and solve.
Wordle fans who need something to keep themselves preoccupied while they wait until the daily brainteaser has updated can have a go at these similar word-based puzzles.