Company Forcing Staff to Work in an Empty Office to Boost 'Culture' Slammed
A post about a company requiring staff to work at the office to increase the "company culture" has gone viral on Reddit.
In a post that received over 16,300 upvotes at the time of this writing, Reddit user maximumkush wrote: "Corporation is mandating that we come to the office once a month to increase company 'culture'... here's pictures of the culture." The user shared an image of an empty office with rows of vacant cubicles.
According to a survey of 25,000 Americans conducted by McKinsey between March 15 and April 18 in collaboration with the market-research firm Ipsos, 58 percent (92 million people from a cross-section of jobs and types of employment) said they had the option to work from home at least one day a week. Thirty-five percent reported having the opportunity to work from home five days a week.
The report said: "After more than two years of observing remote work and predicting that flexible working would endure after the acute phases of the COVID-19 pandemic, we view these data as a confirmation that there has been a major shift in the working world and in society itself."
According to a Pew Research Center survey published in March, the country's "quit rate" hit a 20-year high in November 2021. Also, 45 percent of Americans said they quit their job in 2021 because of "a lack of flexibility to choose when they put in their hours."
The new viral post sparked criticism from users on Reddit.
User isekai-cheeese said: "its like they purposely want to make their employees miserable by making them come in so they can use their office that they paid for. i don't understand this bc work can be done in or out of the office, there's no need to be in the actual office. it's just an internal power flex. 'do as i say!'"
The original poster replied: "This company built 3 very large corporate buildings in 2019, so when Covid hit that was it, I understand their side to a degree, they started leasing out parts of the buildings to other companies that need office space, they literally just want us to come to work to say we are using the building and also NOT to classify as wfh [work from home] employees..."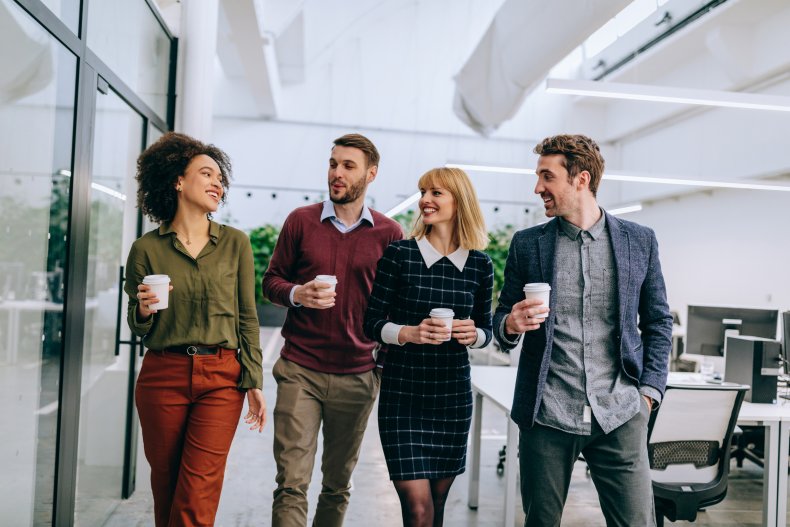 User sauroden said: "Only way in-office builds culture is through workers socializing instead of working, or being in meetings talking about the work they're not doing, both are things we do because we need to fill up in office hours because there isn't 8-9 hours worth of work to do. Cut the illusion, work 5 hours a day and go socialize with your actual family and friends."
The original poster agreed, saying: "US needs to adopt a 4 day work week that still pays 40 hours... all this company culture BS [bull****] we see straight through."
WanderingWizzard said: "Ah yes, office culture. No space of your own, [insert coworker here] at or near your desk endlessly talking about dumb s*** while you're just trying to get through the day...Ugh, god this is giving me flashbacks. At least you're just stuck there once a month."
WritingPretty was more diplomatic, writing: "Mostly agree but there is also a subset of people who get most of their socialization from work. I think the answer is to allow people to determine what's best for them instead of [mandating] anything."
The user added: "Fully agree about the wasted hours. Better for managers to set clear expectations for what you're expected to get done rather than mandate a set amount of hours."
User Demiansky likes an "open office collaboration setup," which is "when the office is at 1/5th capacity. Before Covid when the office was packed, it was awful. After Covid when everyone comes into the office once a week, it's great."