Worker Applauded for Resignation Email Over PTO: 'Wasn't a Request'
An anonymous Reddit poster said he quit his job via email because his employer "ignored" the time-off "demand" he made during the interview process.
The employee, u/rainbowbadger50, shared a screenshot of the email in Reddit's "Antiwork" forum on Monday, writing: "Just quit my job effective today by email." The post has garnered over 13,000 upvotes and hundreds of comments applauding the employee's "firm but professional" resignation email. You can view the full post here.
Discussing Vacation During Interviews
Employment website Monster says it's not only reasonable but necessary to tell a hiring manager about vacation plans during the interview process. However, the site says to not broach the subject before the second interview, when "potential start dates may ease their way into the conversation."
Monster reminds applicants to not ask a hiring manager for their "permission" to move forward with the preplanned vacation.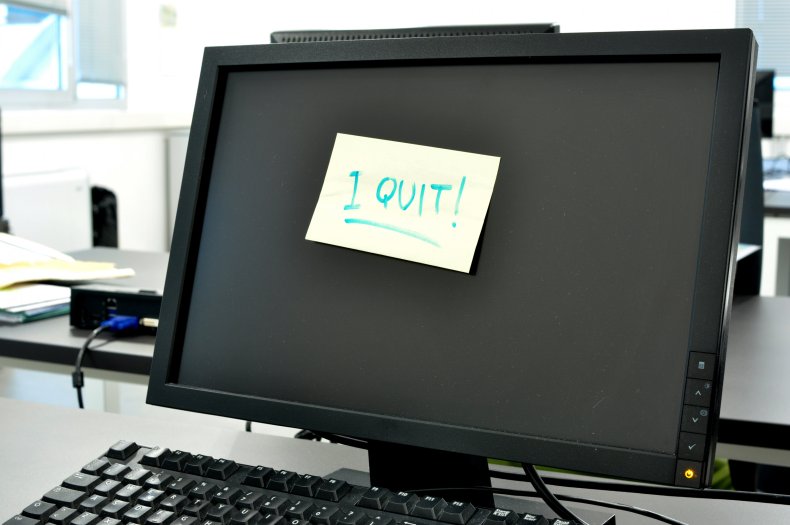 "You're simply telling them as an FYI," Monster says.
Indeed tells applicants that the "request" should be brief—no more than one or two sentences—and should contain the exact dates of the vacation.
"Be specific about the day of the week you would leave for the trip and the day you would return," Indeed advises.
'Antiwork'
In his post, u/rainbowbadger50 said he let his employer know about an overseas trip he had planned while interviewing for the company. Five days before he was supposed to embark on his vacation, however, u/rainbowbadger50's employer decided to not approve the PTO request. Rather than cancel his plans, u/rainbowbadger50 said he secured a new job and submitted his resignation.
"It would have taken me a month of work to [recoup] the money I spent on this trip, but [it] only took 30 minutes to find new employment [that] pays $8.50 more an hour—so the decision to resign, effective immediately, was a no-brainer," u/rainbowbadger50 wrote in his email.
"I appreciate the opportunity; however, I resent the fact that management [didn't inform] me that my 'time-off request' (it wasn't a request, it was a demand...) wouldn't be approved until almost an entire month [into] my employment," the email continued. "This was completely unprofessional and [shows] how dispensable this company/management sees its employees."
Redditors React
Commenters loved the email, and many sent u/rainbowbadger50 their congratulations.
"THANK YOU! There is no such thing as a time-off 'request' when dealing with PTO. You use it and management deals. Good for you finding something better!" u/TaikoInitiative exclaimed.
"Very well written," u/BEAT-THE-RICH said of the email. "Firm but professional."
"This is how it's done! Congratulations," u/WalloonNerd wrote.
Commenter u/krj468 added: "This is truly a work of art. Well-played [and] congrats on the new gig!"
Redditor u/rainbowbadger50 told Newsweek that sending the email was a "cathartic" experience.
"It honestly felt very cathartic to finally stand up to an employer that clearly didn't see me as a human being and didn't treat me fairly," he said. "If I inspired even one person to do the same and stand up for themselves, this would all have been worthwhile."
More Viral Posts
Posting to Reddit on Monday, a worker said he was fired for refusing to work on Sundays.
Hundreds of commenters from older generations took to Reddit on Friday to praise millennial workers for their "entitled ways."
And earlier this month, Redditors urged an employee to contact a lawyer because their boss refused to let them leave work to receive medical attention after his dog bit them.
If you have a similar dilemma, let us know via life@newsweek.com. We can ask experts for advice, and your story could be featured on Newsweek.
Updated 09/22/2022, 3:52 p.m. ET: This story has been updated with comments from Redditor u/rainbowbadger50.