Worker Shares Horrifyingly Sneaky Spots She Found Hidden Cameras in Office
An office employee claimed in a now-viral series of videos that she found hidden cameras at work—one underneath her desk, one in her office and one in an employee bathroom.
Posting to TikTok under the username VLeeG (@texicana208), the employee said the alleged perpetrator, a maintenance worker, was ultimately fired and issued a criminal trespass warning. The posts have amassed a combined total of over 3 million views and thousands of comments from viewers who applauded VLeeG for taking action.
Camera One
According to VLeeG's first video, the first camera she found was the one located underneath her desk.
"I noticed this was plugged in," she said, pointing to a white brick with a cable attached. "I followed it and there's a camera back there."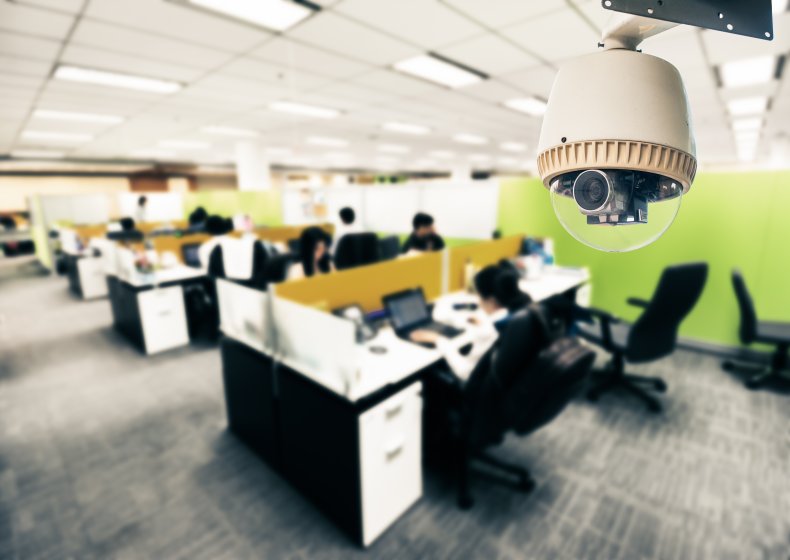 Camera Two
Concerned, she did a sweep of the office to see if she could find other hidden cameras and, lo and behold, she said she found one in an employee bathroom. The camera was disguised as a coat hook; however, when she detached the "hook" from the door and turned it over, she found a USB port.
"Oh my god," VLeeG said in a separate video as she showed viewers the "hook."
To confirm that the coat hook was, in fact, a camera, she searched "clothes hook hidden camera" on Amazon, and found the very camera she took from the bathroom.
Of course, she wanted to catch the person responsible for setting up these devices, so VLeeG unplugged the camera hidden under her desk, hoping that "whoever it belonged to would come back and see why it wasn't working," she said. Then, her husband placed a baby monitor on her desk.
After they left the office, they went home and "waited." Sure enough, the baby monitor caught a man coming to her desk and fiddling with something underneath.
Camera Three
And when she arrived at work that following morning, she found a third camera disguised as a charging brick plugged into an outlet in her office.
Commenters begged her to call the police and contact human resources (HR).
"We are absolutely working with PD and I am HR, we moved swiftly and corporate was very supportive, something I'm very grateful for," she said in a comment.
In another post, she added that the worker was fired from his job and given a trespass warning.
"It is done for now," she wrote. "In the hands of the law now."
Newsweek has reached out to VLeeG for comment.
Are Hidden Cameras Common?
According to Keith Roberts, a technician for Advanced Sweeping, hidden cameras have become "much more prevalent."
There used to be a select market, and you had to know someone to get hold of one," he told The Independent. "They're much easier to purchase now—anyone can buy them off the shelf from Amazon or eBay."
To spot hidden cameras in hotel rooms or any other areas of concern, cybersecurity educator Marcus Hutchins recommends shining a "bright light" on any suspicious devices.
"One way to see if the device is a camera is to shine [a] bright light at it. If you hit a camera lens it's going to give a blue-ish reflection," he said.
Hutchins also advised people to look for electronics "placed in areas that might be ideally positioned for spying."
TikTokers Show Support
TikTokers thanked VLeeG for sharing her story and applauded her for taking action.
"I'm so so sorry this is happening to you...thank you for sharing your story and helping others be aware," Cat said. "You're amazing."
"I am so sorry that you and your coworkers were violated by such a disgusting and messed up person. Good for you for getting the evidence needed," Bunny wrote.
"I am sorry this happened to you! But good for you for catching the creep!" Karina Swann Daniel exclaimed.
"Sorry you went through that but happy you were smart enough and noticed and took action," topshelfnochaser added.
A self-described ex-hacker and cybersecurity educator created a viral TikTok video showing users how to spot hidden cameras inside Airbnbs. You can watch his video here.
In March, a vacation rental host in Texas was accused of hiding a camera in the home's bedroom and taking over 2,000 explicit images of guests.
And back in 2018, a Starbucks customer reportedly found a hidden camera taped inside a bathroom stall.