'Writing on the Wall': Worker Shares 4 'Warning Signs' Layoffs Are Near
A woman has said that thanks to several "warning signs," she predicted her company would conduct "rounds of layoffs" months before they were announced.
The woman, Eve (@adminandeve), shared these "signs" in a now-viral TikTok video, writing: "How to see the signs of layoffs before it gets to that point!" The post has garnered over 100,000 views and prompted dozens of commenters to share their own advice.
Nationwide Layoffs
Economist Peter Schiff previously predicted that America is headed for "massive layoffs" as a "second consecutive quarter of gross domestic product (GDP) decline pushed the U.S. into recession," Newsweek reported.
Speaking to Newsweek, Schiff said: "It's pretty obvious that the economy is in a recession and the recession is going to get worse, [which means] a lot of companies that were kind of holding on to their workers because they had a more optimistic view of the future are going to have a more realistic view, and I think there are going to be layoffs."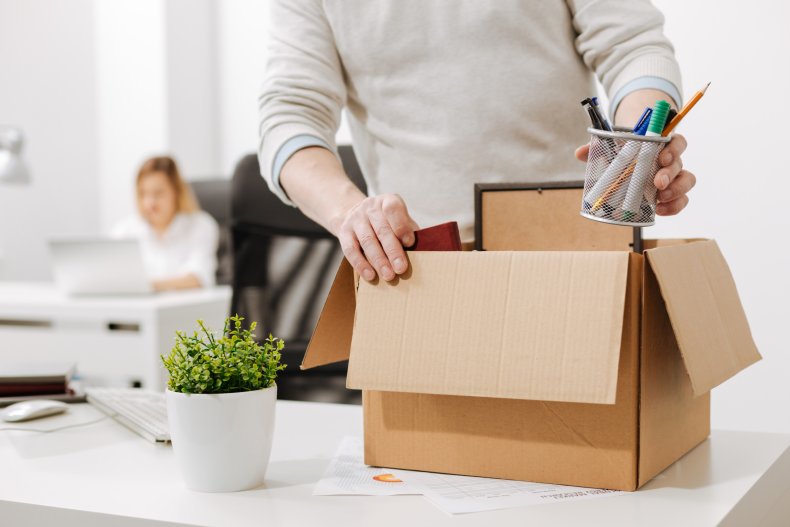 Spotting Layoffs
To prepare for potential layoffs, Eve compiled a list of four "warning signs" she said will help viewers "see the writing on the wall." Here's what she had to say:
'Funny' Behavior From Leadership
In her video, Eve said "funny" behavior from senior leadership could indicate that layoffs are around the corner.
"Executive and senior leadership, even your managers, will start acting a little bit funny," she said. "Maybe they'll stop engaging with the team in ways that they usually would or maybe they'll start focusing on random things...like, they'll ask specific questions about budgets."
And asking about budgets, she added, signals there may be "budget issues."
Scrapped Projects
Speaking of "budget issues," Eve said scrapping "big dollar projects" like renovations or "office moves" is another telltale sign that layoffs are near.
"[They're doing this] to conserve money," she said.
Hiring Freezes
Before starting layoffs, Eve said her company "did a hiring freeze" in which they "froze every single open role except for executive leadership."
Many experts agree that hiring freezes are a common warning sign that company-wide layoffs are on the horizon. However, Jie Feng, an assistant professor at Rutgers University's School of Management and Labor Relations, told HuffPost that a company may institute a hiring freeze in an attempt to "stave off" layoffs.
"Layoffs are costly and oftentimes risky. There are legal issues to navigate, and the company may have to pay severance packages and take steps to reassure shareholders and boost morale among the remaining workforce," Feng said.
"As a result, many firms choose to implement alternative practices before resorting to layoffs. These alternatives could include a freeze on hiring, promotions, and pay raises; a reduction in workload; and voluntary turnover incentives such as [an] early retirement plan," Feng continued.
If these alternative plans are "ineffective," however, then layoffs will likely follow, Feng said.
Odd Feedback
Finally, Eve said employees facing layoffs may start receiving feedback that is "different than all the feedback [they've] ever received."
"This might be to build a case to put you on the chopping block," she concluded.
U.S. News agreed that a "bad review" coupled with various other "ominous signs" such as lack of communication from a manager or "whispers of layoffs" should motivate an employee to become "fast friends with a headhunter."
Viewers React
Many of Eve's viewers were appreciative of the advice and some even shared their own.
"Big sign: they start running out of soap in the bathrooms...Been through two and the soap is a red flag," Cute_Kawaii_Octopi said.
"The biggest warning sign for me in retrospect was them asking us to make sure we had all our passwords/subscriptions in a master list," Ziggy Starpug wrote.
KK_BK added: "Accountants leaving is a good clue, too."
Speaking to Newsweek, Eve said that, before jumping ship, employees may want to speak to their managers if they begin to notice any of these warning signs.
"They might not tell you what they know, but their reactions might tell you everything you need to know!" she said.
More Viral Moments
Online commenters slammed a career coach last week after he advised teens to knock on strangers' doors for jobs.
And last month, a video of a remote employee receiving a chat request from her boss while she was out shopping went viral with over 3 million views.
Update 8/12/2022, 4:24 p.m. EST: This article has been updated to include a comment from Eve.