Workers Allegedly Threatened With Jail if They Don't Work Overtime
Scaffolders at a Canadian oil mine could allegedly be jailed for refusing to work overtime, according to a company memo circulating online.
The letter from AlumaSafway, a scaffolding rental service in Alberta, Canada, informed workers of a court order to "Cease and Desist Coordinated Overtime Refusals." An image of the document was shared to Reddit's "Antiwork" forum on Sunday by anonymous user u/Revolutionary-Job361, who said their father was a scaffolder for the company.
"Forced overtime or jail threat," said the title of the post with 16,500 votes.
Scaffolding is a dangerous job that leads to accidents every year, some of them fatal. In the United States, scaffold-related accidents result in about 60 deaths and 4,500 injuries annually, according to the United States Bureau of Labor Statistics (BLS). The most common injuries are serious, including traumatic brain injuries, spinal cord injuries, amputations, broken bones and lacerations.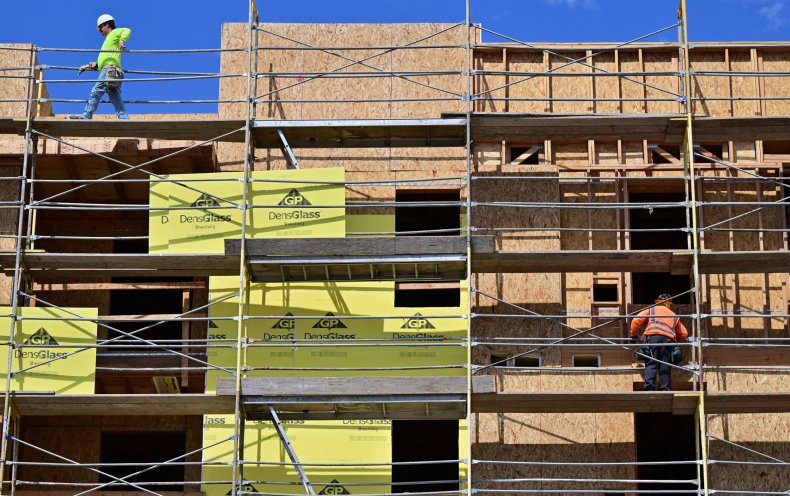 The Redditor said their dad allegedly worked at Suncor Base Plant, a large oil mine in Alberta. Due to difficulty attracting labor, the company allegedly offered an extra $150 per day to its workers—but the scaffolders were excluded from this incentive.
"It has been 90 [degrees] every day for the past couple of weeks and these guys are out there working hard with everyone else and not getting the same bonus," the user said. "So they started only working the hours required under the contract. 40 hours a week."
That did not go over well with AlumaSafway management, as the viral memo revealed.
The letter—dated August 25—said, "For the last three days scaffolders have refused to work overtime beyond their 10 hour shifts at the Suncor Base Plant site and have refused to accept overtime shifts for the weekend (Fri-Sun on both day and night shifts)."
The company and union representatives appeared in front of the Alberta Labour Relations Board (ALB) that day, said the memo. The Board had ruled that the scaffolders' coordinated refusal to work "voluntary" overtime constituted an "unlawful strike" violating the Labour Relations Code.
A copy of the ALB's "Finding and Directives" posted online confirmed that the Board ordered workers to cease and desist, noting that its directive would be enforceable as an Order of the Court.
AlumaSafway's memo starkly detailed the potential consequences of defying this order.
Scaffolders who continued to refuse overtime work could face termination, a hiring ban, legal action seeking damages and contempt of court proceedings, resulting in "the possibility of fines and even potentially jail."
"We also expect that the Owners will be very upset with striking employees," added the memo. "It is possible that the Owner would consider a site ban for those involved."
The Reddit audience was stunned by the ALB's ruling on Monday, flooding the post with outraged comments.
"The thing that gets me is the refusal to work 'voluntary' overtime," said one comment. "So how is not accepting voluntary OT considered a strike, doesn't seem very voluntary to me."
"Refusing overtime is an illegal strike?? What in the hell kind of labor board we got anyway? That's absolutely ridiculous. I'm shocked," said another user.
The "Antiwork" forum is home to a steady stream of disgruntled workers who anonymously circulate messages from their bosses for the internet's review.
In July, an employee posted an email from a restaurant owner in Milwaukee, Wisconsin, who allegedly threatened to "dangle" his workers "from a tall building" after kitchen staff walked off the job.
Another email allegedly sent from a Texas-based chicken wing chain directed employees to manipulate job reviews on Glassdoor and Indeed, according to an "Antiwork" post in May.
And in April, a viral image showed a flyer threatening gym employees with retaliation for discussing their wages in Frankfort, Kentucky.
Newsweek reached out to u/Revolutionary-Job361 and AlumaSafway for comment.