During the more than two years that the COVID-19 pandemic blanketed the U.S. economic landscape, millions of workers were able to work in remote or hybrid arrangements. But now, as the COVID pall has lifted, some Fortune 100 companies — including Disney, Apple, and Tesla — are expecting their employees to work more days in the office after the Labor Day holiday weekend concludes.
This move is creating controversy in corporate boardrooms, with company executives debating the actual value and effect of the remote and hybrid models that have become the norm.
In the coming weeks and months, employers and their employees will have to make decisions that will have significant implications on the future of work, said Roger Martin, business analyst and former dean of the Rotman School of Management at the University of Toronto.
"You had this great, natural experiment, where everybody had to work from home," Martin told Newsweek. "Now a bunch of people who would have never chosen to work remotely not only got used to it, but even started to like it."
He sees this as the greatest shift in the American workforce since the U.S. entered the Second World War.
"My strongly held view is that things are never going back to exactly how they were," Martin said. "Firms are making a horrible mistake to force people back to work — they're just begging for trouble."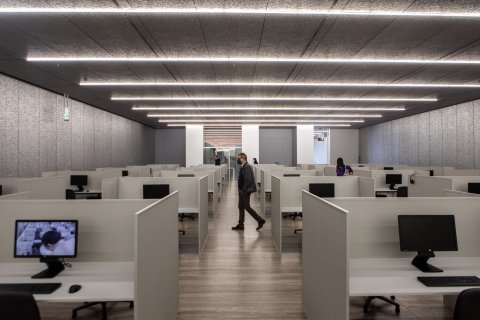 According to McKinsey & Company's American Opportunity Survey, some 92 million Americans, the equivalent of 58% of the workforce, had the opportunity to work from home at least once a week in 2022, while some 35% had the option to work from home five days a week.
This represents a nearly sixfold increase from 2019, when just 6% of workers reported working primarily from home, according to the U.S. Census American Community Survey.
Ryan Luby, a senior expert and associate partner at McKinsey, noted that there has been a massive shift not only in the flexibility of work, but in changing expectations about the role work should play in life.
"There's a growing recognition that we as employees think about a much broader set of things that we want at work, not just wages and hours, but flexibility," he said, "in terms of when we work, where we work, and how we work."
Hybrid and remote workers report greater geographic flexibility, more room to set their schedules, and a better work/life balance. They also celebrate eliminating commuting costs and other work-related expenses, like clothing and daily lunches.
The Opportunity Survey revealed that a whopping 87% of workers have embraced the opportunity when allowed to work at least one day outside of the office.
The remote option has empowered employees while enabling businesses to lower costs, recruit more diverse talent, and leverage existing technologies more effectively.
Remote and hybrid work has benefitted companies by allowing them to keep employees happy, improve productivity, support diversity and save space, said Nicholas Bloom, professor of economics at Stanford University and co-founder of WFH Research.
Among those who have adopted a fully remote work model, 73% of CEOs say it is part of their long-term strategy and is working well, according to Chief Executive's monthly CEO Confidence Index.
Some 20% of CEOs in fully remote and hybrid models reported a significant increase in productivity, and 60% reported decreases in costs in each model, compared to just 2% of CEOs with a fully back-in-office work model.
Despite these mutual benefits, however, the remote option isn't without drawbacks.
Both remote and hybrid workers were more likely than in-person workers to report obstacles to effective work performance, according to the American Opportunity Survey. These commonly include an inability to share their full self at work, limited access to reliable high-speed internet, a hostile working environment, and physical health issues.
Remote employees were also more likely to report mental health issues, with nearly 55% of fully remote employees between 18 and 34 saying mental-health issues impacted their ability to perform effectively — while only 17% of people aged 55 to 64 said the same.
While employees appreciate the flexible hours and locations that remote work provides, burnout, miscommunication, and unclear expectations are often cited as challenges that reduce the quality of their experience.
But among new job seekers, the importance of flexible work still takes a back seat to higher pay or better career opportunities, according to the survey.
"Flexibility is about more than just how many days you are in the office and what time you clock in," Luby said. "It's important also to consider other factors, like culture and how people feel."
Employers would benefit from being more mindful of these various factors, Martin said. He added that winning managers in this new environment will succeed by focusing on communication, collaboration, and maximizing the shared time of team members.
"Whether you are a CEO, V.P., senior V.P. or director, if you've got a team reporting to you, you have to figure out ways that would cause people to want to be in the office working together," he said. "But it's a brand new skill set that many company leaders do not have."
In addition to this managerial skills gap, many companies lack the technical know-how to support full integration into remote work.
"A lot of companies haven't learned how to work remotely," said Jason Fried, founder of Basecamp and bestselling author of Remote: Office Not Required. "What they're doing instead is trying to simulate in-person work, but remotely — and any simulation is worse than the original."
Now, as Labor Day approaches, companies stand at an inflection point.
"There's significant employee backlash from companies trying to pull people back to the office," Fried said, "with grassroots fights to stay remote."
After receiving a top-down directive to return to the office last week, Apple Together, which identifies as a global solidarity union of workers across Apple Inc., has since filed a petition protesting against the company's decision.
"We believe that Apple should encourage, not prohibit, flexible work to build a more diverse and successful company where we can feel comfortable to 'think different' together," read the petition, which currently has 949 signatures.
"This kind of power for workers pressures companies in an interesting way," Fried said. "There's no way that the Apple workforce, before the pandemic, would petition to work remotely and have been granted even one day of flexibility."
"But now we have evidence that working this way is certainly possible," he added, "and in many cases, people prefer it."
Bloom is optimistic that more companies will adopt remote working styles in the future.
"The long-run trend of WFH [Work From Home] is upwards, as it has been over the last 50 years," he wrote in comments sent to Newsweek. "Longer-run WFH will grow as the technology supporting this continues to improve, with innovations around virtual reality, holograms, video and sound, and cloud."
Martin suggested that companies set their policies regarding return to the office based on the characteristics of their workforce.
"If I were a manager, for all the people who work for me," he said, "I'd try and find out what segment they are in, what they need and what they care about, to figure out a policy that works."
He noted that such a change is a process that takes place over time.
"But when a huge change like this happens," Martin said, "there's always going to be a bunch of reshuffling in the aftermath."
And those changes will eventually result in a workforce that is noticeably different than the one that inhabited the office before the remote and hybrid models became available.
"There will be companies that cannot tolerate some aspects of remote work, so they stop hiring people with those desires," he said. "Slowly the people who want to work remotely are simply going to exit because they're getting forced too much and find another opportunity — and that, to me, is okay."