The revival of American manufacturing just got a major boost. Tech hardware giant Intel recently made a shock announcement that the company would be investing $20 billion in Ohio to build the world's largest chip production site. The facility will be located on the outskirts of Columbus and is projected to create 3,000 manufacturing jobs and 10,000 indirect jobs and will boost U.S. competitiveness with China in the development of an essential part of the chips required for building cars and a plethora of other essential goods.
This is excellent news for members of the working class in a state ravaged by outsourcing and globalization. And it was made possible by incentives in Ohio's budget bill. Ohio changed state law to include more potential tax breaks in an attempt to lure Intel; Governor DeWine lobbied Republican lawmakers for a "megaprojects" tax credit, which would grant companies that invest at least $1 billion in the state 30 years of job creation tax credits instead of 15.
This is a good thing. The creation of good working-class jobs should be a priority for both parties. Policies oriented around manufacturing job creation such as this should provide a blueprint to Democrats and Republicans looking to gain support from working class voters, especially in vital swing states like Ohio, moving forward.
Both parties have been eager to take credit for the bipartisan infrastructure bill signed by President Biden back in November to show their seriousness in supporting workers. But much more must be done to rebuild the great American middle, and it remains to be seen which party will take the lead bringing forward the bold proposals required to do so.
In the upcoming elections, some Democrats are hoping that taking a more populist, pro-worker stance on issues like manufacturing can help them win back areas in the rust belt that abandoned the party for President Trump in 2016 and again in 2020. Senate candidates such as Rep. Tim Ryan in Ohio and Lucas Kunce in Missouri have launched unapologetically populist campaigns targeted at workers they believe should be the base of the Democratic Party—as they used to be.
Meanwhile, mainline progressives led by Bernie Sanders in the Senate and Pramila Jayapal in the House have proposed measures to vastly expand the social safety net that were blocked by a coalition of Democrats and Republicans in the Senate. President Biden himself is hoping that his war against monopolies as part of his fight against inflation to resonate with small business owners and workers on the losing end of market consolidation.
But many Democrats have continued to support cultural rhetoric and economic policy that lack support from the vast majority of Americans, including independent voters and working-class voters. As was shown in the recent Virginia elections, teaching critical race theory to masked schoolchildren is wildly unpopular. And the American people have continued to give the GOP a large upper hand in their preference for handling the economy as inflation hurts people's wallets and gas prices soar.
Republicans appear to have a wave year coming in the 2022 midterms—in part due to increased support from the working class voters of all races who drifted right in the 2020 cycle. In particular, conservative populists like J.D.Vance in Ohio and Sen. Josh Hawley in Missouri envision a future where the multi racial working class becomes the base of a Republican Party devoted to reshoring American industrial capacity and promoting the growth of American families.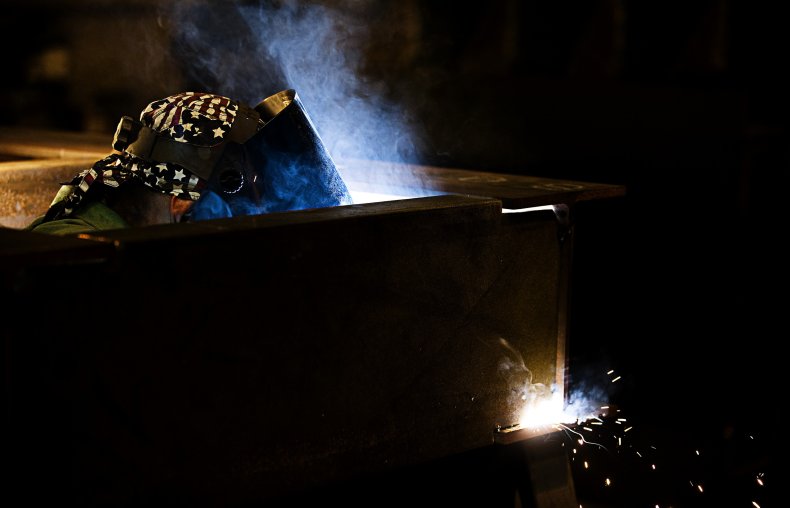 The GOP being a working class party was once a far-fetched claim. But it's become more plausible as party coalitions and the values of big business have shifted. In some ways, the populist GOP's vision is similar to that of Bernie Sanders, who ran multiple presidential campaigns centered around the idea of building such a coalition, but has since built a base of progressives in deep blue seats with a young, urban professional class base.
Although a large portion of the shift in working class and professional class voting patterns across America can be attributed to cultural attitudes, it's also been shown that Democratic support for NAFTA and other free trade agreements that gutted the rust belt industrial base have played a key role in the party's erosion of working class support. At the same time, plans to bring down student debt and aggressively combat climate change have shored up the young professional class' allegiance to Democrats.
If either party is serious about becoming working class centric, they must make it clear that Intel's announcement should become the new normal for companies looking to gain access to the American marketplace. Domestic production combined with high quality union jobs should become a requirement for businesses seeking to profit from the world's largest economy—ensuring companies meet the bottom line in a way that improves the material conditions of American workers and the strength of America as a nation.
The status quo posits that multinational corporations deserve unfettered access to all markets across the world, with the exception of China. In order to maximize profits, companies have shipped American jobs off to China and acquiesced with every demand imposed on them by the authoritarian CCP, who have their hands all over China's marketplace. So far, lawmakers have provided an inadequate response to this unbalanced relationship due to expensive corporate lobbying campaigns in support of China, bipartisan ideological commitments to a globalized economy, and a lack of political will on both sides of the aisle.
Current economic instability and worker activism has changed the landscape of America's economic future, as Intel's new project in Ohio demonstrates. Now it's up to political leaders to ensure that Intel's encouraging decision in tandem with the Ohio state government becomes regular for American companies. Whichever party gets there first will earn the allegiance of the working class.
James Lynch is a producer at Breaking Points.
The views in this article are the writer's own.