Workout Like the Rock With His Monster 'Jumanji' Routine
Last week, Jumanji, Welcome To The Jungle hit movie theaters across America, and although the film was full of laughs and nostalgia, the star of the movie was arguably Dwayne 'The Rock' Johnson, or at least his biceps. Lucky for us, Johnson has shared just how he got this impressive figure for the film.
Johnson posted his entire Jumanji workout on Under Armour's Record website, and it's...a lot. Johnson split up his Jumanji workout by muscle groups, focusing on back, chest, legs, shoulders, arms, a two-day rest and then repeat. The routines involve a lot of isolation work in order to hit individual muscles from multiple angles in an effort to bulk. Although Johnson did not list the exact weights he uses in his routines, he does list the types of workouts he does and the number of repetitions and sets.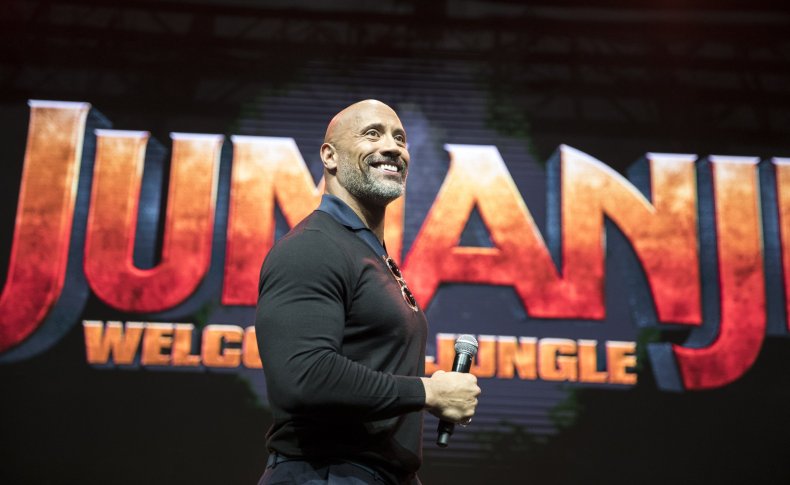 For example, while working on his back, Johnson uses a hammer machine, grip cables, arm dumbbells, and simple back extensions. However, to get his enviable arms, Johnson relies on different types of bicep curls: low cable curls, machine preacher curls, front double bicep curls, machine preacher curls, and front double bicep curls.
For example, his arm day, which is day five of his workout regime, starts with 2 sets of cable curls and ends with 3 sets of rope pushdowns to leaning overhead extension.
However, it's not just exercise. Johnson's fitness plan also includes an intense diet, but luckily he's also provided the public with a glimpse of what The Rock is cooking. Johnson once claimed to eat a whopping 5,000 calories a day. He apparently offsets this intense calorie intake with at least an hour of cardio and an hour and a half of weight everyday, six days a week, FiveThirtyEight reported. According to Muscle&Fitness, much of this calorie intake is fish and chicken, with the odd steak. This diet varies slightly depending on what he's working on at the moment, but helps to give an overall review of just how extreme this lifestyle is.
One Shape writer decided to try out the Jumanji workout regime, at least for three weeks, and discovered just how difficult this is to maintain. Although Lauren Mazzo was able to stick to the regime and not miss a single workout, she did have to get up incredibly early (the crack of dawn, as she writes) and go to the weight room as late as 9pm, and even had to split up the workout into two-a-day in order to get it completely done.
So here you have it, The Rocks monster workout plan. Whether or not you can keep up with his routine is up to you.