World Health Organization Says Coronavirus Cases 'Still On The Way Up'
As countries across Europe and North America begin to reopen, nations in other parts of the world continue to report cases of the novel coronavirus in increasing quantities, representatives from the World Health Organization (WHO) said on Monday.
During a press conference to discuss the latest updates regarding the global pandemic, WHO's Executive Director of Emergencies, Dr. Michael Ryan, pointed to recent outbreak statistics confirmed by health officials in areas of South America, Africa and South Asia, which rose sharply last week.
"Right now, we're not in the second wave. We're right in the middle of the first wave globally," Ryan said first, responding to an inquiry about a possible resurgence of infections by clarifying that the world's initial virus outbreak has yet to run its course, even though certain regions have started to report fewer new diagnoses. "For many other countries, we're still very much in a phase where the disease is actually on the way up," he continued.
Though case counts reported in the United States have exceeded those confirmed elsewhere by significant margins, WHO has warned of the virus' disproportionate impact on lower-income regions throughout the pandemic. On May 20, when the largest spike in worldwide COVID-19 cases was reported to WHO compared to any previous day, the public health agency's Director-General, Tedros Adhanom Ghebreyesus, highlighted upward outbreak trajectories occurring in lower-income regions.
"In the last 24 hours, there have been 106,000 cases reported to WHO, the most in a single day since the outbreak began," Ghebreyesus said during the day's news conference. "We're very concerned about the rising numbers of cases in low- and middle-income countries."
At the time, WHO confirmed 20,810 new cases had been reported in India, as well as 5,056 in Bangladesh, two nations forced to initiate mass evacuations of coastal throughout the week as a result of Cyclone Amphan. "We recognize that like with COVID-19, there is a serious threat to life, particularly the poorest and the most marginalized communities," Ghebreyesus said, acknowledging that abnormal weather patterns caused by climate change have led to additional challenges for countries already managing those brought on by the pandemic.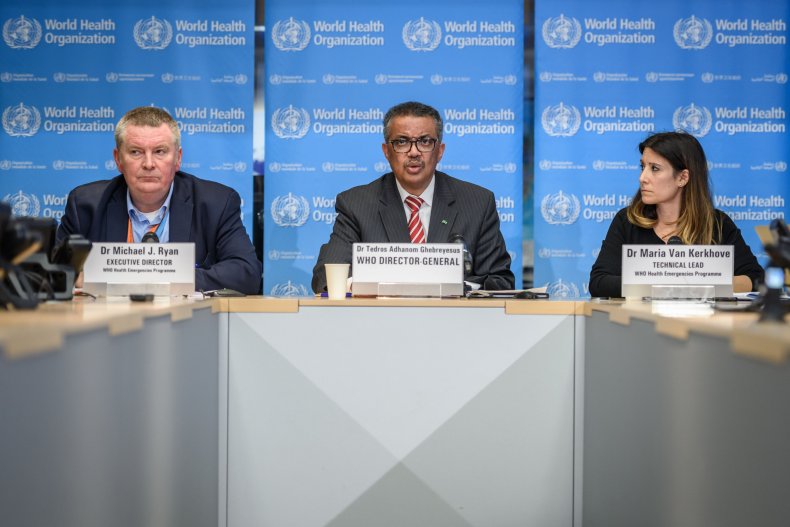 India saw record increases in nationwide case counts two days before WHO's announcement, reporting the largest single-day jump in additional diagnoses on May 18.
The report came alongside announcements from government authorities in Brazil that confirmed its health care system was nearing capacity due to a weekly surge in cases by about 50 percent. The country has reported more than 130,000 additional cases since then, totaling 374,898 overall diagnoses as of Tuesday, according to Johns Hopkins University's tracker.
More than 5.5 million cases of the novel coronavirus have been confirmed worldwide since the start of the global pandemic, resulting in at least 346,836 deaths, the university's tracker confirmed Tuesday. Although several countries have reopened areas of their respective economies in response to fewer new cases reported daily, WHO's officials urged all nations to maintain ongoing mitigation and surveillance measures to prevent "an immediate second peak" in virus outbreaks.
Newsweek reached out to WHO for additional comments but did not receive a reply by time of publication.