As World Leaders Go Into Coronavirus Isolation, How Would Quarantine Affect Trump's Presidency?
The first world leader to contract coronavirus—British Prime Minister Boris Johnson—went into isolation last week after showing symptoms of the virus. He was soon followed by British Health Secretary Matt Hancock and England's Chief Medical Officer Chris Whitty. Three of the most central players in the U.K.'s emergency response were cut off, though are still working from isolation.
This week, Israeli Prime Minister Benjamin Netanyahu was put into precautionary isolation after one of his senior aides tested positive for the virus. Tests later showed that neither he nor any of his other aides were infected.
Other leaders including German Chancellor Angela Merkel and Brazilian President Jair Bolsonaro have had coronavirus scares, and some still suggest the latter may have hidden a positive diagnosis.
Coronavirus is the great leveller—it can infect anyone, regardless of position or wealth. Never in living memory have so many leaders faced such a threat, even more concerning as this illness disproportionately kills those of advanced age. Politicians are also more exposed by nature, having to meet a wide range of people and shake a lot of hands in the process.
President Donald Trump is no exception. Initially dismissive of the coronavirus outbreak, the president has pivoted to extending social distancing measures despite the economic impact of a near-nationwide shutdown.
Per Centers for Disease Control and Prevention guidelines, anyone who exhibits coronavirus symptoms should self-isolate. If Trump does eventually test positive—and there is no current indication that he is infected—he will have to run America's response from behind closed doors.
Modern technology means that from an operational standpoint, this should not be too difficult. Key meetings can be done via video conferencing and phone calls, as can daily briefings and even press conferences.
The president has already started conducting more of his meetings by phone and in-person briefings are now done with significant space between speakers and reporters.
Trump tested negative for coronavirus earlier this month. A White House official told Newsweek that "every precaution is taken" to keep the president, first family and White House complex "safe and healthy at all times." If Trump was incapacitated, control would pass to Vice President Mike Pence.
"As we are all doing, Americans should continue to follow the president's guidelines to slow the spread and CDC's guidance on travel and public gatherings, which includes staying home if you feel ill, as well as frequently washing your hands with soap and water," the official added.
But as Johnson's case shows, the virus can still get through. The British prime minister has been absent from his daily coronavirus press briefings, leaving it to ministers to take his place.
Leslie Vinjamuri, the director of the U.S. and Americas program at Chatham House, told Newsweek that people want to be able to see and hear from their leaders during a crisis. "They want to have somebody who can tell them that he understands where they are, that he has some solutions, that he's on their side, that he's listening," she explained. "He's got to keep turning up," she said of Trump.
The president has been criticized for his confused messaging in the early stages of the outbreak, of which the U.S. is now the epicenter. There have now been 164,610 confirmed cases in the U.S.—the most in the world—with 3,170 deaths and 5,945 recoveries, according to Johns Hopkins University.
But this week Trump climbed down from his vow to re-open the country by Easter, and expanded social distancing recommendations. The self-declared "wartime president" must now maintain a "frequent" and "predictable" persona for the nation, Vinjamuri said.
Any suggestion that Trump should err on the side of caution and isolate himself before being infected is probably a step too far, Vinjamuri believes. "I don't think he needs to go into hiding," she said. "He's got to engage, but he doesn't need to get close to people."
The pandemic has already forced Trump to cancel re-election rallies, which throughout his time in office have served as a morale booster and media opportunity for the president. "Having to isolate when you're a president who relies on that kind of mechanism, that's a big loss," Vinjamuri said.
Steve Rabinowitz, who has worked on nine presidential campaigns, wrote for NBC News earlier this month arguing that Trump cancelling rallies shows how serious the situation is.
"The massive gatherings of loyal devotees are events he feeds off and are central to his re-election strategy: Whip up the base to make sure they vote and get as much free media attention as possible while doing it," Rabinowitz explained.
For all his controversies, Trump has redefined the relationship between the president and everyday Americans through his social media reach, especially on Twitter.
This power would allow him to maintain a direct line of communication with voters and the media even if he did have to self-isolate, but his absence during a time of world crisis is unlikely to help his re-election chances in November.
The president has been roundly criticized for his early response to the crisis, and with maybe hundreds of thousands of deaths still to come, things might look even worse on the other side of the summer. Trump is currently trailing presumptive Democratic nominee Joe Biden by 10 points nationally as deaths rise and the economy collapses.
Wendy Schiller, a political science professor at Brown University, said it's "perfectly conceivable" that Trump could survive the crisis and win in November. After all, Trump has already survived special counsel Robert Mueller's investigation, impeachment and his approval ratings have improved since the start of the pandemic.
But, Schiller added, "Biden is the epitome of the opposite of Trump in a crisis. If people are going to turn away from Trump, Biden is exactly the person they will go for.
"One of the headlines of this presidency will be, why did it take so long for the president of the United States of America to recognize the reality of this crisis and to mobilize America's extraordinary resources and harness that and to prevent the loss of life?" Vinjamuri suggested.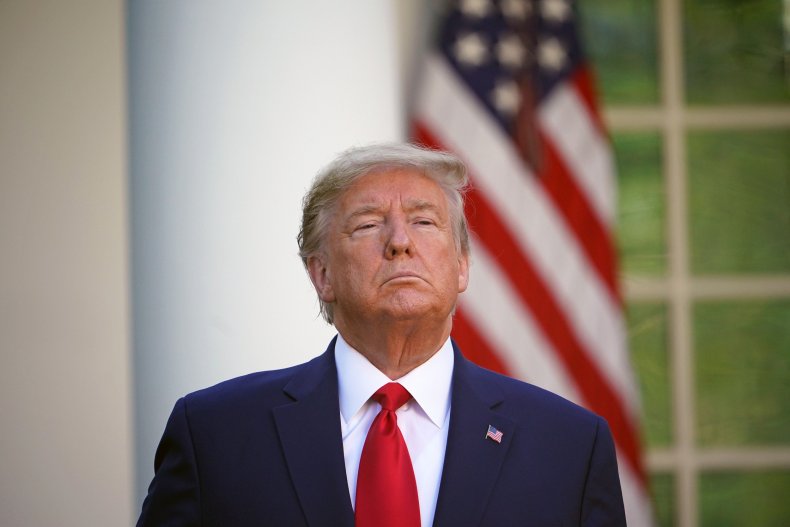 World Health Organization advice for avoiding spread of coronavirus disease (COVID-19)
Hygiene advice
Clean hands frequently with soap and water, or alcohol-based hand rub.
Wash hands after coughing or sneezing; when caring for the sick; before, during and after food preparation; before eating; after using the toilet; when hands are visibly dirty; and after handling animals or waste.
Maintain at least 1 meter (3 feet) distance from anyone who is coughing or sneezing.
Avoid touching your hands, nose and mouth. Do not spit in public.
Cover your mouth and nose with a tissue or bent elbow when coughing or sneezing. Discard the tissue immediately and clean your hands.
Medical advice
Avoid close contact with others if you have any symptoms.
Stay at home if you feel unwell, even with mild symptoms such as headache and runny nose, to avoid potential spread of the disease to medical facilities and other people.
If you develop serious symptoms (fever, cough, difficulty breathing) seek medical care early and contact local health authorities in advance.
Note any recent contact with others and travel details to provide to authorities who can trace and prevent spread of the disease.
Stay up to date on COVID-19 developments issued by health authorities and follow their guidance.
Mask and glove usage
Healthy individuals only need to wear a mask if taking care of a sick person.
Wear a mask if you are coughing or sneezing.
Masks are effective when used in combination with frequent hand cleaning.
Do not touch the mask while wearing it. Clean hands if you touch the mask.
Learn how to properly put on, remove and dispose of masks. Clean hands after disposing of the mask.
Do not reuse single-use masks.
Regularly washing bare hands is more effective against catching COVID-19 than wearing rubber gloves.
The COVID-19 virus can still be picked up on rubber gloves and transmitted by touching your face.