World Mental Health Day Marked by Selena Gomez, Venus Williams and Others
Monday is recognized as World Mental Health Day across the globe. The main goals for the day are to raise awareness about mental health and to advocate against the social stigma that comes with discussing the topic.
The day is recognized by private companies and world organizations such as the United Nations and the World Health Organization (WHO). Celebrities also have marked the day in various ways, from posting tweets about mental health to making larger gestures.
Tennis superstar Venus Williams, actor David Arquette and talk show host/producer Andy Cohen were among those who posted on Twitter about the occasion. Meanwhile, Selena Gomez timed the release of a trailer for a documentary that chronicles her mental health to fall on World Mental Health Day.
Entitled Selena Gomez: My Mind & Me, the Apple Original Films documentary about the singer/actress, was directed and produced by Alek Keshishian (Madonna: Truth or Dare). Press materials for the release said the film will cover Gomez's lupus and bipolar disorder diagnosis.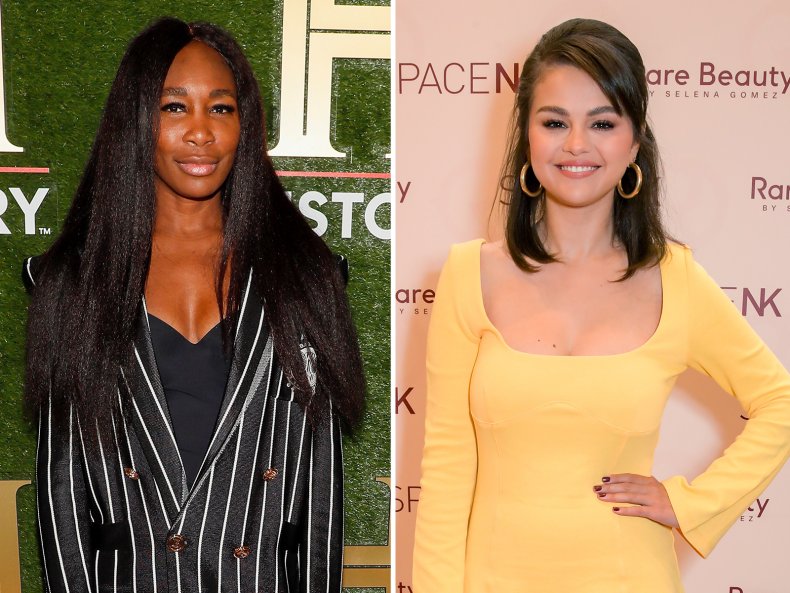 "There has never been a more important time to be aware of our mental well being," Matthew Shapiro, senior director of National Alliance on Mental Illness—New York State, told Newsweek. "The myriad of stressors we as a global society have experienced over the course of the last couple of years, has comprised our collective mental health in an unprecedented way and have left most of us with trauma with many facing bouts of anxiety and depression. Mental illness is a global problem, and World Mental Health Day reminds us that healing and moving towards mental health needs a global solution."
For her part, Williams tweeted that she was giving away a free month of therapy through the online mental health platform BetterHelp "in honor of World Mental Health Day."
"Everyone should feel empowered to take care of their mental health, without fear of stigma," Williams wrote.
Cohen, perhaps best known for his various jobs related to The Real Housewives shows, promoted On Our Sleeves, a movement started by Nationwide Children's Hospital, to promote children's mental health initiatives.
"Having conversations can change kids' lives and positively impact their mental health. It's a simple step we can all take, every day," Cohen wrote.
Arquette echoed Cohen's tweet with a similarly-worded message to also promote On Our Sleeves.
Dr. Ariana Hoet, clinical director of On Our Sleeves and pediatric psychologist at Nationwide Children's Hospital, told Newsweek of the importance of bringing awareness to children's mental health.
"The mental health and well-being of our children should be a priority today, on World Mental Health Day, and every day—with nearly 50 percent of mental health concerns established by the age of 14," Hoet said. "On Our Sleeves, the movement for children's mental health, believes it's important to provide communities with access to free, evidence-based mental health resources to break stigmas and help in starting conversations at the dinner table, in the classroom and with our co-workers."
Hoet added: "Developing a habit of communicating with our kids about how they're feeling—whether happy, sad, angry, confused, etc.—can help us to identify problems early on, work toward a solution and build a new level of trust so that you're able to recognize if and when more mental health support is needed."
Nandi Bushell, the 12-year-old drumming prodigy whose popular online videos led her to jam onstage with the Foo Fighters, also wrote about the day.
"What brings you joy? When I am not making music, I love to garden and cook. Today is world mental health awareness day," Bushell wrote. "Please, do something today that brings you joy and share it with the world!"
"Call someone today and ask how they are really doing. How is their day going? You never know; someone out there must be in need of that call," children's literature author Namita Das wrote on Twitter.
Meanwhile, António Guterres, Secretary-General of the U.N., posted a video about World Mental Health Day on Monday.
"We must strengthen the capacity of health services to offer quality care to those in need, in particular young people," Guterres said in the video. "Investing in mental wellbeing means investing in healthy and prosperous communities.
He continued: "We must also address stigma and discrimination—and break down the barriers that prevent people from seeking care and support. And we must prevent the root causes of mental health conditions, including violence and abuse."
Newsweek reached out to Gomez, Williams and Cohen for comment.