The World's Most Eco-Friendly Countries (and What They're Doing Right)
Which are the world's most eco-friendly countries? While this question may sound like it should be relatively simple to answer, in reality, the picture is somewhat nuanced, with nations around the world responding to the challenges of climate change, environmental damage and sustainability in different ways.
According to Lisa Benton-Short, a professor of geography at George Washington University, it can be difficult to categorically rank countries on their green credentials and sustainability, in part, because there are so many complex indicators that can be measured, including efforts to combat climate change, renewable energy, amount of green space, air quality, water quality, housing affordability, inequalities, educational attainment, levels of poverty and labor rights, among others.
"Sustainability, of course, is more than driving electric cars and protecting forests—it's broader and more comprehensive than that," Benton-Short told Newsweek. "The United Nations Sustainable Development Goals, for example, has 17 goals, and a total of 169 targets to get to a more sustainable future."
Any ranking of the world's most eco-friendly and sustainable nations often depends on what indicators or measures you are using and how you weigh them, according to Benton-Short.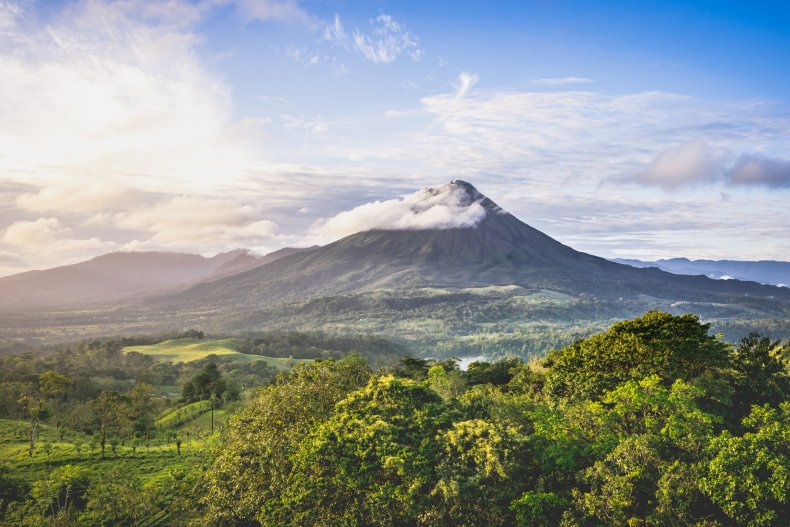 The top spots in most of these rankings, which are produced by academic centers, think tanks and other institutions, tend to be taken by European countries such as Denmark, Sweden, Germany, Norway, Luxembourg, Finland and Austria.
"As social democracies, they have been far more progressive than the U.S. on many sustainability issues, including climate change, renewable energy use, affordable housing, universal health care, etc. They tend to switch places every year, but rarely fall out of the top. It is interesting to note that the United States is in very few top 25 rankings," Benton-Short said. "That says a lot."
Paul Steinberg, a professor of political science and environmental policy at Harvey Mudd College, told Newsweek it is important to remember that no one country is a leader with respect to all environmental and sustainability issues.
"Aggregating [the issues] together tends to obscure more than it illuminates," he said.
Thus, it is perhaps more helpful to look at countries that are doing better than others in certain fields.
Even countries that are widely considered to be doing well in many regards still have room for improvement. For example, Costa Rica, which is often held up as an example of a particularly eco-friendly country, is by no means a leader with respect to urban air quality, Steinberg said. Meanwhile, Norway, another country that is generally considered to be relatively eco-friendly, still exports large quantities of oil.
Countries leading the way in these fields
The countries below have implemented measures and innovations that make them leaders in certain arenas when it comes to environmental policy and sustainability, according to experts that spoke with Newsweek.
Costa Rica - Protecting biodiversity, conservation, renewable energy
Costa Rica can certainly be considered one of the world's most eco-friendly countries, according to Steinberg, particularly when it comes to the issues of protected areas, such as national parks.
"What distinguishes Costa Rica as an environmental leader is not just the extent of its parks, but the explicit emphasis on protecting biological diversity," he said.
"Costa Ricans have also made great strides in mainstreaming conservation in national culture. Ticos (as they refer to themselves) take great pride in their biological heritage. No country has done more than Costa Rica with respect to the protection of biological diversity. These were hard-won accomplishments that involved public protest, political savvy and a lot of innovation."
Benton-Short said: "Somewhere between 90-98 percent of Costa Rica's energy is renewable and it's done a fantastic job in terms of forest conservation and forest regrowth. It is also a country where educational attainment is very high, it helped to pioneer the idea of ecotourism."
Denmark - Biodiversity, air quality, greenhouse gas reductions, renewable energy
"Denmark receives high scores in the 'biodiversity and habitat' and 'air quality' categories. It also has among the most progressive greenhouse gas reductions. It's usually at the top of many rankings," Benton-Short said.
Steinberg said: "Denmark is pretty much the world leader with respect to the development of wind power. Part of their success has been the creation of innovative ways to negotiate land use decisions with affected communities."
Sweden - Renewable energy, green steel
Sweden has extensive hydropower, is looking to build what will be the world's largest single offshore wind farm and is leading efforts to develop green steel, among other green measures, Robert Orttung, director of research for sustainability initiatives at George Washington University's Office of Sustainability, told Newsweek.
Norway - Green shipping
"Ports in Bergen and throughout the fjords are developing metrics to analyze how green cruise ships are and coming up with ways to incentivize them to attract greener ships to their harbors," Orttung said.
Singapore - Water reuse
Singapore has been innovative in many regards, particularly when it comes to its progressive water reuse system, according to Benton-Short.
"It actually recycles 40 percent of its wastewater, which includes everything that ends up in the sewers. Yep, Singapore turns its sewage/toilet water into clean water, some of which is used back in the drinking water system," she said.
Cuba - Sustainable agriculture
"Cuba basically has led the way for decades in sustainable agriculture. Cubans have long innovated in the science and practice of sustainable agriculture—using less fertilizer, fewer pesticides and so forth," Steinberg said.
Mexico - Community forestry
"A lot of countries have been interested in promoting forestry practices which actually ensure that the benefits accrue to local communities. And Mexico has gone farther than pretty much any other country in the world in that regard. So, they have many cases of local communities that actually run their forestry operations and decide how the revenues are going to be apportioned," Steinberg said.
Bolivia and Colombia - Indigenous land management
"Countries like Colombia, and Bolivia have handed over management of very large portions of forests to Indigenous peoples. They've given real land use rights to Indigenous groups, almost unprecedented since the colonial takeovers," Steinberg said.
The European Union - Regulating electronic waste
The EU has some of the strictest rules on e-waste in the world, including regulations that place a responsibility on the manufacturer to contribute to the proper disposal of equipment.
A note on the United States
While the United States is the largest emitter of greenhouse gases in the world and has been uneven in its support for climate policy, some of its environmental achievements should not be discounted, according to Steinberg.
"The United States has unquestionably been an innovator in environmental policy generally, and continues to lead the pack with respect to land conservation, the provision of environmental information to the public and many other areas," he said.
"America's national parks are second to none. The U.S. led the world in banning leaded gasoline and ozone-depleting substances, invented environmental impact assessment, and launched the world's first cap-and-trade systems, but does a poor job in other arenas. [It] has fallen behind in climate and energy policy as well as upstream environmental planning."