World's Oldest Person Dies Weeks After 117th Birthday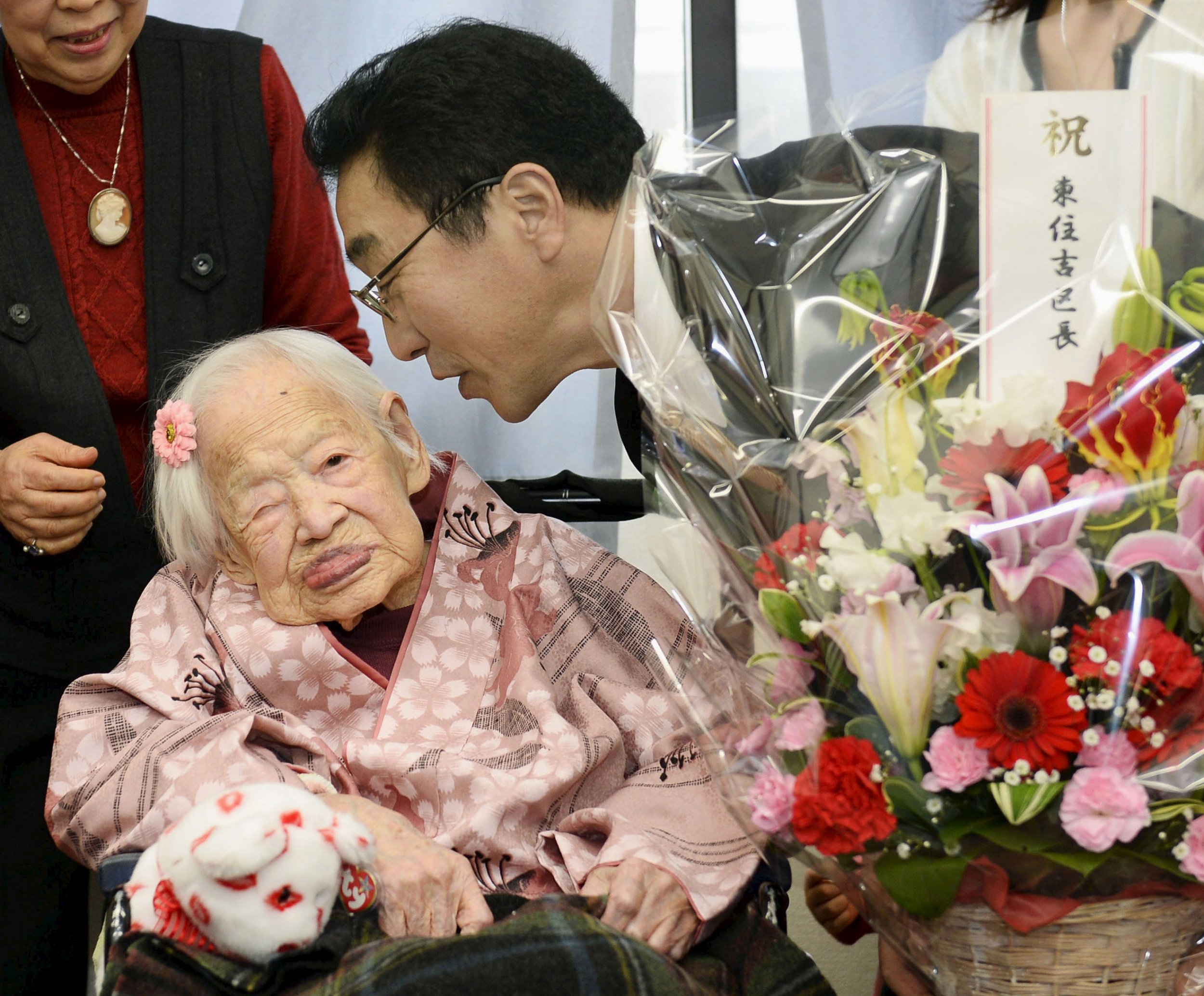 Misao Okawa, the oldest person in the world, died Wednesday in Japan, just weeks after celebrating her 117th birthday.
Okawa died of heart failure, The Associated Press reports. At the end, she was surrounded by her family in the nursing home where she was living in Osaka, Japan.
The AP says Gertrude Weaver, 116, of Arkansas is now the world's oldest person, according to the Gerontology Research Group, which keeps records of supercentenarians, or people older than 110. Guinness World Records, the group that bestowed Okawa's title, said it was still investigating Okawa's successors.
Guinness says the oldest-ever person was a Frenchwoman, Jeanne Calmert, who lived to be 122 years and 164 days old. Okawa held the title of world's oldest person for two years.
Last month, Guinness held a celebration for Okawa's 117th birthday, which included a cake, flowers and family members in attendance. Asked by a Japanese TV station how it felt to live to 117, Okawa said, "It seemed rather short." Her tips for living a long and healthy life were getting enough sleep and eating sushi.
Okawa was born in 1898 in the southern Japanese city of Osaka, where life expectancy is 87.9 years for women and 81.13 for men. She married her husband, Yukio, in 1919. He died in 1931. Okawa is survived by three children, four grandchildren and six great-grandchildren. She lived through three centuries and the terms of six British monarchs, four Japanese emperors and 20 U.S. presidents.
On Wednesday, Guinness said it was saddened to hear of Okawa's passing and called her a "charming and cheerful woman who made people laugh and joke."
"She had appreciation for those that had come to interview her that day, saying 'You must be tired' to the journalists who were visiting," said Erika Ogawa, vice president of Guinness World Records Japan.
Japan's oldest person is now a 115-year-old Tokyo woman whose name was not released at the request of her family. Some 87 percent of Japan's 58,000 centenarians are women. Japan has the largest number of centenarians in the world, the AP says.