World's Tallest Water Slide Designer Arrested at Airport After 10-year-old Boy Decapitated
The man who designed the world's tallest water slide has been arrested and charged with reckless second-degree murder over a tragic incident in which a 10-year-old boy was decapitated.
Authorities accuse John Schooley of lacking the engineering expertise necessary for the planning and construction of the "Verruckt" water slide at Schlitterbahn Kansas City. He was arrested at Dallas/Fort Worth Airport after returning from China, NBC reported.
The water park company's co-owner, Jeffrey Henry, has also been charged over the incident which occurred in August 2016. Caleb Schwab died after the raft he was riding on went into the air and hit an overhead loop. Caleb was the son of Kansas Republican state Representative Scott Schwab.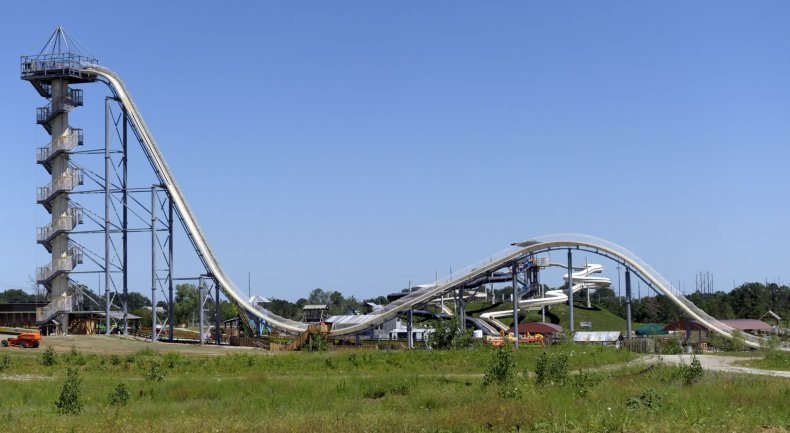 Henry & Sons Construction Co also faces charges of reckless second-degree murder and 17 other felonies including aggravated battery and aggravated endangerment of a child. Second-degree murder carries a jail sentence of up to 41 years.
The indictment states that neither Schooley nor Henry had the technical expertise to build the ride which was intended to impress the makers of a Travel Channel documentary, NBC reported.
The indictment also says the decision to build the world's biggest water slide was "spur of the moment" and that engineers had skipped steps in the design process. It said that "not a single engineer was directly involved in Verruckt's dynamic engineering or slide path design" and listed 13 injuries during the 182 days the ride was in operation.
Also indicted are the Schlitterbahn Kansas City park and its former operations manager Tyler Austin Miles. The company said it will fight the charges and would respond to the allegations made "point by point."
Schlitterbahn spokeswoman Winter Prosapio said in a statement: "We as a company and as a family will fight these allegations and have confidence that once the facts are presented it will be clear that what happened on the ride was an unforeseeable accident." It has reportedly settled with the Schwab family for 20 million dollars.
In his statement, the Schwab family said: "Clearly the issues with Schlitterbahn go far beyond Caleb's incident, and we know the attorney general will take appropriate steps in the interest of public safety."