'Worth' on Netflix: Why the Movie Was Cancelled a Over Decade Ago
Michael Keaton's movie Worth tells the true story of the events after September 11, 2001 when a man was tasked with setting a dollar value on the lives lost.
The Netflix Original is currently available to watch online now and has proved popular, peaking at number 2 on the Netflix top ten chart in the United States and number 1 in Canada.
While the movie has performed well in the run up to the 20th anniversary of the 9/11 attacks, it should have been released almost a decade ago according to its writer Max Borenstein.
Worth follows Kenneth Feinberg (Keaton) who was appointed as the Special Master of the September 11th Victim Compensation Fund. In the months and years that followed the event, he led a team in allocating a price of the lives lost for the victims' surviving families.
The script of the movie, written by Borenstein, is based off of Feinberg's memoir What is Life Worth?. As Borenstein explains to Newsweek, the story almost never got told on the big screen.
He said: "We had a moment (around 2009) where there was a lot of momentum around the film and the deals were getting made to option it -- but Ken Feinberg, the deal meant we still required his participation and involvement, he was appointed by President Obama to a really important post dealing with the dispensing of executive pay during the bail out. He became, for understandable reasons, human reasons, he got cold feet around the moment at the idea of us making a film."
Borenstein holds no grudge against Feinberg for holding up the production of the movie, and can actually appreciate the reservations he had about being the subject of a movie. "He's an amazing guy and has always been skeptical of the notion that we could successfully sensitively capture, not what he went through but what the fund really represented in a way that did not feel exploitative.
"He also didn't want the things that people assume that Hollywood does and put in car chases or whatever," Borenstein said.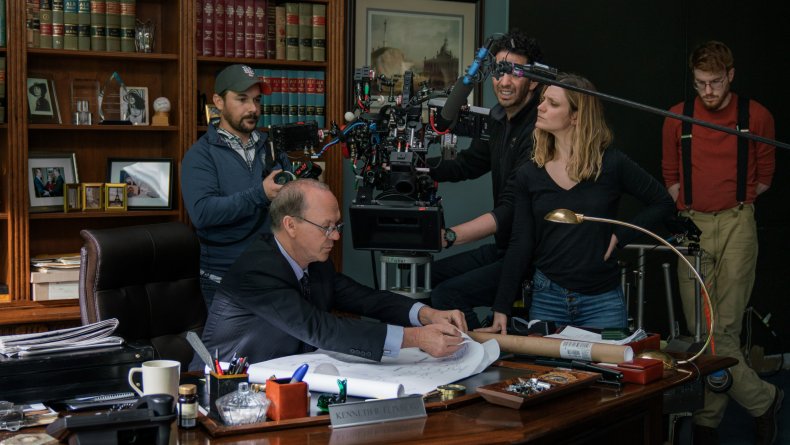 Worth's long road to production started back in 2008 when the script was included on that year's Black List. The Black List is an annual survey of the film industry's most-liked scripts that have yet to be produced. Other films featuring on the 2008 Black List included Up in the Air, Inglorious Basterds, Easy A and The Descendants.
While there was a wait to get Worth made, Borenstein does acknowledge the script's existence as giving him a career boost.
"For me it became more or less a writing sample, which was great for my career but always a story that I hoped we could one day tell," he said. "I would run into people who remembered it and were moved by it. It was one of those scripts that never left my mind and I thought if I had the clout or saw a window or path I could try to see if we could restart it one day."
Borenstein got other career opportunities after Worth's initial failed launch. He wrote 2014's Godzilla and co-wrote the following Kong and Godzilla movies that made up the monster universe. Worth caught a second win eventually, and Borenstein credits producers Matt River, Mark Butan and Michael Sugar with reinvigorating the project.
"I think there was a will to make the movie, people liked it and thought it was an important story that had to be told. Enough time had past since 9/11, so rather than feeling like an incredibly raw wound it began to be something that we could look at with perspective."
Eventually it was the involvement of Keaton, also credited as a producer, who proved the catalyst for Worth's production. "We brought it to Michael Keaton who was our first choice as an actor. He flirted with it for a while before he ultimately decided to do it.
"We had had a conversation a few years before he finally came around. It was a matter of timing and he decided he was ready to take on the role. It was odd because it looked from the outside like 'development hell' but really it was a project waiting for the right moment to come into the world."
Worth, starring Keaton, Stanley Tucci and Amy Ryan is now available to watch on Netflix.