The events of September 11, 2001 had seismic implications across culture, with hundreds of films, series and songs being altered or banned in the aftermath of the attacks.
In the days directly following 9/11, filmmakers who had made films featuring the Twin Towers, or who had made films mentioning things like plane hijacking, had to decide whether or not to edit these things out so as not to distress an already grieving nation.
Similarly, U.S. radio stations took a red pencil to their playlists, banning over 150 songs that mentioned things related to the attacks, like airplanes ("Leavin' on Jet Plane"), fire ("Burning Down the House"), or even vague references to the Middle East (The Bangles' "Walk Like an Egyptian").
Looking at the list of songs banned in contemporary times - among the un-objectionable songs on the list is John Lennon's "Imagine" and Louis Armstrong's "What a Wonderful World" - it definitely paints a vivid picture of the grief, pain and uncertainty the country felt 20 years ago.
5 films altered after 9/11
Spider-Man
As fits the most famous New York superhero, the 2002 Spider-Man film made probably the most changes in response to the events of September 11.
The initial teaser trailer for the film, released in the summer of that year, saw Spider-Man foil a heist by capturing the bandits' escaping helicopter in a web between the two World Trade Center buildings. After the 9/11 attacks, this trailer was recalled.
In the film itself, not only were scenes featuring the buildings removed, but also new scenes were added in tribute to the strength and resilience of New Yorkers. The scene where one city-dweller tells the Green Goblin, "you mess with one of us, you mess with all of us," for example, was a post-9/11 reshoot.
Armageddon
The original 1998 version of this Michael Bay movie as seen in theaters features a scene in which the World Trade Center catches on fire after being hit by meteorites.
The film first aired on network TV in the summer of 2002, at which point it aired with those scene taken out.
Back to the Future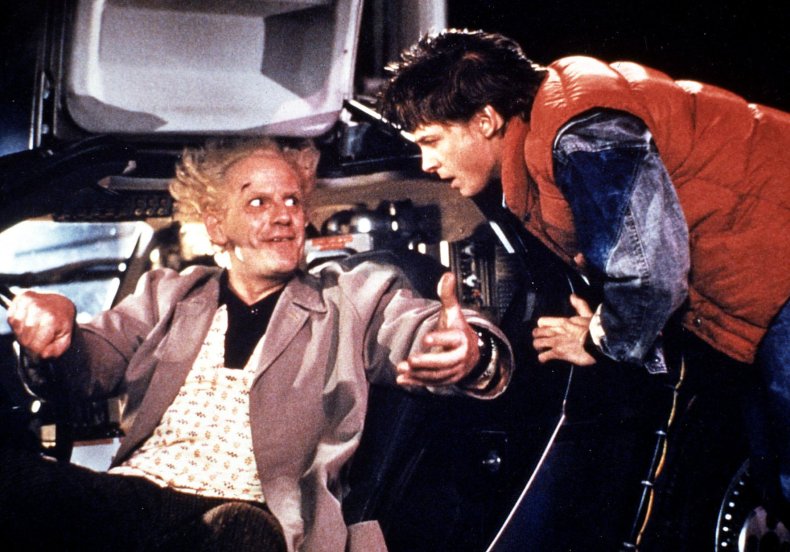 Another film edited for TV in late 2001 was Back to the Future. All references to the Libyans being "terrorists" (as well as Doc Brown's violent death at their hands) were removed. Instead, per CBS news, they became "Libyan nationalists."
This version of the film still occasionally gets played on TV today during more family-friendly time slots, as by getting rid of Doc Brown's death scene it removes the most violent scene in the film.
In June 2017, for example, TBS viewers noticed that the terrorist references had been removed from the most recent airing of the movie.
ET: The Extra-Terrestrial
2002 happened to be the 20th anniversary of the beloved Steven Spielberg movie, and the director made a few changes when the film got re-released in theaters that year. In the original version, Elliott's mother says about his Halloween costume, "you're not going as a terrorist," which was changed to "you are not going as a hippie."
In that same re-release, many of the guns owned by the government agents were also edited out and replaced with walkie-talkies.
Collateral Damage
The Arnold Schwarzenegger film saw the actor play a firefighter who takes on a group of Colombian terrorists after they kill his wife and son.
Initially set to be released in October 2001, distributors Warner Bros. baulked and moved the film to February 2002. They also removed from circulation the first trailer, which saw a large bomb go off in the United States.
When the film finally did come out, it was without a scene where the terrorists hijack a plane – a scene that, had it been kept in, would have been the film debut of Modern Family star Sofia Vergara.
5 TV shows altered after 9/11
Angels in America
After many shows and movies spent thousands of dollars editing out the Twin Towers from the New York skyline, this Emmy-sweeping miniseries was one of the first to have to edit them back in.
The Meryl Streep and Al Pacino drama was set in 1985, but was filmed in New York between May 2002 and January 2003. As such, the World Trade Center had to be digitally inserted into the series.
The West Wing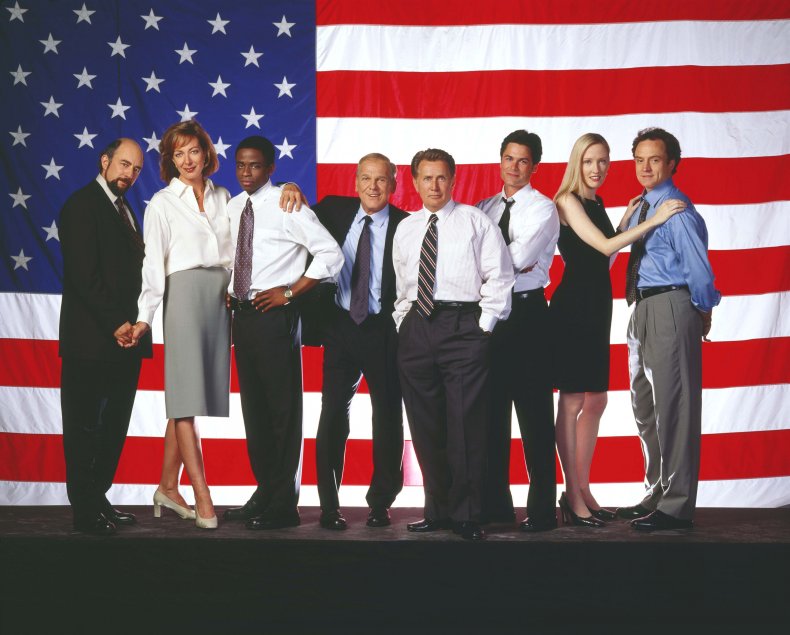 Less than a month after September 11, The West Wing returned to NBC with an entirely new episode, written after (and directly responding to) the attacks.
Writer Aaron Sorkin started writing what became "Isaac and Ishmael" just over a week after the attacks, and it was broadcast on October 3, 2001.
The episode begins with the cast directly addressing the viewers and directing them to charities they can support. The episode, meanwhile, sees the characters discuss Islamic terrorism while being under lockdown in the White House.
The Emmys
The 2001 Emmys were due to air on September 16. Deciding that the nation was not ready for a big Hollywood celebration, they were postponed until October 7.
However, they then had to be postponed again after the U.S. bombing of Afghanistan began on that day. The 53rd Emmys ended up airing on November 4, with Barbra Streisand performing "You'll Never Walk Alone" in tribute to the victims of the attacks.
Friends
Friends was in its eighth season in fall 2001, and had to make changes to its early episodes. A title card that dedicated the episode to the people of New York City was added to the Season 8 premiere, while a subplot in Episode 3 where Chandler jokes about bombs before getting on a plane for his honeymoon was completely replaced.
Sesame Street
The PBS kid's show was among the first to react to the attacks, realising that children may need some tools to understand the dramatic events that were unfolding around them.
When the show's 33rd season aired in February 2002, it began with an episode that saw Elmo meet FDNY firefighters from Harlem, New York.
Other scenes written to reflect the changing national mood after 9/11 included one about dealing with the loss of loved ones (told via Big Bird losing his pet turtle). Another scene saw the show obliquely take on the increased level of xenophobia in the United States after the attacks, in a scene where Big Bird's penpal is surprised that he is friends with other species who are not birds.
5 songs "banned" after 9/11
Shortly after September 11, radio company Clear Channel sent a memo to the 1,000-plus stations they owned featuring a list of songs they deemed "lyrically questionable."
Technically, this was not an outright ban, with a Clear Channel spokesperson telling Snopes, "this was not a mandate. However, the memo did recommend stations "might not want to play these songs," and did lead to specific stations within the Clear Channel remit banning them from their station.
You can find the complete list below, but first here are five notable songs worth picking out: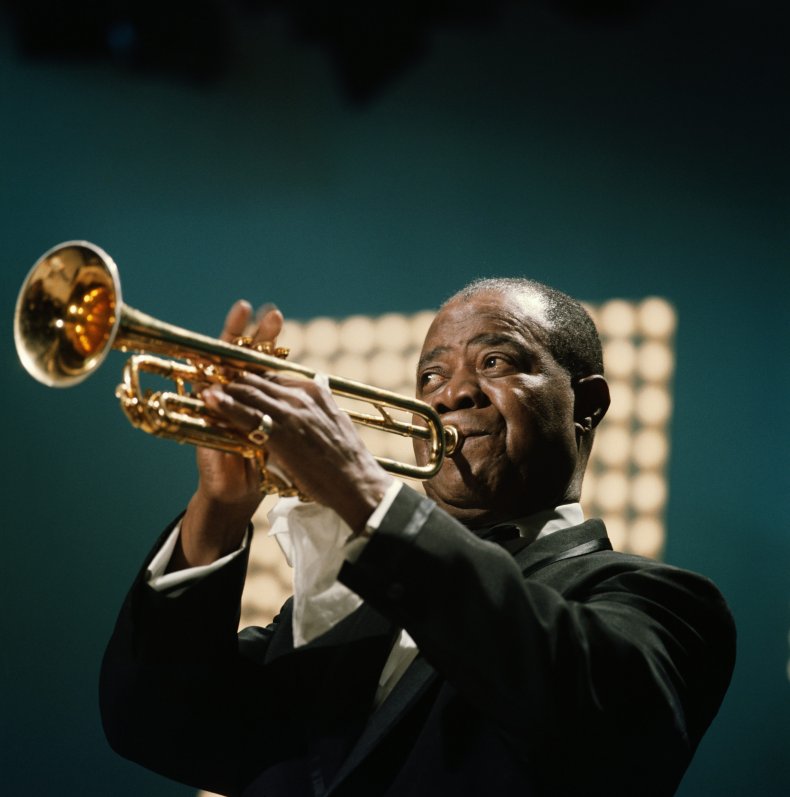 Louis Armstrong - "What a Wonderful World"
At first glance, there does not seem to be anything objectionable about this classic paen to the beauty of nature.
However, per a Washington Post article at the time, that might have been exactly the problem. They quote WWZZ general manager Mark O'Brien, who said that songs that were too "happy-go-lucky, life is great" were taken off playlists due to feeling inappropriate in the dark climate in the days after September 11. "Anything up-tempo is still off the air today," he added.
Simon & Garfunkel - "Bridge Over Troubled Water"
The inclusion of this song on the list has never been truly accounted for – as LA Times' pop music critic Robert Hilburn noted at the time, "Paul Simon's "Bridge Over Troubled Water" was written for times like these."
While numerous radio stations chose not to play the song, it was the one that Simon chose to play at the America: A Tribute to Heroes concert on September 11 – where fellow "banned" song "Imagine" was also performed by Neil Young.
Drowning Pool - "Bodies"
Unlike other songs, it is clear to see why this nu-metal tune, which a chorus that repeats the line "let the bodies hit the floor," was deemed "lyrically questionable."
In 2016, Drowning Pool guitarist C.J. Pierce reflected on what the "ban" had done for the band. He told The Ringer: "It was a long time before "Bodies" came back around. For us, we had just put out our record. It was our first single. We had just broken into the music business. Our manager called us up shortly after it happened, and told us that our song was off ...That definitely was a big blow in our career at the time."
The Bangles - "Walk Like an Egyptian"
"Walk Like an Egyptian" is probably the most innocuous song ever written to have been banned twice.
In 1991, it was featured on a "list of records to be avoided" distributed by the BBC to its radio stations, and then featured on the 2001 Clear Channel list. Both times, it was for its brief references to the Nile and Egyptians, being technically references to the Middle East – even though the "Egyptians" the song is talking about are ancient ones depicted on tomb paintings.
Ironically, in October 2001 they were booked to perform the song at a party celebrating the launch of a new Egyptian show on the History Channel – a party that had been booked by a promotions firm owned by Clear Channel.
In a September 2001 interview with the LA Times, guitarist Vicki Peterson said: "This has got to be a joke. The healing power of music and especially some of those songs is comforting in times like these."
Drummer Debbi Peterson said of the song in the same interview, "it was always so tongue-in-cheek and the video was so silly and the way we sang it. Some people will find offense in anything. We took it as a novelty song, doing a little dance. Quite interesting lyrics, but we never took it seriously."
Every song by Rage Against the Machine
While every other song on the list was listed separately, the list also suggested that stations should not play "all Rage Against The Machine songs."
Quite why Rage Against the Machine were picked out for this dubious honor was not stated. However, many have speculated it was because the band were known for their staunch critiques of American foreign policy.
In an email to the New York Times in September 2001, RATM guitarist Tom Morello said the band "is diametrically opposed to the kind of horrible violence committed against innocent people...which we condemn in the strongest possible terms."
On the subject of the "ban," he added, "If our songs are 'questionable' in any way, it is that they encourage people to question the kind of ignorance that breeds intolerance – intolerance which can lead to censorship and the extinguishing of our civil liberties, or at its extremes can lead to the kind of violence we witnessed [on 9/11]."
The full Clear Channel list was as follows:
3 Doors Down — "Duck and Run"
311 — "Down"
AC/DC — "Shot Down in Flames"
AC/DC — "Shoot to Thrill"
AC/DC — "Dirty Deeds"
AC/DC — "Highway to Hell"
AC/DC — "Safe in New York City"
AC/DC — "TNT"
AC/DC — "Hell's Bells"
Ad Libs — "The Boy from New York City"
Alanis Morissette — "Ironic"
Alice in Chains —" Rooster"
Alice in Chains — "Sea of Sorrow"
Alice in Chains — "Down in a Hole"
Alice in Chains — "Them Bones"
Alien Ant Farm — "Smooth Criminal"
Animals — "We Gotta Get Out of This Place"
Arthur Brown  [sic]— "Fire"
Bangles — "Walk Like an Egyptian"
Barenaked Ladies — "Falling for the First Time"
Barry McGuire — "Eve of Destruction"
Beastie Boys — "Sure Shot"
Beastie Boys — "Sabotage"
The Beatles — "A Day in the Life"
The Beatles — "Lucy in the Sky with Diamonds"
The Beatles — "Ticket To Ride"
The Beatles — "Obla Di, Obla Da"
Billy Joel — "Only the Good Die Young"
Black Sabbath — "War Pigs"
Black Sabbath — "Sabbath Bloody Sabbath"
Blood Sweat and Tears — "And When I Die"
Blue Oyster Cult — "Burnin' For You"
Bob Dylan/Guns N Roses — "Knockin' on Heaven's Door"
Bobby Darin — "Mack the Knife"
Boston —" Smokin'"
Brooklyn Bridge — "Worst That Could Happen"
Bruce Springsteen — "I'm On Fire"
Bruce Springsteen — "Goin' Down"
Bruce Springstein — "War"
Buddy Holly and the Crickets — "That'll Be the Day"
Bush — "Speed Kills"[Bush changed the name of the song to"The People That We Love" after appearing on the list]
Carole King — "I Feel the Earth Move"
Cat Stevens — "Peace Train"
Cat Stevens — "Morning Has Broken"
Chi-Lites — "Have You Seen Her"
The Clash — "Rock the Casbah"
Creedence Clearwater Revival — "Travelin' Band"
The Cult — "Fire Woman"
Dave Clark Five — "Bits and Pieces"
Dave Matthews Band — "Crash Into Me"
Dio — "Holy Diver"
Don McLean — "American Pie"
The Doors — "The End"
Drifters — On Broadway
Drowning Pool — "Bodies"
Edwin Starr — "War"
Elton John — "Benny & The Jets"
Elton John — "Daniel"
Elton John — "Rocket Man"
Elvis — "(You're the) Devil in Disguise"
Everclear —" Santa Monica"
Filter — "Hey Man, Nice Shot"
Fontella Bass — "Rescue Me"
Foo Fighters — "Learn to Fly"
Jimi Hendrix — "Hey Joe"
Frank Sinatra — "New York, New York"
Fuel — "Bad Day"
The Gap Band — "You Dropped a Bomb On Me"
Godsmack — "Bad Religion"
Green Day — "Brain Stew"
Happenings — "See You in September"
Herman's Hermits — "Wonderful World"
Hollies — "He Ain't Heavy, He's My Brother"
J. Frank Wilson — "Last Kiss"
Jackson Brown — "Doctor My Eyes"
James Taylor — "Fire and Rain"
Jan and Dean — "Dead Man's Curve"
Jerry Lee Lewis — "Great Balls of Fire"
Jimi Hendrix — "Hey Joe"
John Lennon — "Imagine"
John Mellencamp — "Crumbling Down"
John Mellencamp — "I'm On Fire"
John Parr — "St. Elmo's Fire"
Judas Priest — "Some Heads Are Gonna Roll"
Kansas — "Dust in the Wind"
Korn — "Falling Away From Me"
Led Zeppelin — "Stairway to Heaven"
Lenny Kravitz — "Fly Away"
Limp Bizkit — "Break Stuff"
Local H — "Bound for the Floor"
Los Bravos — "Black is Black"
Louis Armstrong — "What A Wonderful World"
Lynyrd Skynyrd — "Tuesday's Gone"
Martha & the Vandellas — "Nowhere to Run"
Martha & the Vandellas — "Dancing in the Streets"
Megadeth — "Dread and the Fugitive"
Megadeth —" Sweating Bullets"
Metallica — "Seek and Destroy"
Metallica — "Harvester or Sorrow"
Metallica — "Enter Sandman"
Metallica — "Fade to Black"
Mitch Ryder and the Detroit Wheels — "Devil with the Blue Dress"
Mudvayne —" Death Blooms"
Neil Diamond — "America"
Nina —" 99 Luft Balloons"/"99 Red Balloons"
Nine Inch Nails — "Head Like a Hole"
Norman Greenbaum — "Spirit in the Sky"
Oingo Boingo —" Dead Man's Party"
Ozzy Osbourne [sic] — "Suicide Solution"
Paper Lace —" The Night Chicago Died"
Pat Benatar — "Hit Me with Your Best Shot"
Pat Benatar — "Love is a Battlefield"
Paul McCartney and Wings — "Live and Let Die"
Peter Gabriel [sic] — "When You're Falling"
Peter and Gordon —" I Go To Pieces"
Peter and Gordon — "A World Without Love"
Peter Paul and Mary — "Blowin' in the Wind"
Peter Paul and Mary —" Leavin' on a Jet Plane"
Petula Clark — "A Sign of the Times"
Phil Collins —" In the Air Tonight"
Pink Floyd — "Run Like Hell"
Pink Floyd — "Mother"
P.O.D.- "Boom"
Pretenders — "My City Was Gone"
Queen —" Another One Bites the Dust"
Queen —" Killer Queen"
All Rage Against The Machine songs
Red Hot Chili Peppers — "Aeroplane"
Red Hot Chili Peppers —" Under the Bridge"
REM — "It's the End of the World as We Know It"
Rickey Nelson — "Travelin' Man"
Rolling Stones — "Ruby Tuesday"
Saliva —" Click Click Boom"
Sam Cooke — "Wonderful World"
Santana — "Evil Ways"
Savage Garden — "Crash and Burn"
Shelly Fabares — "Johnny Angel"
Simon And Garfunkel — "Bridge Over Troubled Water"
Skeeter Davis — "End of the World"
Slipknot — "Left Behind"
Slipknot — "Wait and Bleed"
Smashing Pumpkins — "Bullet With Butterfly Wings"
Soundgarden — "Blow Up the Outside World"
Soundgarden — "Fell on Black Days"
Soundgarden — "Black Hole Sun"
Steam — "Na Na Na Na Hey Hey"
Steve Miller — "Jet Airliner"
Stone Temple Pilots — "Big Bang Baby"
Stone Temple Pilots — "Dead and Bloated"
Sugar Ray — "Fly"
Surfaris — "Wipeout"
System of a Down — "Chop Suey!"
Talking Heads — "Burning Down the House"
Temple of the Dog — "Say Hello to Heaven"
Third Eye Blind — "Jumper"
Three Degrees — "When Will I See You Again"
Tom Petty — "Free Fallin'"
Tool — "Intolerance"
Tramps — "Disco Inferno"
U2 — "Sunday Bloody Sunday"
Van Halen —" Dancing In The Street"
Van Halen — "Jump"
Yager and Evans —" In the Year 2525"
Youngbloods — "Get Together"
Zombies — "She's Not There"