Would Student Debt Cancellation Be Good for America? Here's What Economists Say
Calls from Democratic lawmakers to forgive some or all student debt have grown, with President-elect Joe Biden backing at least $10,000 in loan forgiveness.
Student loan forgiveness remains a popular policy point for Democrats, and represented a significant campaign topic for Senators Elizabeth Warren of Massachusetts and Bernie Sanders of Vermont during their respective campaigns for the Democratic presidential nomination. Despite each bowing out of the race earlier this year, both have continued to support the student debt cancellation with other progressive lawmakers describing the situation as a "crisis."
Current student loan debt in the United States sits at over $1.7 trillion, and that number is expected to grow as the cost of college continues to increase and thousands of Americans are unable to repay their debt amid lost wages and lockdowns related to the COVID-19 pandemic.
Warren and Senate Minority Leader Chuck Schumer, a New York Democrat, released a joint statement in September calling on the next president to cancel student debt using powers already granted to the Secretary of Education and the president. Schumer reiterated his desire to cancel at least $50,000 in student debt for all Americans in an interview with journalist Anand Giridharadas earlier this month.
"I think any sort of carte blanche forgiveness is misguided. Although the cost of college has increased, at the same time the wage premium earned by college graduates is the highest it's been this century," Patrick Gourley, an assistant professor of economics at the University of New Haven, told Newsweek.
However, proponents of student loan cancellation argue that it would boost the economy, arguing that the burden of debt has prevented millions of millennials from purchasing homes and starting families. Critics question the need for the policy, saying students take on debt knowing it should be paid back in the future. Some also say it would not be fair to Americans who have already completed student loan repayments.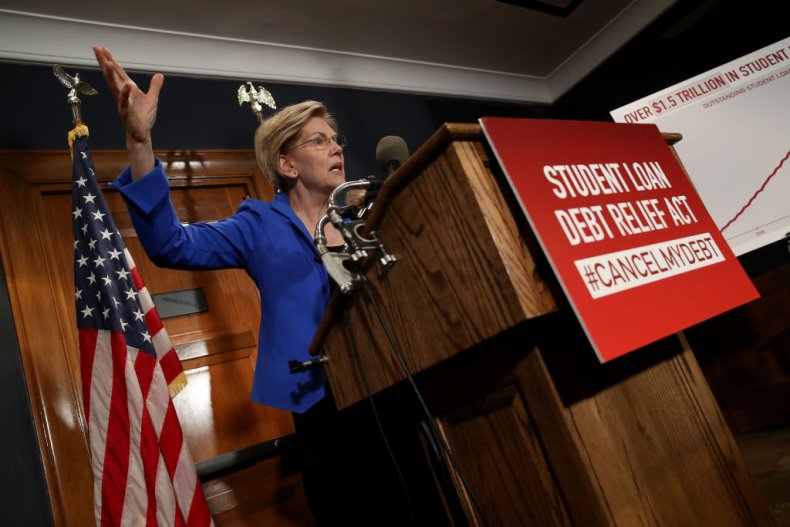 Economists who spoke with Newsweek had mixed reactions. While some said some form of student loan cancellation would benefit many Americans and boost the economy, others questioned whether it's the best approach to address inequality and economic disparities.
"Higher education, particularly on the 'prestigious' side, costs more for students in the U.S. versus many of our peer countries. I think that we would need to have a long national conversation about college costs first," Hoyt Bleakley, a professor of economics at the University of Michigan told Newsweek in an email.
"If the result of that dialogue were to be that college should be more heavily subsidized for current and future students, then perhaps we could talk about the unfairness to all the people who already paid the old, high prices. Talking about student debt first puts the cart before the horse," he said.
Elise Gould, a senior economist at the Economic Policy Institute, told Newsweek she believes a form of student loan cancellation would be beneficial, particularly amid the widespread economic fallout of the ongoing COVID-19 pandemic.
"I think it's gonna be hugely beneficial to those who have taken on a lot of debt. I'm particularly concerned with those borrowers who didn't necessarily finish college and are racked with debt that is making their economic lives particularly difficult," Gould said. The economist pointed out that the burden of debt for a particular individual depends a lot on how much they've borrowed and how much their annual income is. She suggested it may be better to find a policy that "balances" these factors instead of blanket loan forgiveness.
The average level of student debt among Americans is estimated to be north of $32,000. But there are significant disparities as those who have pursued law, medical or other graduate degrees often having six-figures of debt. At the same time, individuals with professional or higher education often earn more than the average American.
"Anything that sort of frees up individual pocketbooks and budgets toward something else has a positive impact," Mark Hamrick, a senior economic analyst at Bankrate told Newsweek. Hamrick said that forgiveness might "free up" individuals to engage in other forms of "consumer behavior." He noted that Bankrate surveys have shown that "important life decisions are delayed because of student loan debt in general."
Chloe Gibbs, an assistant professor at the economics department at the University of Notre Dame, said that student loan cancellation would not be the best form of financial stimulus. She explained that those holding the debt are generally not the people struggling the most in the current economy.
"People with student loan debt are those who went to college, with most loan debt being held by college graduates and those with graduate school debt. Those are not the people hurt the most by the current economic downturn," Gibbs said in an email. "It is also the case that removing debt may help some in the moment by reducing bills to pay but it does not necessarily free up financial resources right now for families that are already severely cash strapped."
Gourley shared a similar perspective, suggesting that there are other priorities that could benefit economically disadvantaged Americans more.
"A large portion of student debt is owned by so-called HENRYs (High Earners, Not Rich Yet), such as a young lawyer with $200,000 in debt and an annual salary of $150,000. To give these individuals any loan forgiveness would be terribly regressive," the academic said.
"Student debt is an important issue," he said, "but based on who owes most of the debt, it seems prioritizing minimum wage and Medicare-for-all would be more effective in helping low-income Americans."
A report published by Moody's Investors Service in October 2019 predicted that student loan cancellation would "yield a tax-cut-like stimulus to economic activity, contributing to a modest increase in household consumption and investment." However, the report noted that "the magnitude of the stimulus would depend on the size of the debt relief and income level of the beneficiaries."
Student loan cancellation could also cause the national deficit to "widen," according to Moody's analysis. This would depend on how the cancellation was carried out and whether any "offsets" were put into place.
Gibbs said that she would be "disappointed" if the Biden administration prioritized student debt forgiveness ahead of "stimulus and aid targeted to support those who have lost jobs or those who cannot work as we get the public health crisis under control." But she said that it may make sense "as part of a package of policies to help people weather these difficult times."