WrestleMania 32: Six Things We're Looking Forward to at WWE's Big Event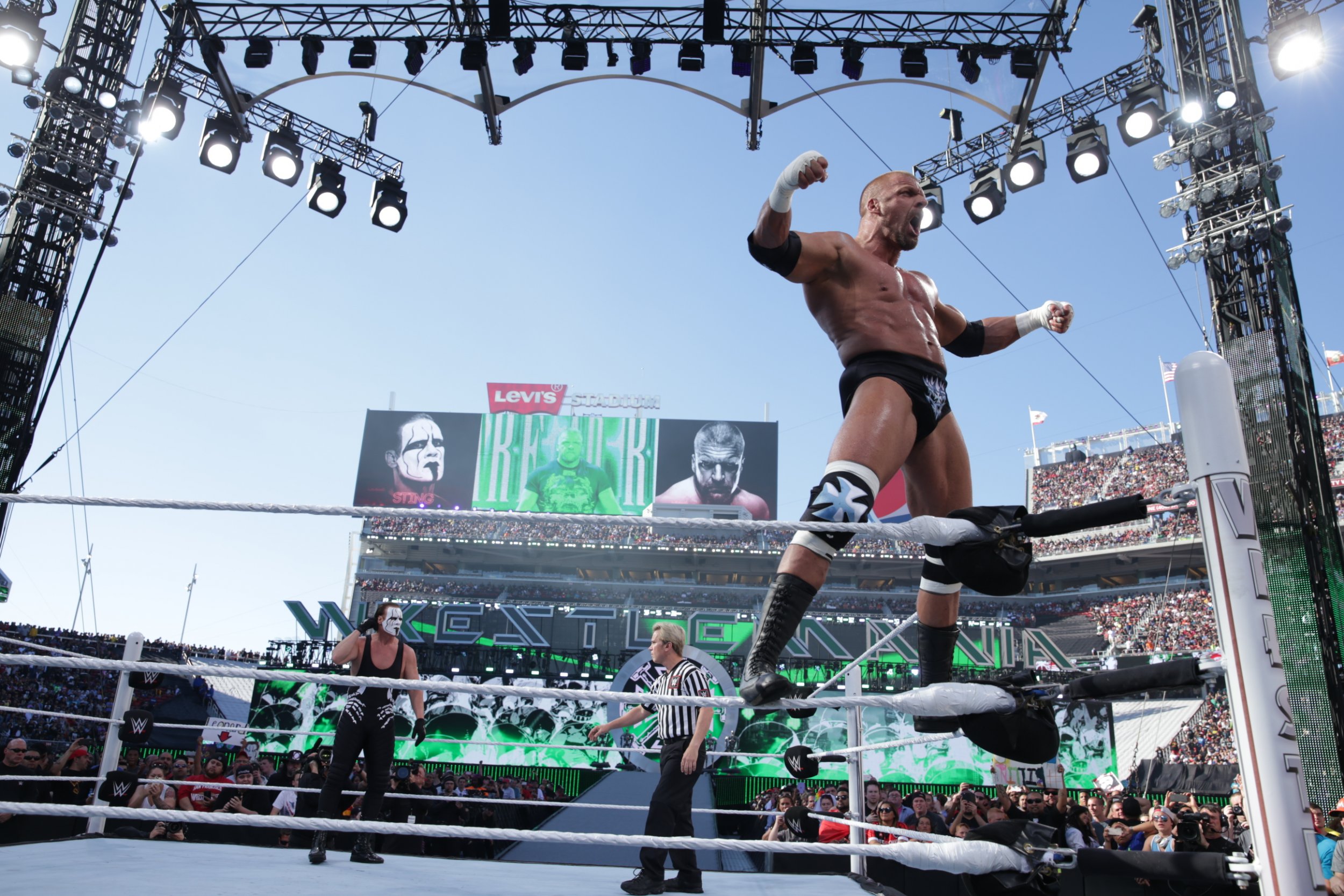 It's time to whip out your toy championship belt because WrestleMania 32 is here. On Sunday, April 3, the biggest professional wrestling event on the calendar descends upon Dallas, Texas' AT&T Stadium with big names such as Triple H, Brock Lesnar and The Undertaker set to compete.
And that's not all—WWE is bringing in the big guns with legends "Stone Cold" Steve Austin, Shawn Michaels and Mick Foley all rumored to appear.
One name confirmed for a special appearance is Dwayne "The Rock" Johnson, prying himself away from filming his latest Hollywood blockbuster, Baywatch, and returning to his sports-entertainment roots.
As has become an annual tradition, WrestleMania isn't just about the big show itself—though it is shaping up to be an incredible card—there is a whole weekend of festivities planned, including a live NXT TakeOver event on Friday, April 1, and the annual WWE Hall of Fame ceremony on Saturday, April 2.
Newsweek takes a look at some of the highlights from wrestling's blockbuster weekend:
Welcome to the WWE, Nakamura
WWE made headlines in Japan in February with one of its biggest talent signings ever: Shinsuke Nakamura. Considered one of the country's greatest in-ring performers, the 36-year-old star will make his official debut for the American company at NXT TakeOver: Dallas on Friday night, facing former NXT Champion Sami Zayn.
It's just one of the highlights on a card that will set the tone for WrestleMania weekend. NXT, WWE's proving ground for future Superstars and Divas before joining the main roster, has become one of the company's hottest properties in the last 12 months, developing a cult, underground-style following.
To say anticipation is high for Friday's event is an understatement. In fact, it could be argued that NXT TakeOver: Dallas has fans more excited than parts of the main WrestleMania card on Sunday. The big main event is a grudge match between NXT Champion Finn Balor and his friend-turned-rival Samoa Joe. But don't take the ladies of NXT lightly. As NXT fans will know from past NXT TakeOvers, Women's Champion Bayley and her opponent, Asuka, could very well steal the show.
Sting is immortalized
As rumors abound about his future in professional wrestling, following a career-threatening injury in September 2015, iconic grappler Sting leads the class of 2016 for this year's WWE Hall of Fame ceremony on Saturday night.
The 57-year-old star, one of the icons of the now-defunct WCW, is considered by some to be long overdue an induction. His career spans three decades and he's had incredible rivalries with the likes of Ric Flair, Hulk Hogan and Triple H.
Ensuring there won't be a dry eye in the house, WWE is also posthumously inducting the Big Boss Man, 11 years on from his death in September 2004. The wrestler has had many memorable WrestleMania moments of his own, including a "Hell in a Cell" cage match with The Undertaker in 1999.
A little more eyebrow-raising is the induction of Snoop Dogg. Yes, that Snoop Dogg. WWE likes to have a token celebrity induction each year and this time it's the rapper, whose tenuous link to the company equates to a couple of previous appearances on WWE programming.
The Undertaker's last stand?
With a 22-1 winning streak at the big event, no wrestler is more synonymous with WrestleMania than The Undertaker. But at the age of 51, fans have long braced themselves for the day the wrestler competes in his final event and that could well be a reality on Sunday.
In a high-stakes "Hell in a Cell" match with Shane McMahon, the son of WWE owner Vince McMahon, The Undertaker will put his career on the line. If he loses, it's his last WrestleMania, McMahon announced in March.
He'd be leaving behind quite the legacy…
Will the Divas steal the spotlight?
In the summer of 2015, WWE overhauled its women's division, putting more emphasis on the athleticism of its roster of female wrestlers and, after some years of diluted storylines and short matches in comparison to their male counterparts, finally gave them an opportunity to have long, competitive matches. Three new Divas were introduced and now they all make their WrestleMania debut: The Divas Champion Charlotte faces Becky Lynch and Sasha Banks in a "Triple Threat" match for the championship.
All three of these wrestlers are products of NXT, where they helped put the brand on the map with their incredible matches, often earning more praise than the male main eventers. Now they have the chance to do the same on the main roster—and with a storied history behind them this is arguably the most-fleshed out women's storyline WrestleMania has seen since Trish Stratus and Mickie James fought a decade ago.
The Rock returns
In between various movie projects, Dwayne Johnson occasionally pops up on WWE television and has been a staple of WrestleMania, in some fashion, for the last several years. In 2015, he made headlines when he coaxed UFC star Ronda Rousey to get into the ring and help him take down evil authority figures Triple H and Stephanie McMahon. This year? Not much is known about his role on the show but he says he's been working on a "surprise for two months now." It must be something big.
The main event
Speaking of Triple H and Stephanie McMahon—collectively known as "The Authority"—they've been doing their best to keep the WWE's top prize, the World Heavyweight Championship, away from rising star Roman Reigns. They stacked the odds against the former champion at the Royal Rumble in January, making him defend the title in a 30-man match, won by Triple H. Now Reigns has a chance to regain the championship and defeat his bitter rival in the main event of WrestleMania 32.
But perhaps more interesting is how the crowd will react to Reigns if he does win. The polarizing wrestler, who headlines WrestleMania for the second time in as many years, has faced pushback from fans who feel WWE is trying too hard to make him popular. Instead of being cheered as the fan-friendly hero, he's more often than not booed by the hostile crowds at live shows.
The greatest match on the card may end up being Roman Reigns versus the fans.
WrestleMania 32 airs live on Sunday, April 3, at 7pm E.T. (12am UK) on the WWE Network and is free for new subscribers.