WrestleMania 32: By Dumping the 'Divas' Branding, WWE Makes Its Biggest Step to Gender Equality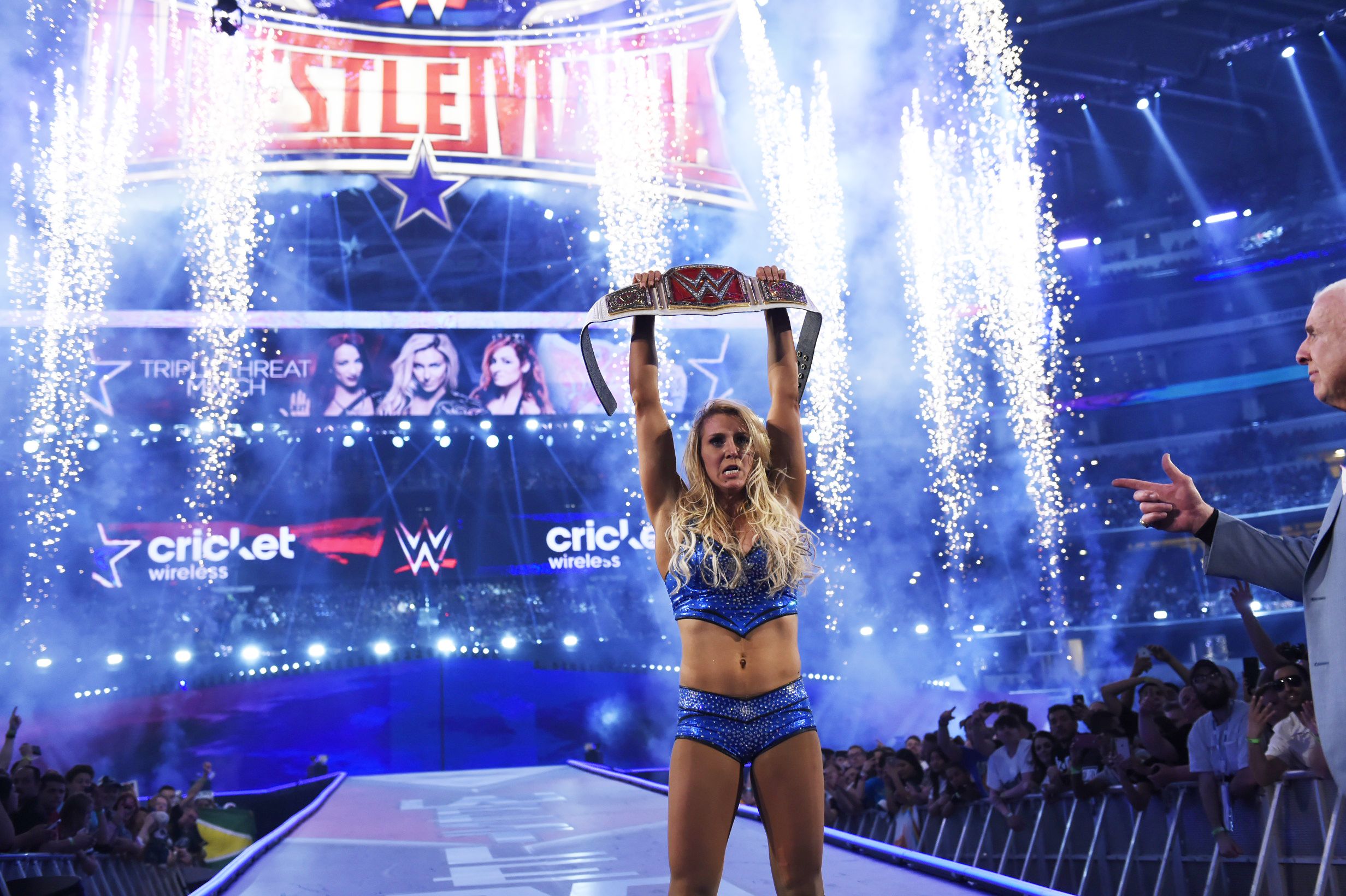 It may have taken 32 years to get there, but on Sunday WWE, the world's premier professional wrestling and entertainment company, finally achieved a semblance of parity between its male and female athletes at its biggest-ever event, WrestleMania.
In front of a record crowd of 101,763 fans, WWE made its greatest stride yet towards gender equality when it gave three of its female wrestlers—Charlotte, Becky Lynch and Sasha Banks—the platform to not just perform, but to steal the show in a championship match.
Comparably, in years past, women were often relegated to multi-woman tag team matches with little consequence and the last time they competed for a title was nearly a decade ago.
As reactions to Sunday's four-hour broadcast flood social media, the conversation isn't solely limited, as you'd expect, to the main event, or WrestleMania icon The Undertaker's latest match, or even The Rock's return to the ring. Many have argued that the women had the best match on the card.
Punctuating the performance in the ring is the announcement that WWE will no longer call its women athletes "Divas," a moniker that has always had a stigma attached, and would be dispensing with its Divas Championship—a gaudy, silver-and-pink butterfly-shaped belt that was difficult to take seriously.
Instead, it reinstated the defunct WWE Women's Championship with its rich lineage dating back to the 1950s and held by greats such as The Fabulous Moolah and Trish Stratus.
The decision to dump the "Divas" branding, as announced by WWE's chief brand officer Stephanie McMahon, cannot be understated. The branding created a barrier between the men and women, one that in the fans' eyes led to the women athletes being seen as inferior. WWE itself did little to challenge that theory, often having its women relegated to sketches with guest celebrities or, worse yet, competing in less-than-practical bikinis. And even when there was a score to be settled in the ring between two women, the storylines often hinged on petty jealousy.
While UFC has had women main eventing its fight cards for years now, and Ronda Rousey has become an internationally recognized name, WWE fell behind the curve. The closest the women's division came to healthy competition on par with the men was at the turn of the century when the likes of Stratus, Lita and more competed. That was eventually phased out and the women began taking more of a passive role—albeit there have been flecks of brilliance, including A.J. Lee's rise to stardom in 2012.
It is only in the last year—thanks, in part, to fan discontent and the dominance of other women in sport, like Rousey and Serena Williams, and the growth of its own NXT women's division—that WWE has begun to evolve with the times.
The three women in Sunday's WrestleMania match are all products of NXT, the company's breeder system if you will, that holds its own live specials and weekly programming on the WWE Network. It was there they were afforded the opportunity to compete in lengthy, meaningful matches and even headline events.
While this underground, internet-only show was bubbling under the surface among the most diehard of fans, viewers of WWE's flagship show Raw grew resentful of its portrayal of women and in February 2015, following a particularly short match, a revolt took place on social media. The hashtag #GiveDivasAChance trended worldwide and gained worldwide media attention.
WWE actioned change in July 2015, paving the road to Sunday's monumental step forward, when it introduced Charlotte, Lynch and Banks to the main roster on Raw. McMahon, both an authority figure on- and off-air, said it marked a "Divas revolution." Of course, that is easier said than done. Even with more meaningful, competitive matches, the women were frustratingly penned into rival groups and the old jealousy trope reared its ugly head again.
Thankfully, in the build to WrestleMania, WWE managed to work out some of those kinks and rightfully, on its grandest stage, Charlotte, Lynch and Banks fought not because of high school pettiness, but over a championship prize and to prove they are the best—just like the men.
The new WWE Women's Championship belt shares a similar design to the men's World Heavyweight Championship and that isn't by chance, according to McMahon. It signifies the gender gap in WWE getting increasingly smaller, and not a moment too soon.