WrestleMania 32: Watch The Rock's Return and More Incredible Highlights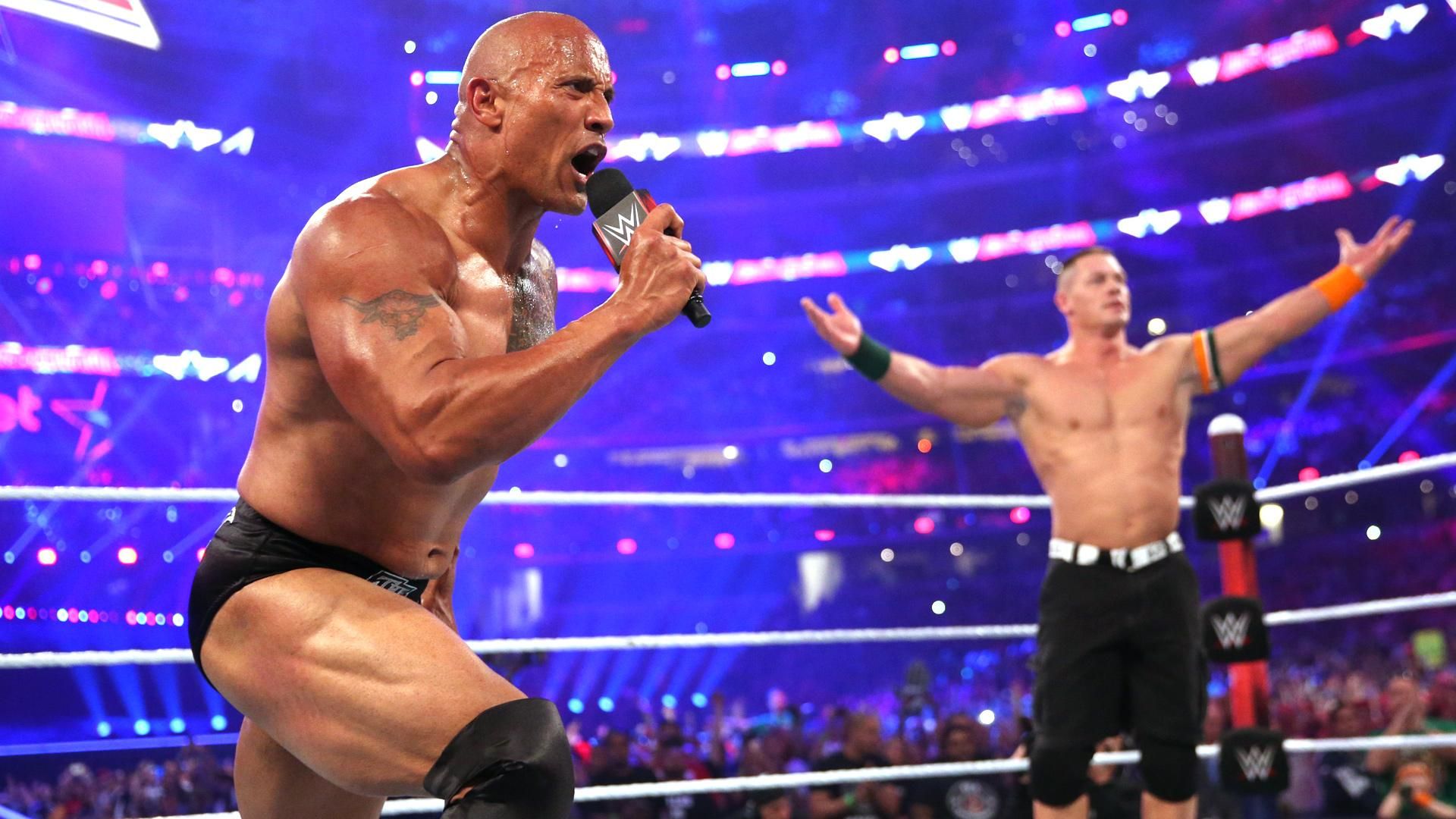 The biggest night in professional wrestling didn't disappoint on Sunday as surprises galore filled WrestleMania 32 , WWE's four-hour, super-sized smackdown in Dallas, Texas.
Dwayne "The Rock" Johnson made a shock return to the wrestling ring—and made history in the process by winning his unplanned match against The Wyatt Family member Erick Rowan in a record-setting six seconds.
Johnson's comeback was equalled only by another surprise return: John Cena. The injured former WWE Champion, a former rival of Johnson's, joined forces with the movie star in a brawl against all four members of the Wyatt Family after the six-second bout.
The event saw further nostalgic cameos from fellow WWE legends and Hall of Famers, death-defying stunts and a whole new era of Superstars and Divas making their mark on wrestling's biggest stage.
Take a look at some of the highlights:
A new champ in town
In the main event of WrestleMania , the polarizing Roman Reigns finally achieved what he failed to do a year earlier—end the night as WWE World Heavyweight Champion. The hulking Samoan speared his way to victory over authority figure Triple H, who, along with wife Stephanie McMahon, had long thwarted Reigns from rising to the top of the pack. It's the culmination of a year-long storyline that began when he lost out on the prize in the main event of WrestleMania 31.
Shane McMahon soars off the "Hell in a Cell" cage
In his first match in seven years, Shane McMahon was always going to pull out all the stops. The wunderkind son of WWE chairman Vince McMahon made a surprise return to WWE in 2016 vowing to take control of the company. In a high-stakes "Hell in a Cell" match against perennial icon The Undertaker he leapt off the top of the 20-foot cage, through an announce table, in a sight that just has to be seen to be believed.
A new Women's Championship
The WWE continued to revolutionize its burgeoning women's division by finally getting rid of its much-maligned butterfly-themed Divas Championship in favor of a new title befitting its women warriors. The newly instated Women's Championship was unveiled by WWE Hall of Famer Lita on the WrestleMania pre-show and later won by Charlotte, now recognized as the last Divas Champion, in a "Triple Threat" bout against Becky Lynch and Sasha Banks. The match has been hailed by some as the best of the night—case in point, this show of athleticism by Charlotte:
Hall of Famers abound
A new class of WWE Hall of Famers were inducted on Saturday night, but on Sunday three of the biggest names in professional wrestling history added nostalgia to the WrestleMania card in a surprise appearance. "Stone Cold" Steve Austin, Shawn Michaels and Mick Foley hit the ring to show the current generation of stars they can still put up a fight. The trio cleared the ring of villainous group The League of Nations and, of course, "Stone Cold" popped up a few cans of beer to celebrate the occasion.
Brie Bella retires
It was a bittersweet night for one member of the WWE roster on Sunday night: Brie Bella, one half of the Bella Twins, competed in her final match, emerging victorious in a 10-woman tag team bout on the pre-show. Just weeks after her husband Daniel Bryan retired due to injuries, Bella hung up her boots by making Naomi tap out to the "Yes Lock"—her husband's signature move. She was joined in the ring afterwards by her sister, Nikki, who herself has been out of action since October 2015 with a career-threatening neck injury .
"These women made my last night feel sooo special," she wrote on Instagram after the match.
Shaq attacks WrestleMania
On a night where wrestling meets celebrity, WrestleMania saw appearances by Snoop Dogg and pop group Fifth Harmony. But no-one saw this one coming: retired NBA star Shaquille O'Neal made a surprise cameo by taking part in a 20-man battle royal. The athlete is no stranger to the WWE, often appearing on flagship show Raw in the past. It was quite the sight to see him size up against fellow giant, The Big Show.
Sting takes his final bow
After announcing his retirement from wrestling during the Hall of Fame ceremony on Saturday, Sting returned to WrestleMania—where he competed in his very first WWE match a year earlier—leading the Hall of Fame class of 2016. For fans across the globe it was a sight they thought they'd never see as the iconic grappler, synonymous with WWE's now defunct rival company WCW, only joined WWE in 2014 in the twilight of his career.
WrestleMania 32: Watch The Rock's Return and More Incredible Highlights | Sports