WrestleMania 34 Predictions: Picking Every Winner
WrestleMania 34, the highlight of WWE's year, will air live from New Orleans on April 8. Stories and feuds will end here and others will be created or continued, but what can fans expect?
There are 13 confirmed matches, three on the kickoff, on the massive card. Our gaggle of wrestling "experts" have predicted the winners for the entire pay-per-view. If video is more your speed, you can check out our WrestleMania 34 predictions here. Otherwise, continue down below to find out where our heads are at.
The Undertaker vs John Cena match has not been confirmed, so we don't have a dedicated section for it. Still, we all believe it's happening and, just for the record, Taker will win.
WrestleMania 34 's Kickoff show will begin at 5 p.m. EDT on the WWE Network with the main show starting at 7 p.m.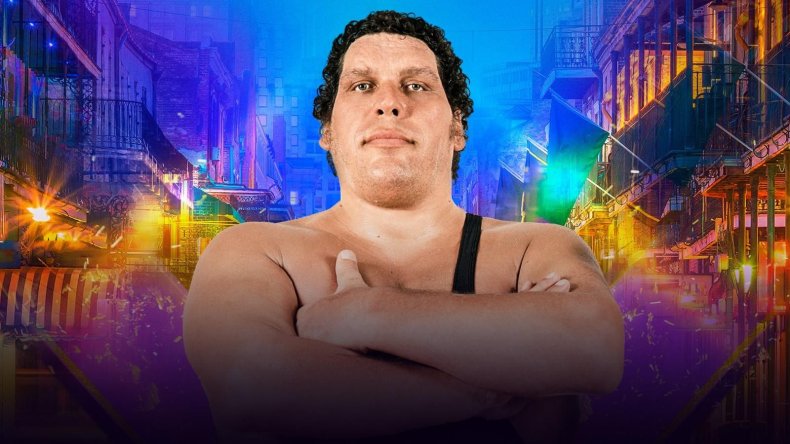 ANDRE THE GIANT MEMORIAL BATTLE ROYAL
The winner of the Andre the Giant Memorial Battle Royal could be anyone. A current WWE Superstar may come out on top, or someone from NXT might come up and steal the spotlight. There are even two confirmed participants who already won this match so we can have the first two-time winner.
Phil - Big Cass
Bob - Apollo
Mo - Baron Corbin
Rocco - Matt Hardy
WRESTLEMANIA WOMEN'S BATTLE ROYAL
The first ever Women's Battle Royal at WrestleMania sees only one storyline coming into the match. Sasha and Bayley have gone back and forth, their friendship disintegrating before our eyes. It's an easy pick to choose one of them
Phil - Becky Lynch
Bob - Sasha Banks
Mo - Ember Moon
Rocco - Bayley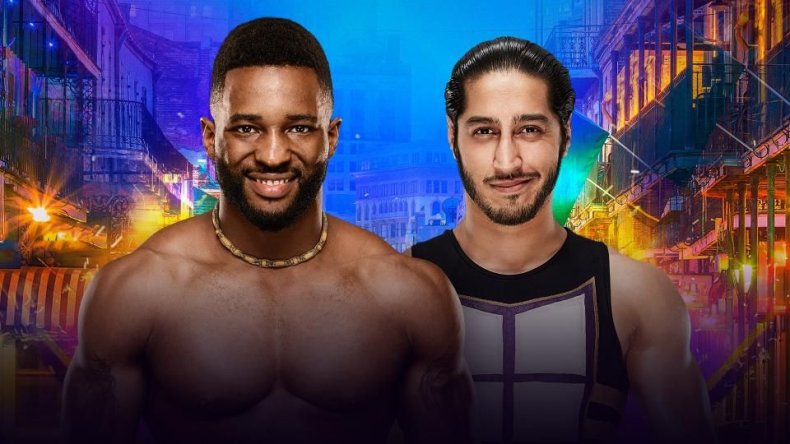 CEDRIC ALEXANDER VS MUSTAFA ALI - CRUISERWEIGHT CHAMPIONSHIP MATCH
The vacant Cruiserweight Championship will finally have a home after the long-awaited match between Cedric Alexander and Mustafa Ali. Both performers will put on a hell of a match and the council of four are split as to who will win.
However the match shakes out, the audience and the viewers will be the real winners.
Phil - Mustafa Ali
Bob - Mustafa Ali
Mo - Cedric Alexander
Rocco - Cedric Alexander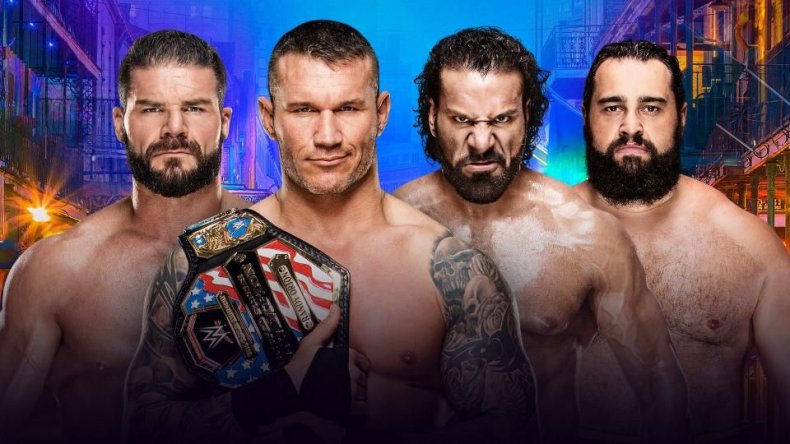 RUSEV VS RANDY ORTON VS JINDER MAHAL VS BOBBY ROODE - UNITED STATES CHAMPIONSHIP MATCH
Maybe it's because of his merchandise sales that Rusev was inserted into the US Title picture at WrestleMania 34, but we don't care, we all believe the most over guy in the company right now should finally get a chance to shine.
Phil - Rusev
Bob - Rusev
Mo - Rusev
Rocco - Rusev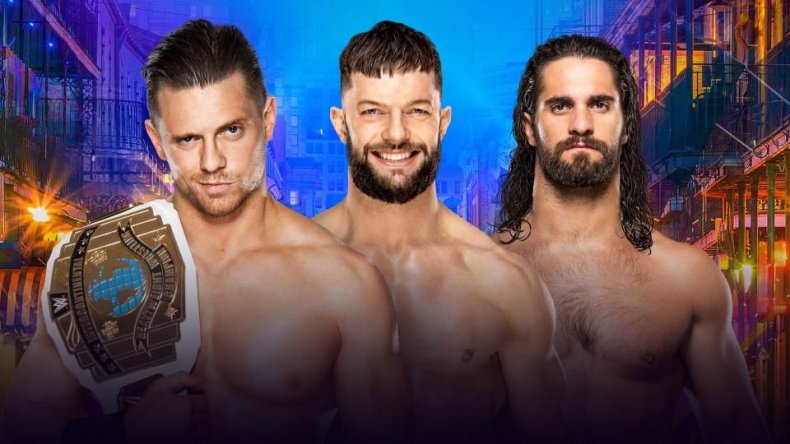 THE MIZ VS FINN BALOR VS SETH ROLLINS - INTERCONTINENTAL CHAMPIONSHIP MATCH
One of the better feuds on WWE television, The Miz hopes to break the longest cumulative Intercontinental Championship reign but Finn Balor and Seth Rollins look to dethrone the Awesome one.
Phil believes Miz will retain just to break the record before dropping it to someone after 'Mania, while the rest of the crew believe its Finn's time to hold a title again. Sorry, Seth.
Phil - Miz
Bob - Finn Balor
Mo - Finn Balor
Rocco - Finn Balor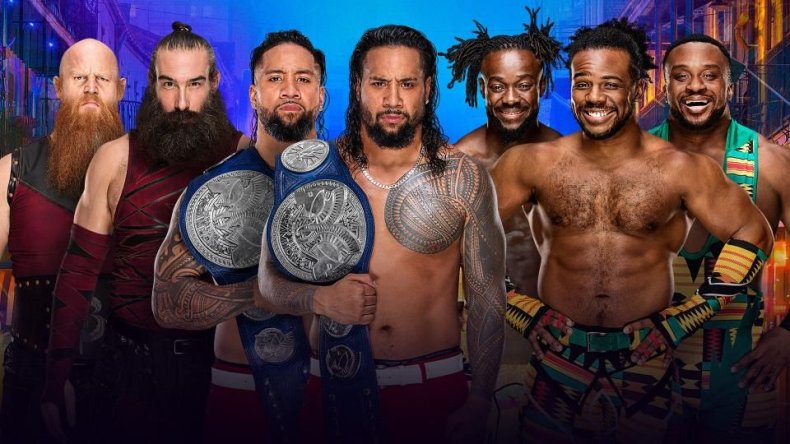 THE USOS VS THE NEW DAY VS BLUDGEON BROTHERS - SMACKDOWN TAG TEAM CHAMPIONSHIP MATCH
Another multi-person match. This time, the top three Tag Teams on SmackDown Live go at it as the Usos try to hold on to their straps by fending off both The New Day and Bludgeon Brothers. The crew feels its the Bludgeon Brothers' time to pick up the titles and continue their mean streak while Mo, always the contrarian, feel the New Day will become champs once again.
Phil - Bludgeon Brothers
Bob - Bludgeon Brothers
Mo - New Day
Rocco - Bludgeon Brothers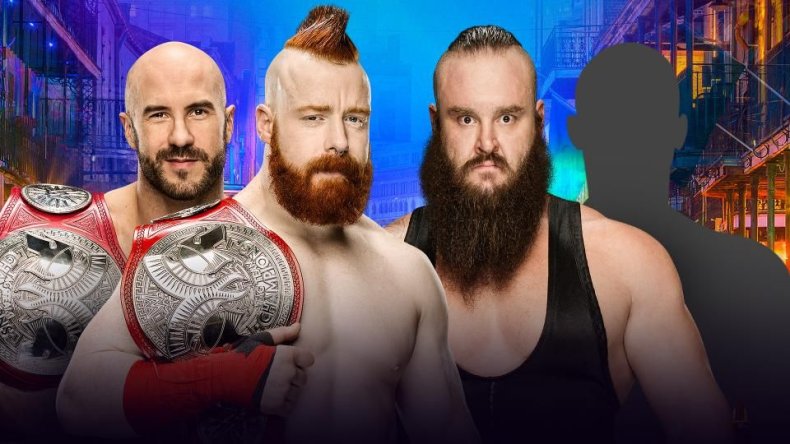 THE BAR VS BRAUN STROWMAN AND MYSTERY PARTNER - RAW TAG TEAM CHAMPIONSHIP MATCH
Braun Strowman looks to dominate the RAW roster by becoming the Tag Team champion by himself. However, Kurt Angle told the monster among men that he will need to have a partner to take on the current champs, The Bar at 'Mania.
The crew feel Strowman is destined to pick up the tag belts but we all have differing opinions on who his mystery partner will be.
Phil - Strowman (Big Show)
Bob - Strowman (Ellsworth)
Mo - Strowman (Goldberg)
Rocco - Strowman (Curt Hawkins)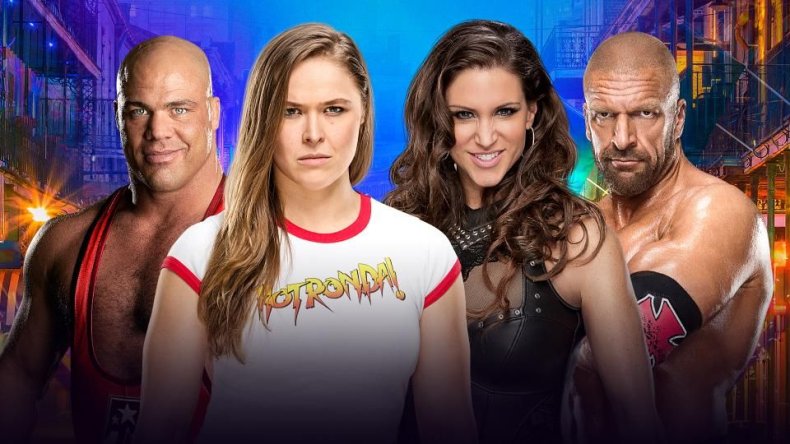 KURT ANGLE/RONDA ROUSEY VS TRIPLE H/STEPHANIE MCMAHON
Ronda Rousey's in-ring debut will see the former UFC champ team up with Kurt Angle against Triple H and Stephanie McMahon. There's not much else to say here and the crew, mostly, feels Rousey will pick up the victory in her first time out… unless you're Mo and feel The Authority figures will come out on top.
Phil - Angle/Rousey
Bob - Angle/Rousey
Mo - Steph/Trips
Rocco - Angle/Rousey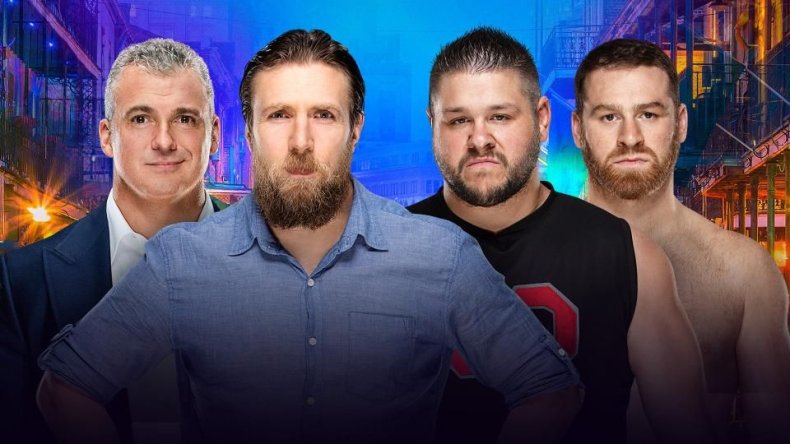 DANIEL BRYAN/SHANE MCMAHON VS KEVIN OWENS/SAMI ZAYN
Daniel Bryan's return from career-ending head injuries is something to behold. His first in-ring match will be a tag team match with Shane McMahon against Kevin Owens and Sami Zayn. The stipulation is if KO and Sami lose, they will remain fired from SmackDown Live but if they pull out a victory, they can return.
Some of us feel Bryan may turn heel on Shane to allow KO and Sami to win and get their jobs back. The rest feel Bryan can't lose his first match back and KO and Sami can just go to RAW after.
Phil - Bryan/Shane
Bob - KO/Sami
Mo - Bryan/Shane
Rocco - KO/Sami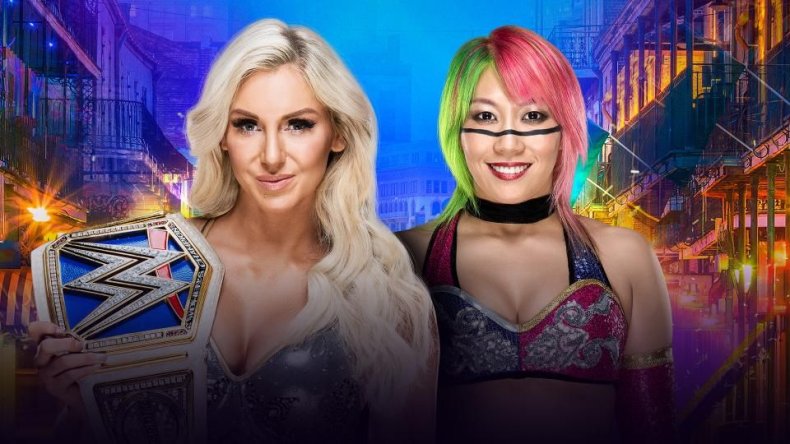 CHARLOTTE FLAIR VS ASUKA - SMACKDOWN WOMEN'S CHAMPIONSHIP MATCH
One of two Women's title matches on the WrestleMania card, the bout between Charlotte and Asuka is expected to be one of the best of the entire night. Can Charlotte retain her SmackDown Women's title and end Asuka's streak at the same time? Or is it inevitable that Asuka, the first winner of the Women's Royal Rumble, will capture her first title on the main card?
Besides Rocco, the consensus is that Asuka will come out on top.
Phil - Asuka
Bob - Asuka
Mo - Asuka
Rocco - Charlotte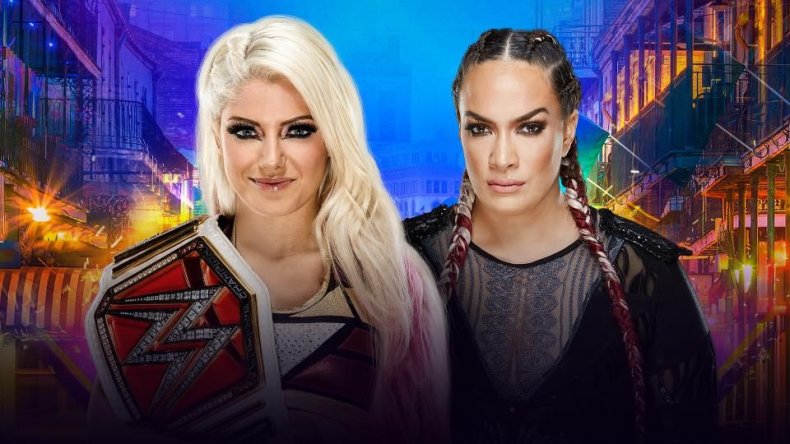 ALEXA BLISS VS NIA JAX - RAW WOMEN'S CHAMPIONSHIP MATCH
Probably the most mismatched fight of the night. The RAW Women's Champion, Alexa Bliss, will defend her title against former best friend Nia Jax.
Rocco feels Bliss will somehow retain her belt, while the rest of the crew is pretty certain Nia Jax will win and become the new champion. However, Phil believes a swerve in the form of Carmella cashing in her Money in the Bank briefcase is in the cards.
Phil - Carmella cash-in
Bob - Nia Jax
Mo - Nia Jax
Rocco - Alexa Bliss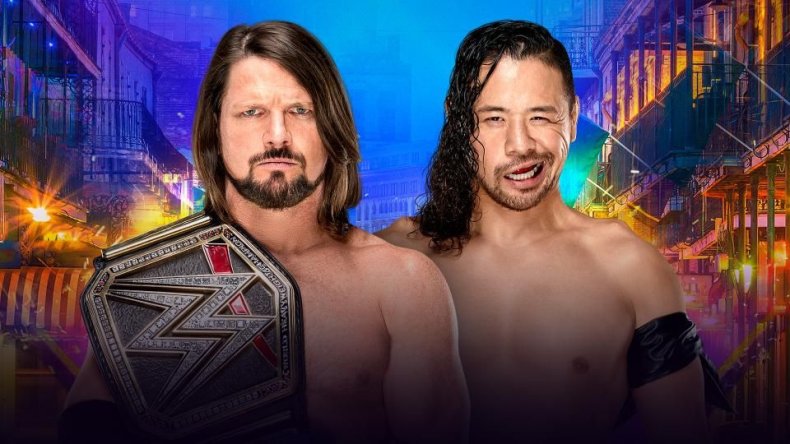 AJ STYLES VS SHINSUKE NAKAMURA - WWE CHAMPIONSHIP MATCH
AJ vs Nakamura. It's the match many WWE fans have been wanting to see on the grandest stage of them all. Three of the four amigos feel Shinsuke is destined to grab the WWE Championship. Bob sees the Phenomenal one retaining his title and continuing to build his legacy at SmackDown Live.
Phil - Nakamura
Bob - AJ Styles
Mo - Nakamura
Rocco - Nakamura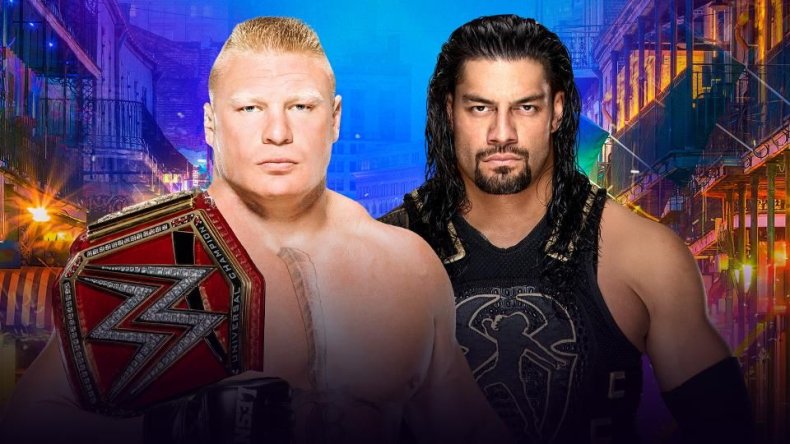 BROCK LESNAR VS ROMAN REIGNS - UNIVERSAL CHAMPIONSHIP MATCH
Three years in the making, the WWE Universe will finally see Roman Reigns go over Brock Lesnar at WrestleMania. That's what the crew feels, at least. With Lesnar's impending return to UFC all but confirmed, it doesn't make sense to keep the Universal title on The Beast.
Phil - Roman
Bob - Roman
Mo - Roman
Rocco - Roman
So what do you think of our predictions? Give us yours in the comments section below and tell us which match you are looking forward to the most