Wrestler Chris Jericho Shares Video of Bullied Niece, Asks School for Help
Wrestler Chris Jericho is urging a Florida middle school to take action after he shared a video of his niece being "incessantly bullied" by a group of fellow students.
Jericho, an All Elite Wrestling (AEW) star, claimed Sunday that his niece has been bullied "for months" at Mulrennan Middle School in Valrico, Florida, and that the school district has done nothing to help. In a video that has since gone viral, a young girl can be seen being beaten and dragged across the ground while a group of peers watch.
"Hey@HillsboroughSch- My niece has been incessantly bullied at #MulrennanMiddleSchool for months. Despite my families pleas, nobody did anything to help...and this was the result a few days ago. If u won't take action, I'd love to discuss this on @abcactionnews &@wfla ANYTIME!," the wrestling champion wrote.
At the time of writing, the video had been viewed more than 350,000 times. Several Twitter users responded with support for the wrestler's family, with one offering to help Jericho speak with reporters from the local news station WFLA about the issue.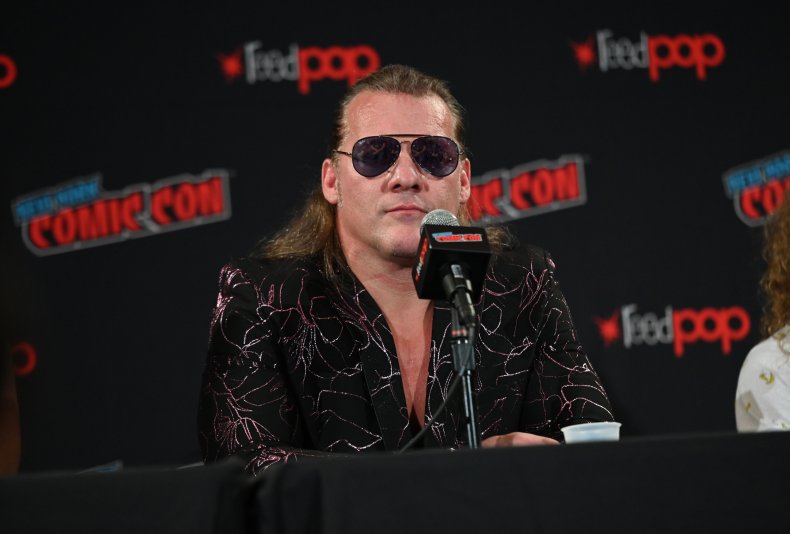 "Hey Chris, I work for the company that owns WFLA. A lot of my co-workers in News at my station are fans. If you need us to help you get in touch with WFLA, let me know and we can try to help. Sorry this is happening to your family (or anyone on the planet)," wrote Austin Kokel.
Jericho quickly responded by saying "please do!"
In response to an inquiry from Newsweek, Mulrennan Middle School Principle Tamara Brooks said Monday that there is "much more to this story that we cannot share because of student privacy laws."
However, Brooks said that "administrators immediately acted" to break up the recorded fight and that "discipline was handed down." She added that in these types of situations, discipline can range from out-of-school suspension to expulsion, but did not give details as to which punishments were given.
"The administrators at this school and all district schools do not tolerate disrespectful behavior between students, threatening language, physical altercations, encouragement of conflict through social media or any other behaviors that put the emotional and physical well-being of students at risk," Brooks told Newsweek.
"As far as any previous incidents, if administrators are not alerted to negative behavior between students, they cannot proactively work to resolve conflict. We always encourage our students to report any incidents on- or off-campus to a trusted adult at school or to their parents," she added.
It is unclear how the fight began, or whether or not Jericho's family intends to take further action.
According to an article published in Newsweek last month, as many as 90 percent of fourth through eighth graders have reported being bullied or harassed at some point. Kevin Chavous, President of Academic Policy and External Affairs at Stride Inc., recommends implementing more effective training for teachers, counselors, and school staff members.
"When bullying increases, more children are forced to deal with threats to their physical and emotional health. More children can end up struggling with depression, anxiety and suicidal ideation. All the while, academic performance suffers as millions of children skip school days due to bullying as the effects pile up and compound each other in alarming ways," he wrote for Newsweek.