Senator Bernie Sanders rejected Senator Kyrsten Sinema's criticism of progressive Democrats' successful effort to delay a vote on the bipartisan $1.2 trillion infrastructure bill, saying her assessment was "wrong."
Progressive leaders, as well as top Democrats, have said for months that the bipartisan infrastructure bill would be passed in tandem with a larger partisan $3.5 trillion "human infrastructure" reconciliation package. But moderates—including Sinema—expressed frustration last week after Speaker of the House Nancy Pelosi, a California Democrat, delayed a vote on the bipartisan legislation as it was apparent there were not enough votes for it to be approved.
Sinema, an Arizona Democrat, called the delay an "ineffective stunt." The moderate lawmaker described the delay as "inexcusable" and "deeply disappointing."
"I think Senator Sinema is wrong. I think from day one...it has been clear—president of the United States has said, Speaker of the House Pelosi has made it clear, Majority Leader in the Senate [Chuck] Schumer has made it clear—both of these bills are going forward in tandem," Sanders told ABC News' This Week on Sunday.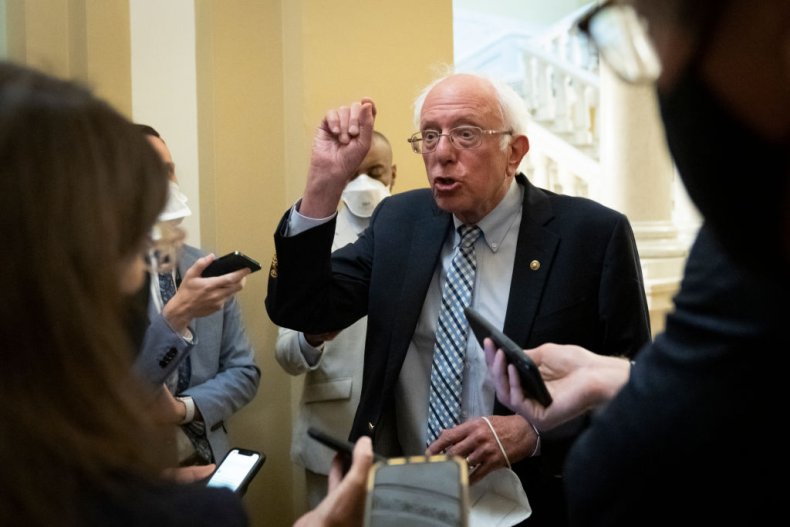 The Vermont senator tweeted his praise of progressive Democrats in the House of Representatives on Saturday for their successful effort to delay the vote.
"Congrats to the House Progressive Caucus and other Dems who insisted that Congress pass BOTH the Infrastructure Bill and the Reconciliation Bill. Now is the time to stand with working families and take on the greed of Pharma, the fossil fuel industry and the billionaire class," Sanders wrote.
Sinema and moderate Democratic Senator Joe Manchin of West Virginia have been the key opponents of the $3.5 trillion reconciliation bill moving forward. Both have raised concerns about spending such a substantial sum on top of the $1.2 trillion included in the bipartisan bill and the $1.9 trillion passed as part of President Joe Biden's American Rescue Plan in March.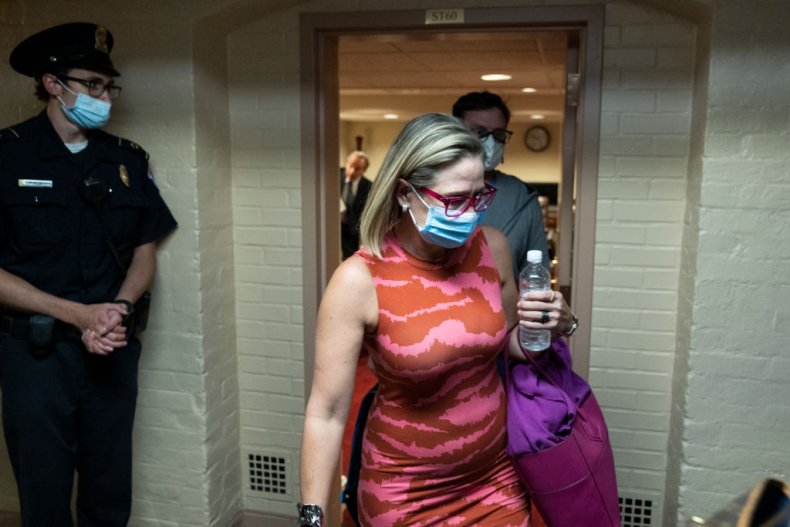 But the vast majority of Democratic lawmakers and the White House support approving both pieces of legislation, as they would implement significant portions of Biden's Build Back Better agenda. Defenders of the spending have also highlighted that it will occur over a decade and that much of it would be paid for by tax increases on the wealthiest Americans and corporations.
Manchin has suggested he would support a smaller reconciliation package totaling about $1.5 trillion on top of the $1.2 trillion included in the bipartisan infrastructure deal. Biden reportedly expressed a willingness to negotiate the price tag downward in remarks to Democratic lawmakers on Friday. The president reportedly said he expects the final package will spend between $1.9 trillion and $2.2 trillion, instead of $3.5 trillion.
The bipartisan infrastructure package would provide substantial funding to upgrade U.S. roads, bridges, water systems and public transportation. It would also work to address the dire effects of climate change. Through reconciliation, Democrats hope to provide funding for universal pre-kindergarten, two years of free community college for all Americans, expanded Medicare, and substantial investment to address climate change, among other priorities.
Newsweek reached out to Sinema for comment but did not immediately receive a response.