Wrongful Death Lawsuit Filed Against Pennsylvania Meat Plant Over Coronavirus Deaths
A wrongful death lawsuit was filed in Pennsylvania Thursday against meat processing company JBS USA over the coronavirus-related death of an employee formerly staffed at its Souderton beef plant, according to a law firm representing the deceased's family.
The initial complaint by Saltz Mongeluzzi & Bendesky P.C., issued on behalf of Enock Benjamin's estate, accuses JBS's global parent company as well as its United States branch of "negligent, reckless, and outrageous conduct," resulting in Benjamin's death on April 3.
"The JBS Defendants ignored federal guidance and put plant workers in the
crosshairs of a global pandemic," its introduction read, saying the company failed to implement adequate safety measures throughout the month of March to mitigate the spread of the coronavirus among Souderton employees.
After identifying a handful of management employees exhibiting flu-like symptoms, JBS announced it would slow production at its Souderton facility for two weeks in a March 30 statement.
"Out of an abundance of caution, these team members have been sent home to self-monitor their health in light of the continued spread of coronavirus (COVID-19) in the community," the statement read. "The plant will continue to run fabrication and ground beef operations. We anticipate the facility will return to normal operations on April 14, 2020."
As cited in Thursday's lawsuit, additional reports from local news sources have suggested that more than 15 of the plant's employees had tested positive for the new coronavirus by early April.
The wrongful death suit claimed JBS ignored recommendations from the CDC as well as OSHA that urged employers to implement "basic infection prevention measures" and provided guidance about how to do so. According to the lawsuit, JBS did not heed the agencies' recommendations regarding employee health monitoring procedures throughout March, nor did it provide staff with adequate personal protective equipment despite requiring them to work in crowded environments.
"During this critical timeframe in March 2020, Mr. Benjamin contracted COVID19 while working at JBS Souderton because the JBS Defendants inexplicably failed to take proper safety precautions to protect workers," the lawsuit stated, adding, "By keeping the Souderton plant open without providing the proper and recommended safety precautions, JBS intentionally misrepresented the safety of the facility."
Newsweek reached out to JBS Thursday for a comment about the lawsuit.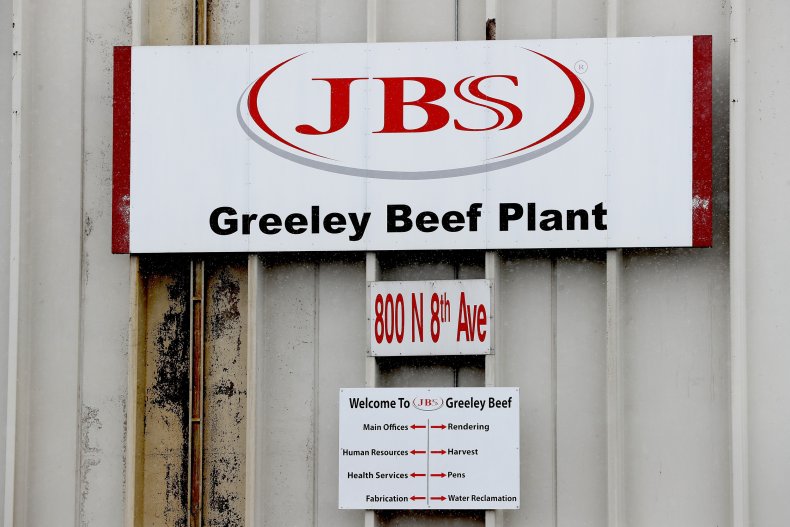 JBS halted operations at its Souderton plant entirely about one week after Benjamin's death, on April 7, and reopened on April 16 with heightened safety measures in place. The meat processing corporation, which is one of the world's largest processors of beef and pork products, closed three additional U.S. plants in April due to concerns about the spread of the new coronavirus. Some plants reported employees who tested positive for the illness--while others, like one in Greenley, Colorado, voluntarily closed to conduct diagnosing testing among staff.
Alongside Souderton and Greenley, JBS facilities in Wisconsin and Minnesota temporarily stopped production in response to confirmed diagnoses. JBS announced a limited reopening of its Minnesota facility on April 29, following the Colorado plant's reopening five days prior.
Reports of infections with the new coronavirus spreading among meat processing plants have circulated throughout the pandemic, as other large corporations closed facilities in response to outbreaks across the country. One of the most widespread virus transmissions occurred at Smithfield Foods' processing plant in Sioux Falls, South Dakota, which suspended operations on April 12 after about 300 employees tested positive for the disease. Under the terms of the recently invoked Defense Production Act, many previously shuttered meat processing facilities have now reopened, including Smithfield's Sioux Falls facility, resumed operations on Thursday.