Wuhan Mandates Coronavirus Testing For All 14 Million Citizens After New Coronavirus Cases Identified
The Chinese city of Wuhan, where the novel coronavirus was first discovered, has ordered that all of its 14 million residents be tested for COVID-19 after several residents tested positive over the weekend following more than a month without new infections.
All of Wuhan's districts were required to put together and submit a plan to carry out the mass testing effort within a 10-day campaign by 12 p.m. on Tuesday, according to the directive from the Wuhan Covid-19 Epidemic Prevention Headquarters, the Hong Kong-based South China Morning Post reported.
The decision was made after one resident of the central Chinese city tested positive for the virus on Saturday. Following his confirmed diagnosis, 5,000 people from his residential complex were tested and five more infected individuals were discovered.
Newsweek has reached out to China's embassy in Washington, D.C. for further comment.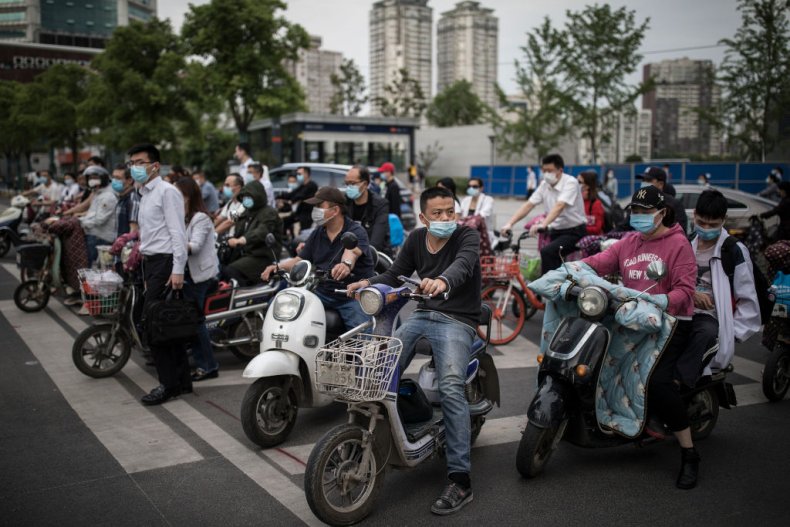 Wang Zhonglin, the Chinese Communist Party secretary of Wuhan, said that his city needed to expand testing rapidly while centralizing the process.
"We must realize deeply that decisive achievements do not mean a decisive victory, and that downgrading the emergency response does not mean downgrading defenses," Wang said, according to Changjiang Daily.
Wuhan had begun reopening its economy and allowing residents to return to a more normal life after months under stringent lockdown measures to curb the spread of the novel virus. Health experts have warned repeatedly of new outbreaks as well as the possibility of a second wave of infections as municipalities and regions begin to reopen.
But Yang Zhanqiu, a deputy director of the pathogen biology department at Wuhan University, downplayed the current risk in remarks to China's English-language daily newspaper The Global Times.
Yang said finding a few new cases was expected, even though the city had no new cases for over a month. The researcher said it did not appear that the situation would grow to become a second wave, particularly because of the quick reaction of local officials.
Wuhan was the original epicenter for the COVID-19 pandemic, although scientists are still trying to uncover the precise origin of the novel virus. Local officials in the city initially covered up the outbreak last year, even detaining doctors and forcing them into silence about the wave of infections. The Chinese government later issued a "solemn apology" to the family Dr. Li Wenliang, an early whistleblower who later died from the novel virus.
As of Tuesday, China has confirmed 84,011 cases of the novel coronavirus, according to a tracker updated by Johns Hopkins University. Of those infected, 79,208 have already recovered while 4,637 have died.