Mick Foley Reveals the 24/7 Title on Monday Night RAW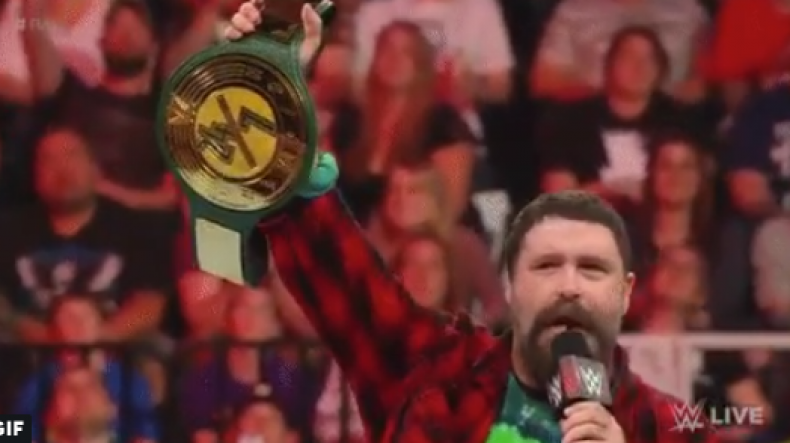 On the May 20 episode of Monday Night RAW, WWE legend Mick Foley revealed the 24/7 Title.
Foley came out at the top of the third hour to say to the WWE Universe that he wants Monday Nights to be "RAW" again. Superstars looking to step up will want to live this new title. And if you have to sacrifice teeth or an ear to get it, it's worth it.
This new title will need dedication to defend the championship 24 hours and seven days a week. The new championship will be defended anywhere, anytime as long as a referee is present on the scene.
The third hour on RAW each week will get "nasty and dirty." Starting tonight a scramble will occur to crown the first 24/7 champion. Members of the RAW, SmackDown, 205 Live, NXT and NXT UK roster will be eligible. Even visiting WWE Legends can get the belt.
The Club, Cedric Alexander, Titus O'Neil, Mojo Rawley, EC3, Eric Young, No Way Jose and Drake Maverick all came out to become the first 24/7 champion.
Titus O'Neil ends up picking up the championship, becoming the first 24/7 champion. However, while O'Neil is going up the ramp Robert Roode comes out from the back with his own referee and pins Titus to becomes the second champion. He's then chased into the back.
The new WWE titles were teased on Sunday's Money in the Bank pay-per-view and Foley arrived early to Monday Night RAW holding the title in a sleeve. Members of the RAW locker room all tried to get a peek of the belt before it was revealed but Foley wouldn't let them.
If you've been watching WWE for awhile and think the new 24/7 championship rules sound familiar you aren't wrong. The Hardcore Championship was introduced in 1998 with Mankind being its inaugural champion. However, Crash Holly would implement the 24/7 rule when he became the Hardcore champion. This would lead to WWE superstars to have impromptu matches all over the arena, airports or wherever they can wrestle.
The championship would be in circulation until 2002 when it was unified with the Intercontinental Championship.
What do you think of the brand new WWE titles? Do you wish WWE just called it the Hardcore title? Let us know in the comments section below.