'WWE 2K20' Cover, Gameplay Reveal to Take Place on August 5
The WWE 2K series, an annual wrestling simulator, has not released any information on WWE 2K20 or whether the game is actually on the way. But on Wednesday not only did fans get confirmation that the title is on the way, they'll know exactly when they'll receive more information.
The official WWE 2K20 Twitter account put fears that this year's title isn't being released by revealing the first screenshot from the upcoming game and when fans will learn more. In a tweet, the WWE 2K20 team wrote "the WWE2K20 cover reveal kicks off on August 5 with more details than we've ever shared at announce and your first look at game footage!"
The current Universal Champion Brock Lesnar is shown in the first WWE 2K20 screenshot below.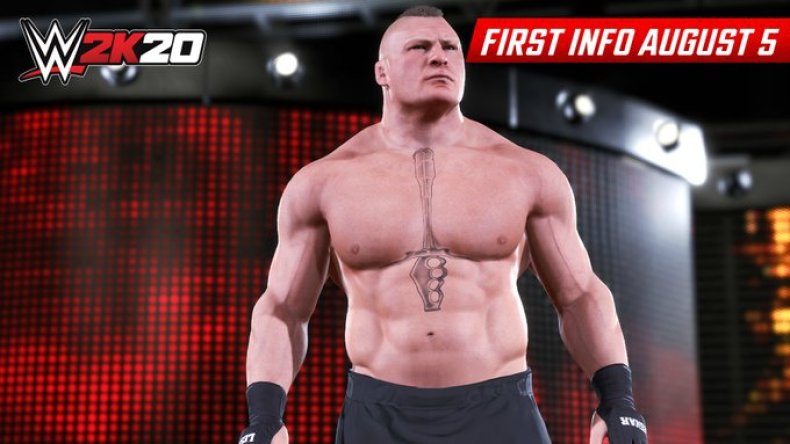 2K Games released another screenshot, this time of current SmackDown Women's Champion Bayley.
So not only are fans going to get the first gameplay of WWE 2K20, they'll also learn the cover star and possibly a release date, if not a release date window. Considering WWE 2K19 was announced in June 2018 before releasing in October, the extra time 2K Games took to reveal the next game could mean WWE 2K20 will release later than usual.
Thankfully, fans won't have to wait long as many questions will be answered.
Many speculate that WWE 2K20 will feature one of the women WWE superstars. Becky Lynch is a common prediction from fans as her rise to be in the main event at WrestleMania 35 has been well-documented.
What features will WWE 2K add this year? Perhaps the rise of the women's division will lead to more focus on the female superstars.
Last year, AJ Styles was the cover superstar with the game containing a ton of new features. New match types like Hell in a Cell, TLC Tag and more were added. The Payback System was a new feature that helped players turn the momentum in a match.
In Universe Mode, six champions can now occupy the same show - up from four. The Daniel Bryan Showcase allowed for players to relive and play through Bryan's most memorable moments in the WWE.
And then we had the WWE Towers, which allows your created wrestler to compete against a string of WWE Superstars. Each Tower has their own stipulations and will reward players who complete them.
WWE 2K19 released on PS4, Xbox One and PC skipping the Nintendo Switch after a disastrous launch on the hybrid console for WWE 2K18. Maybe the extra time will let 2K Games bring the franchise back to the Switch.
Are you excited for WWE 2K20? Who do you want the cover superstar to be? Let us know your thoughts in the comments section below.