'WWE 2K20' Rumor: Kurt Angle May Have Teased Collector's Edition On Instagram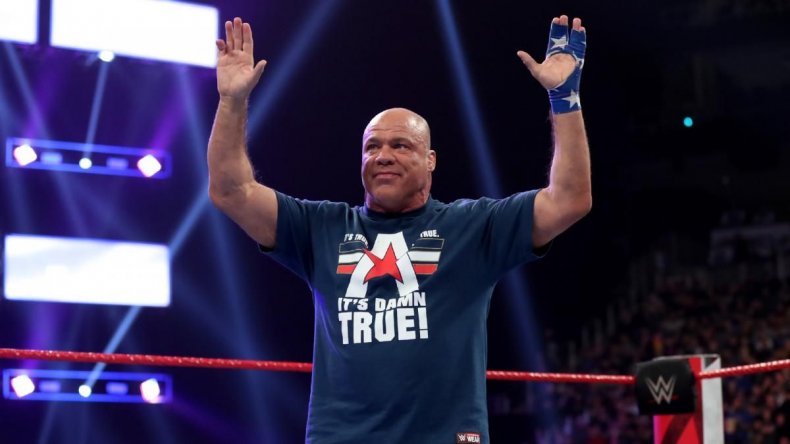 2K Games has yet to reveal the latest entry in its annual WWE franchise, but Hall of Famer Kurt Angle may have inadvertently given fans a peek at what they can expect when it eventually releases.
On his official Instagram account, Angle posted a stack of photos of himself with the caption "my first time signing 10,000 autographs at one time. Wonder how long this will take?" Eagle-eyed fans will notice the 2K symbol in the corner of one of the photos, leading many to speculate that the Olympic gold medalist will be featured in WWE 2K20.
WWE 2K games previous collector's editions usually featured a former WWE Superstar. WWE 2K16 had "Stone Cold" Steve Austin, 2K17 had the NXT collector's edition, 2K18 featured John Cena and last year's installment was all about the "Nature Boy," Ric Flair.
Last year's WWE 2K19 collector's edition featuring Flair was limited to just 30,000 copies worldwide. Perhaps 2K Games will limit this year's collector's edition to just 10,000 and will include an autographed photo of Kurt Angle.
Having Angle as the focus of this year's collector's edition, or even the Showcase Mode, makes sense considering the Hall of Famer formally retired from in-ring competition at this April's WrestleMania 35. He lost to Baron Corbin.
Fans could potentially re-live Angle's greatest WWE moments in this year's WWE 2K20 where he makes his debut before capturing the world championships in his first year in the company. Taking on a young Brock Lesnar and a debuting John Cena then reliving Angle's storied career.
It's unclear what 2K Games has planned for WWE 2K20, but with E3 2019 taking place in June fans can expect some news on this year's installment. The cover reveal for WWE 2K19 - featuring AJ Styles - didn't occur until mid-June. The Woooo! Edition of WWE 2K19 was not revealed until late July with the game itself releasing in October so there is still time before any news can be expected.
What do you think of Kurt Angle possibly being featured in WWE 2K20? What do you want to see in this year's game? Let us know in the comments section below.