'WWE 2K19' Wooooo! Edition Celebrates Ric Flair's Legacy
WWE 2K19 will celebrate WWE Hall of Famer and 16-time world champion Ric Flair with the just-announced Wooooo! Edition. This special edition includes not just the latest WWE 2K game, but exclusive merchandise including a replica WWE Hall of Fame ring.
The WWE 2K19 Wooooo! Edition will retail for $129.99, and is limited to only 30,000 copies worldwide. Check out the trailer for the WWE 2K19 Wooooo! Edition below.
The Wooooo! Edition trailer confirms more classic WWE Superstars will be included in the game including Roddy Piper, Dusty Rhodes, Ricky Steamboat, Macho Man and Undertaker.
WWE 2K fans will receive a ton of content in the Wooooo! Edition, which includes the following:
Copy of WWE 2K19 Deluxe Edition
Access to WWE 2K19 Season Pass digital content (details announced this summer);
Exclusive playable WWE Hall of Famers ('80s-inspired): "Rowdy" Roddy Piper, Dusty Rhodes and Ricky "The Dragon" Steamboat;
Exclusive playable characters: "Macho Man" Randy Savage (WrestleMania® VIII) and Undertaker (2002);
Exclusive playable arena: Starrcade 1983;
Exclusive in-game attire: Ric Flair (WrestleMania 24 robe) and Charlotte Flair (WrestleMania 32 robe);
Access to WWE 2K19 pre-order bonus digital content (playable Rey Mysterio "Royal Rumble 2018" character and playable Ronda Rousey "WrestleMania 34/'Rowdy' Roddy Piper-inspired" character);
WWE SuperCard limited edition cards featuring WWE 2K19 cover Superstar AJ Styles, as well as an AJ-themed WWE 2K19 cardback.
Exclusive premium packaging;
Exclusive and individually numbered WWE Hall of Fame replica ring;
Exclusive "Nature Boy"-inspired Funko Pop! figurine;
Fanatics limited edition commemorative plaque featuring a fabric piece from Ric's iconic pink or purple robe;
WWE SuperCard limited edition cards featuring Ric and Charlotte Flair, as well as a Ric-themed WWE 2K19 cardback.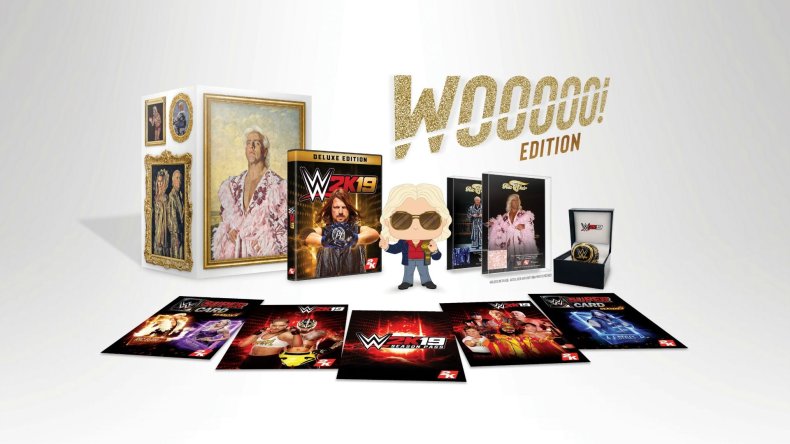 WWE is sponsoring a new competition along with 2K to celebrate the release. The Million Dollar Challenge will allow players to compete in-game on on the microphone in real life to win big prizes. Players will be expected to complete an unannounced game mode within WWE 2K19 and submit a promo video of themselves. One winner will go on to compete against WWE 2K cover star AJ Styles himself for cash prizes.
WWE 2K19 will release Oct. 5 for PS4, Xbox One and PC. 2K Games confirmed that WWE 2K19 will not make it to the Nintendo Switch after last year's bumbled launch.
Are you going to pick up the WWE 2K19 Wooooo! Edition? What are you looking forward to in this year's game? Let us know in the comments section below.