The Nov. 12 episode of WWE Monday Night RAW ended with a bit of blood and a whole lot of lass-kicking as SmackDown Women's Champion led an invasion of the "A-Show," taking out the RAW Women's roster including Ronda Rousey.
Following the match between Sasha Banks and Bayley to determine the final member of Team RAW at this Sunday's Survivor Series (which ended in a double disqualification), viewers were sent to the locker rooms as Lynch had Rousey in the Dis-Arm-Her submission before being pulled off by referees.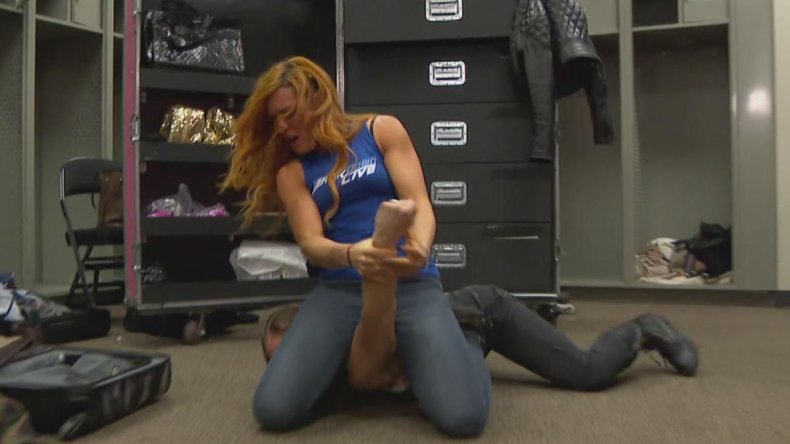 The Irish Lass-kicker stormed to the ring where the RAW Women's division stood waiting for a fight, when the SmackDown women ambushed them and began to clear the ring.
Check out Becky Lynch and SmackDown's attack on RAW below.
Somewhere in the scrum, Becky got busted open as blood began to stream down her face/nose. That didn't stop her, though, as Ronda Rousey made her way to the ring just to be taken out by multiple chair shots from Lynch.
Lynch and the rest of the SmackDown women ended the night by exiting through the crowd, leaving an angry and defeated Rousey in the ring.
Rousey vs Lynch was the first match confirmed for Survivor Series after both women retained their titles at WWE Evolution back in October. Since then, the two have traded promos on television and harsh words on social media.
With the last SmackDown Live before Survivor Series airing on Nov. 13, WWE fans will see if there's any retaliation from Ronda or the RAW Women's division.
Both women will have a match for the first time when Survivor Series streams live on the WWE Network on Sunday, Nov. 18 at 7 p.m. EDT.
What did you think of the final segment on RAW this week? Who do you think will win between Ronda and Becky? Let us know in the comments section below.