Becky Lynch Talks SummerSlam, Natalya, and the Rise of "The Man"
This Sunday is WWE's SummerSlam pay-per-view, the second biggest show of the promotion's year and features RAW Women's Champion Becky Lynch. Lynch is set to defend her title against Natalya, an accomplished and capable opponent in the challenger's home country of Canada. However, a year ago, things were very different for the "Lass Kicker."
After becoming the first SmackDown Women's Champion, she would lose it to Alexa Bliss and slide down the proverbial ladder in the division. In the weeks leading up to the 2018 SummerSlam pay-per-view, Lynch had built up a lot of steam. Picking up victories and gathering support from the WWE Universe.
She became the number one contender for the SmackDown Women's Championship, held by Carmella, but her friend and oft-rival Charlotte Flair earned a spot in the match at the last minute to make it a Triple Threat. This would become a point of contention between Lynch and Flair.
After a highly contested battle, Flair would pick up the victory. Unbeknownst to the WWE and those in attendance, It wasn't the result, but the aftermath, that would shake up the company. Becky attacked Charlotte to the roar of the Brooklyn crowd. That singular moment would set Lynch on a path to become "The Man," the most popular superstar in the company - regardless of gender - earn a spot as part of the first women's WrestleMania main event and even the cover star ofWWE 2K20.
"I think that slap was the best thing I've ever done," Lynch told Newsweek. "Sometimes when I'm going to sleep I hear the sound of that slap. It's like an angel siren to me. It's wonderful."
Newsweek caught up with the RAW Women's Champion ahead of her match this Sunday to talk about SummerSlam, the women's division, and her rise.
Note: This interview has been lightly edited for clarity and length.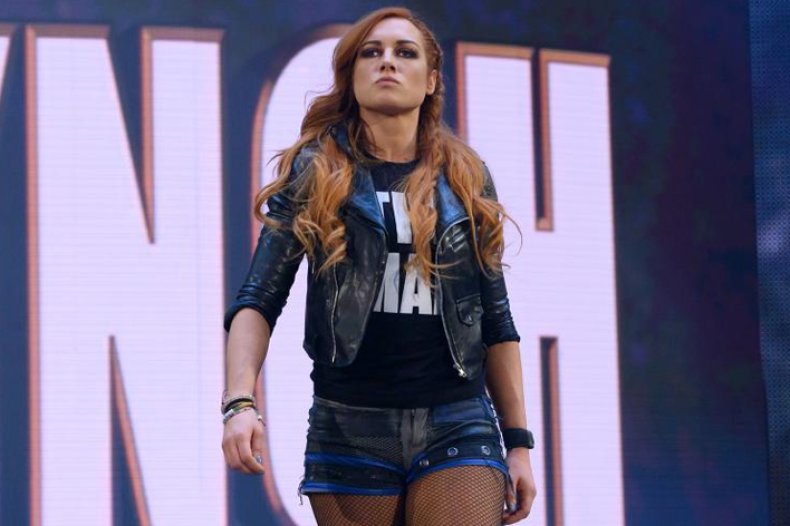 After turning on Charlotte last year, it was interesting that the WWE expected and wanted you to be a heel.
The WWE has always wanted to go one way, but I've always wanted to go the other way, and that's why I'm the champ [laughs]. But I think there was one line where I said [to the crowd] "you say you're behind me, but were you really behind me? Because when Charlotte won you were cheering and clapping. Were you really there for me?"
I just heard the disappointment in the crowd [laughs] like they were going "yeaaa la la la" you know? [laughs] But without [the fans] I wouldn't be here and that's what I always appealed to. And the people in the stands and what they want to hear and what they are saying and how can I make sure I'm listening to them. And to let them know, anyway I can, that I am listening. And that I'm trying to relay what they are saying in any way that I can. Whether it be in my promos or my Twitter or Instagram game or whatever. They should know that we are in this together.
Has the crowd connection become easier or more natural since a year ago?
I feel like I've always had a connection with the crowd, no matter where I was or in any form of prominent position. I feel that we've always had this bond. The way I look at is that I love this thing, they love this, we all love this thing. Let me go and try this thing at the best of my abilities. Luckily, I am the best. And let us make this thing cool.That's why we're talking about it. That's why we're obsessing about it. I feel like that camaraderie is something special. I feel when you have that love for this business, they feel it and want to be a part of it.
Your match with Natalya. How does it feel to get in the ring with such an accomplished member of the roster?
Natalya is probably the best technical wrestler in this division. And she's been here a long time. She's a veteran and I respect her. We have been through so much together. She tried to use me as a stepping stone to further her own career a few years ago. And then she says she was in the hospital with me when I got my face broken when I had that concussion, so i thought "ok maybe she's changing her ways." And then she's the one training Ronda Rousey to beat me. So I don't know what Nattie wants. I think Nattie wants to be friends with everybody and be the good girl, but I just want to be the best, and I'm going to prove that in Canada.
Adding the submission stipulation to your match. You both have your finishers, but many would say that a submission match is "her match."
It's her match, you say? It's her match? I want to know in recent years who has won more? What submission has beat more opponents, is it my Dis-Arm-Her or is it her Sharpshooter? If you can answer that, and answer that truthfully, you tell me who has the upperhand?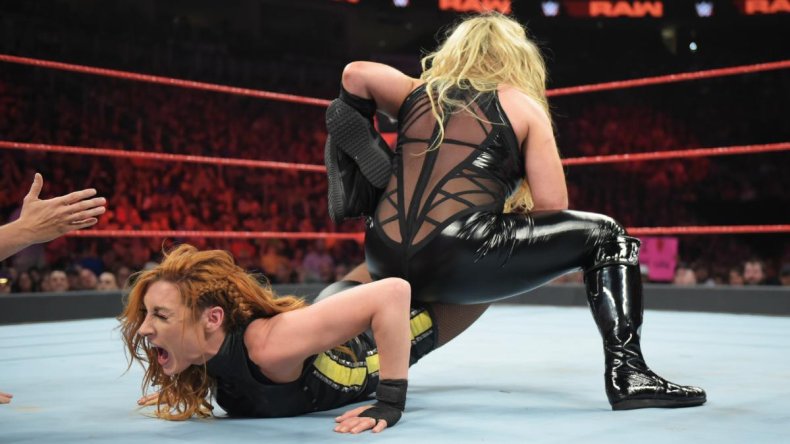 How do you see the women's division since WrestleMania?
I've had Lacey Evans for the past three months and now I'm in competition with one of the best, one of the people who helped shift women's wrestling. I'm glad to get more technically sound wrestlers out there. I think we need more. We need people stepping up. We need people fighting each other. Supporting each other is great and all that jazz, but this is a fight. Someone come at me, because I want to fight, I want to scrap [and] I want something to sink my teeth into. I don't want to like the person I'm across from because then I'll take it easy on them. I didn't get where I am by taking it easy.
Do you see the roster getting stronger with you on top?
With me as champion, everybody has to get stronger. Everybody has to step up and I'm a next-level champ. I'm a champion no one has seen before, a champion who has legitimately changed the game. Everyone just has to step up.
Especially when you have the accolade of beating Ronda Rousey.
Exactly
Speaking of her, your feud with Natalya has brought her up a lot. Is there a feeling of unfinished business?
It's lingering in the back of my head. I still want that one-on-one match. If she wants to come back, I'll be right here, I'll still be holding the title and ready to fight. If she wants to come back, she knows where to find me. I didn't do the run-in, she did. So that match is still on the table.
"The Man" character, especially after losing the SmackDown Women's Championship, would you say that your current iteration is more "do
Exactly! I don't think that's even a recent thing. That's always the way I've always been. With my first title run I didn't think the right way. I didn't hold onto it as I should have and I fell down the ladder very quickly and was forgotten about for a year. And once I went back up the card I knew I wasn't going to ever let that happen again.
What can the fans expect from your match on Sunday?
A classic bout. A classic fight. It's not going to be pretty. I just want people to get invested and care. And then enjoy when I snap Natalya's arm in front of her entire family. And her entire country. I want them to go away with that.
SummerSlam will stream live on the WWE Network Sunday, August 11 at 7 p.m. EDT.