Cesaro Talks WWE Tag Team Gold, Shinsuke Nakamura & Singles Aspirations
It seems whenever you put WWE superstar Cesaro in a tag team, they are going to flourish.
Cesaro's athleticism, in-ring acumen and incredible strength has catapulted the wrestler and whoever teams with him to tag team gold and it happened again this Sunday at the Extreme Rules pay-per-view.
Cesaro--real name Claudio Castagnoli--and Shinsuke Nakamura defeated The New Day to become SmackDown Tag Team Champions in a tables match and look to bring the blue brand's tag team division to a whole new level.
This is the seventh tag team title reign for the 39-year-old from Switzerland, and the third with a different partner. However, Cesaro's near 10-year career in the WWE has seen its fair share of twists and turns whether it's his success as a tag team wrestler or short pushes as a singles star, but through it all he wants to continue to improve and take this journey with his fans.
"I'm grateful to everyone who has been a part of this journey and it's still a journey. It's been very special and I had a lot of cool moments. And I look forward to making a lot of cool moments and memories in the future," Cesaro told Newsweek Friday. "Shinsuke and I just started and we have had an amazing start and it's only upwards from here."
Newsweek caught up with the SmackDown Tag Team Champion to talk tag team wrestling, the "coolness" of his partner Shinsuke Nakamura, singles aspirations and improving his mic skills.
This interview has been edited for clarity and length.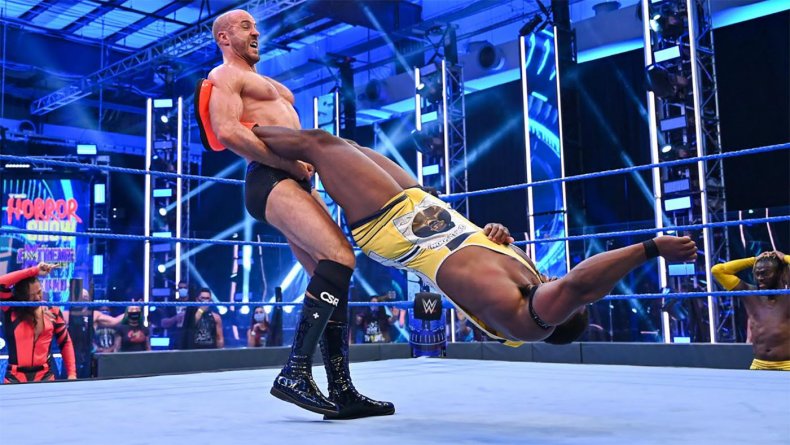 You just captured another Tag Team Championship in WWE. How does it feel to be a staple of that division?
It feels great. This is my seventh title with my third different partner. I call Shinsuke, "Shinsuke the Third." It came at a great time and me and Shinsuke were out to make a statement and I feel like we did and it feels good to hold gold again in WWE.
Is there a different mindset when you're wrestling a singles as opposed to a tag team match?
100 percent. When you're in a singles match it's all about you and it's only you in there, and it all falls on you. In a tag match it's completely different. You have to rely on your partner, trust your partner and also there's two opponents across the ring. It's just a completely different mindset and element to it. It's more of a "team game." It's a different challenge, and I love challenges.
Shinsuke is the third partner that you captured the gold with. What's it about you that makes it so easy to team with?
Because I'm extremely humble, I can say I'm extremely good [Laughs]. I consider myself a specialist so whatever task you give me I'll make the absolute best out of it. For me I've been lucky to be teamed with extremely talented tag team partners. With Shinsuke I have a lot of respect for him, and I had a lot of respect for him for a long time before his career with WWE. I like to think of myself as the magic seasoning, the magic ingredient that makes a dish better. I push myself extremely hard and I like to think that I push my partners and opponents as well to bring the best out of everybody.
You've had different partners, but what makes Shinsuke different?
Shinsuke is the "king of strong style" and he is so much fun to watch. I catch myself on the apron just watching him sometimes and having a great time. He's a once in a lifetime performer. The way he moves, his moveset, his strikes, his background it's mesmerizing. Shinsuke is the coolest person that I've ever met. Everything he does, wears and says makes you say "Yea!" [Laughs]
Could you compare him to a tag team partner in the past?
He's completely different. Every tag team partner I had just in WWE, Tyson Kidd, before that Jack Swagger, Sheamus and then Shinsuke they were all different. It's fun because it gives me a chance to adjust and be well-rounded. I like to play around whatever their strength is and it gives me the chance to elevate or focus on a different aspect of my game. That's a lot of fun for me.
What part of your game are you focusing on now that you're with Shinsuke? Anything you're trying to improve?
I feel like I'm the muscle of the team this time [Laughs]. So I guess I'm focusing on my power game because with Sheamus, woof, Sheamus hits very hard and so does Shinsuke but there's a difference. So now I feel the muscle part falls on me so I'm trying to improve on that. And obviously other parts of my game as well. Talking and other stuff, but Shin and I have a fun dynamic and I'm very excited to see where this leaves us.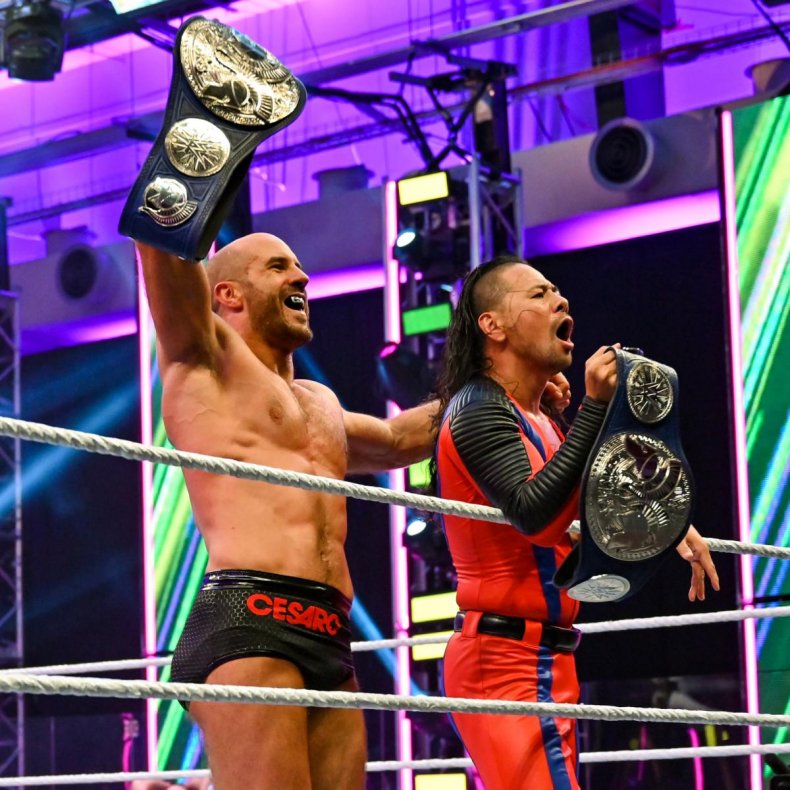 You mention improving your talking and I've noticed you have had more mic time these past few weeks. Is that something you're improving and it's getting noticed or are you just finally getting an opportunity to do more promos?
A little bit of both. I've been working on that forever [Laughs]. English is not my first language so for me it's harder. A lot of stuff gets mixed up in my head, I'll mix up words and sayings. I had a good one like "taking the kid from the candy" or one of my better ones is "out of blue field" which is a mix of "out of left field" and "out of the blue" so I mess up stuff, I mix stuff up, my accent sometimes people don't understand it. So I was always focusing on that and now I'm getting the chance to talk more and once people hear my voice more often it will help me and everybody. Fortunately enough, I've had my chance to get on the microphone more and it's been fun. It's something I constantly work on and hope to improve.
There was a time when you suffered an injury in the ring as part of The Bar and you had to wear the mouthguard in and out of the ring, did that impede your progress or were you worried that you wouldn't get the opportunity to get on the mic more after that?
I wasn't [worried]. I talked on the pay-per-view and I forgot to take my mouthpiece out so I have to remember that [Laughs]. Like what I do in the ring I want to be as clear as possible. You have to be patient. There's always a time and place for everything and you want to be ready for when opportunity arises. To me that's very important. That's why I train so hard and make everything I do count. That's for the fans because they see my growth and my journey.
Does not having fans make improving your mic skills easier or make it easier to get your personality out there?
No, I mean, I miss them so much. Me and Sami [Zayn] did a promo in Vancouver that went completely off the rails. And when I say off the rails it was with Elias and the crowd went absolutely crazy. We did a little song and we had the cowbell and a ukulele and we had a whole song, but we didn't have time for it because the crowd went so crazy and that's the magic that I miss.
Now that there's no crowd I'm taking advantage of that like when I go over to [commentator] Michael Cole and talk to him and the cameras pick it up because there's no crowd noise. I try and take advantage of different things and make it special. Get the people involved at home.
What can you say about the team you defeated on Sunday, The New Day, and what they've done for tag team wrestling?
New Day is amazing. I have nothing but respect for The New Day. Our careers have been intertwined. Me and Tyson Kidd had the first couple of matches against New Day on a European Tour when the whole, "New Day Rocks, New Day Sucks" chant started. I've known Kofi [Kingston] and Big E and [xavier] Woods for so long. Me, Big E and Woods have been in NXT together, Kofi and I met in Deep South [Wrestling] many years ago.
Kofi has been a multi-time tag team champion. I have wrestled them so many times and I have nothing but respect for them. But it's time for a new tag team champion.
You've become an accomplished tag team wrestler, but you've held singles gold. Do you want another singles run sooner rather than later?
I was going to say "not enough gold" [Laughs]. The goal is to always be WWE World Heavyweight Champion. That's the goal for everyone in WWE and that's 100 percent my goal. And not just for me, but for all of Europe. For all of our international fans. I want to get in there and win one. It's just part of the journey. I'm glad I'm alright and the Cesaro Section all over the world is following me on this [journey], but that's still my goal.
We talk about getting your personality to shine through. You're more on Twitch and Xavier Woods' Up, Up, Down, Down YouTube Channel. Do you find that beneficial to getting that personality across to fans?
I actually started streaming on Twitch in January, so that's before everyone started jumping on the bandwagon [Laughs]. I kept playing League of Legends after the NXT vs WWE match and I had a chance to go to China and watch the LPL [League of Legends Pro League] over there and some of the North American Finals over here, which was in Detroit. My friends online were saying "why don't you stream it" and at first I was like "nahh it's just for fun." But then I started and it was a lot of fun because it's a different way to talk more, get used to talking, engaging with a different audience. I've been doing Up, Up, Down, Down for awhile with "Clash with Cesaro" so the quarantine has given me more time to [be on the show] and I'm having more fun doing it. It's pretty cool to see different ways you can entertain people and I'm having a good time.
Is there a game you're playing or looking forward to playing soon?
Nope [Laughs]. It's so funny because someone asked me the other day, "dude whenever I watch or raid you you're always playing the same game." Yea I enjoy it, it's fun for me. I stream because it's fun. I'm not playing this game because everyone else is playing it and it's the cool thing. It wouldn't be authentic. That's not me. I just stream because I'm having fun and I would play it anyway so let's make everyone a part of it. Talk, ask questions and have a good ol' time.
I played so much Zelda [Breath of the Wild] when it first came out on the Nintendo Switch. I played hours and hours so of course I like to play different games, but for now I'm only playing games that I actually enjoy [Laughs]. There are games that I do want to try in the future that are coming out. Like Uno, I play a lot of Uno. I play with Adam Cole, Tyler Breeze and Woods and I have so much fun and look forward to it every week.
Watch Cesaro every Friday on SmackDown at 8 p.m. EDT on Fox.