Christian Returned to In-Ring Action Against Randy Orton on WWE 'Monday Night RAW'
Former WWE Heavyweight Champion Christian returned to in-ring action for the first time in six years on tonight's Monday Night RAW.
Christian returned on the June 15 episode of Monday Night RAW to confront Randy Orton after "The Viper" defeated Edge at Sunday's Backlash pay-per-view. He interrupted Orton to defend his best friend when Randy challenged him to an unsanctioned match for later in the night due to Christian not being medically cleared to compete in WWE.
Christian eventually accepted, but as the two were about to have their match Ric Flair appeared to try and convince Christian to walk away. When Christian refuses, Flair gives him a low blow allowing for Orton to hit The Punt to get the win.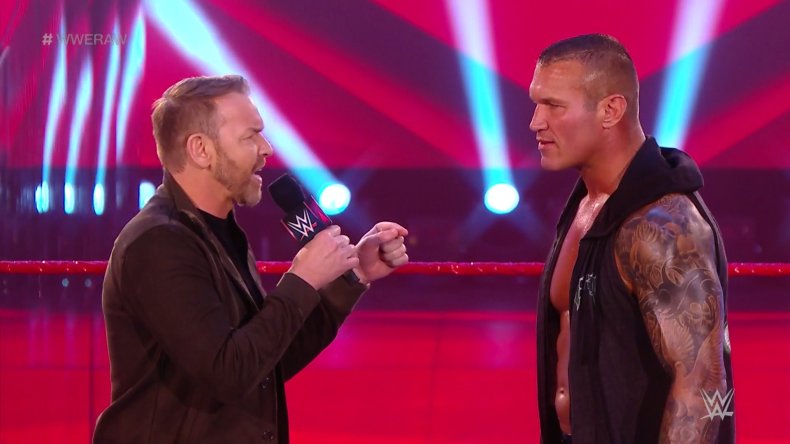 Throughout the night, Christian was debating whether to accept Orton's challenge with other WWE superstars like The Big Show and Ric Flair approaching him to help him decide.
Flair, who was part of the Evolution stable with Orton, was the final superstar to talk with Christian before his match to try and tell him to back out of it. Christian didn't heed Flair's warning then and didn't when he showed up to the ring in the closing segment of Monday Night RAW.
Prior to tonight, WWE confirmed that Edge tore his tricep during the match with Orton on Sunday and could not be on RAW. Christian appeared on RAW last week to give Edge a pep talk heading into his match with Orton.
Christian has been on and off of WWE television for several years. However, his last match was in 2014 before he retired due to concussion issues.
Prior to retirement, Christian held the Tag Team Championships nine times with Edge, Lance Storm and Chris Jericho. He's a former Hardcore and European champion and had the distinction of being a two-time ECW Champion when the brand was relaunched after being acquired by the WWE.
Christian's greatest in-ring accomplishment came when he won the WWE World Heavyweight Championships twice.
The first happened in April 2011 when he defeated Alberto Del Rio for the title that Edge was forced to vacate when he retired. Christian would only hold the title for one month before Randy Orton defeated him for it on an episode of Monday Night RAW.
Christian would get the title back from Orton after Randy was disqualified during their bout at the Money in the Bank pay-per-view in July. Christian, who turned heel a few months prior, got Randy to get himself disqualified when the stipulation had the title change hands during a DQ finish.
What do you think of Christian getting in the ring with Orton? Let us know in the comments section.