WWE Women's Tag Team Championships Won't Be Added at Evolution, Says Stephanie McMahon
WWE will host an all-women's pay-per-view called Evolution in October and rumors suggest it may introduce a Women's Tag Team Championship before or at the show. However, WWE's Chief Brand Officer Stephanie McMahon is downplaying the speculation.
In an interview with Sky Sports, McMahon talked about the path to the Evolution pay-per-view and she was asked whether the women's tag team titles will be added at the show.
"Not quite yet but that's absolutely something we've heard loud and clear from our fan base and it's something we're keen on implementing as soon as we are able to."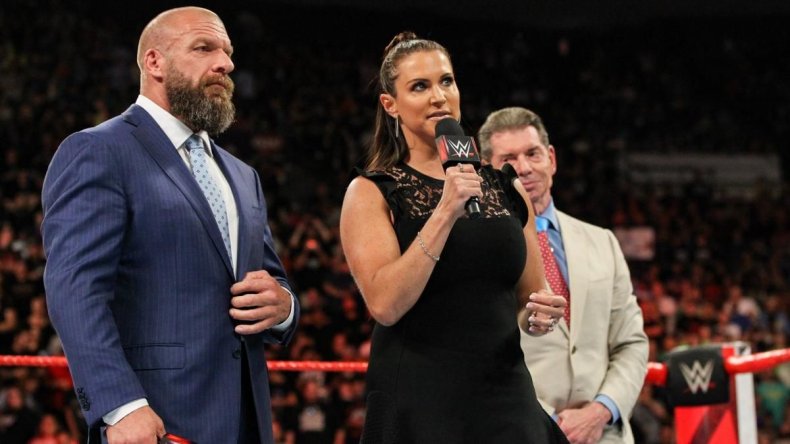 Reports of a women's tag team division began in early July when Pro Wrestling Sheet stated WWE officials discussed the possibility of an all-women's event for the fall. The Evolution announcement confirmed the reporting, and PWS also said the first-ever Women's Tag Team Champions could be crowned at the show.
While this may come to pass (Evolution is still three months away) Stephanie's comments, for now, put a kibosh on the idea of Women's' Tag Team Championships.
Evolution will take place Oct. 28 at Nassau Coliseum. All of the women's championships will be defended at the show including: RAW, NXT and SmackDown Live's Women's Championships.
The finals of the second Mae Young Classic will also take place at Evolution after the tournament begins in August.
WWE has confirmed the following Superstars are scheduled to appear at Evolution: Charlotte Flair, Ronda Rousey, Alexa Bliss, Carmella, Sasha Banks and Asuka. WWE Legends and Hall of Famers Trish Stratus and Lita are also expected to appear.
Do you believe Stephanie's comments about a women's tag team division? Who do you want to see at the Evolution show? Let us know in the comments section below.