WWE Hell in a Cell 2019 Results: Will Seth Rollins Escape "The Fiend"?
Hell in a Cell 2019is shaping up to be a pay-per-view that can change the landscape of both Monday Night RAW and SmackDown Live.
The WWE has only confirmed four matches for this Sunday's show, but they are massive bouts. The first is the Universal Championship match between Seth Rollins and "The Fiend" Bray Wyatt. Rollins has held the title since winning it off of Brock Lesnar at SummerSlam, but the new Bray Wyatt is the hottest thing in all of wrestling. Can the mysterious and fiendish Wyatt become champion once again or will "The Architect" overcome his fears and retain his title?
Rollins and Wyatt will do battle in a Hell in a Cell match, but Sasha Banks and the RAW Women's Champion Becky Lynch will also enter the structure this Sunday. Banks is looking to recapture the title she last held in 2017, but she'll have to lean on her past experience in the Cell to defeat "The Man."
Banks' best friend, Bayley will put her SmackDown Women's Championship on the line against Charlotte Flair in a match that was announced after the SmackDown premiere on Fox. Bayley had a heelish victory over Charlotte at Clash of Champions but can Flair capture another title or will the "Huggable One" escape with the championship?
And finally, we have Roman Reigns and Daniel Bryan teaming up against Erick Rowan and Luke Harper. Rowan and Harper has begun to wreak havoc on SmackDown for weeks and Roman and Bryan look to stop the rampage.
While there aren't many matches confirmed, a lot can still happen in the latest WWE pay-per-view. Here's everything that went down at this year's Hell in a Cell.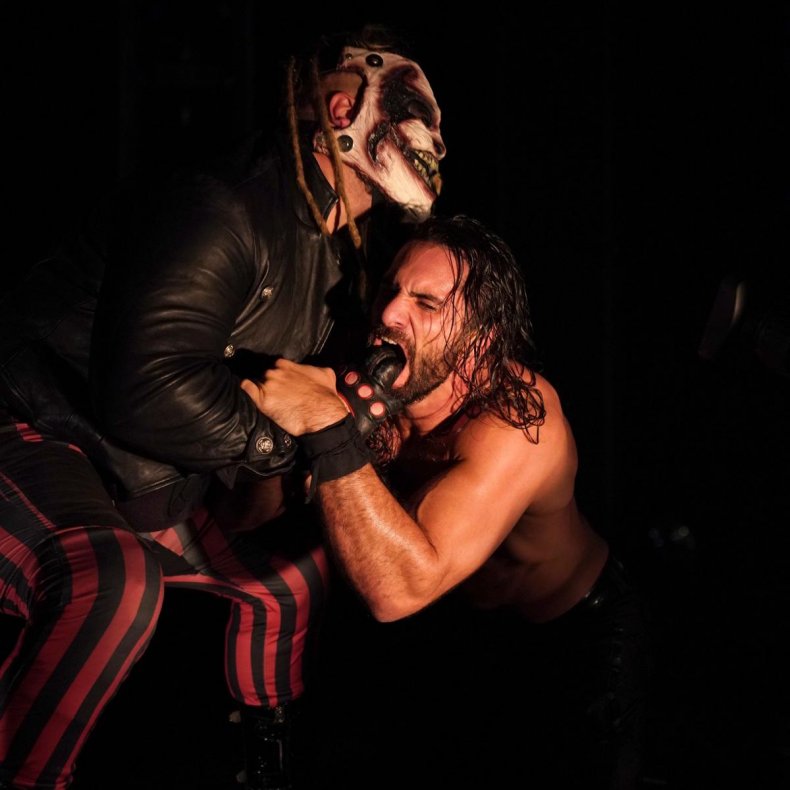 WWE HELL IN A CELL 2019 RESULTS
Kickoff Show
Alexa Bliss and Nikki Cross Interview
Bliss and Nikki are asked about how they feel going into their last-minute match against the Kabuki Warriors. Bliss says that she feels it's unfair that they have to have this match.
Nikki tries to make sense of the Kabuki Warriors getting a title shot - defeating Fire and Desire, recently - and Bliss says that she wishes their opponent earned their way to a championship match.
Charlotte Flair Interview
Charlotte is asked about Clash of Champions. Charlotte says Clash of Champions is old news and to look at Friday Night SmackDown and how she made Bayley tap. She says she will become 10-time champion.
Natalya vs Lacey Evans
Lacey goes for the Sharpshooter at one point, but Natalya slaps her to get out of it.
Natalya wins via submission after a Sharpshooter
Finish was set up when Lacey Evans misses the Moonsault, giving Natalya a chance to hit the submission.
After the match, Natalya punches Lacey Evans as payback for getting hit with the Women's Right a few weeks back.
Ali Interview
Ali says that he had momentum, but he needs to find it again. Randy Orton comes in and says that he remembers when Ali had momentum too because he's the one that snuffed it out.
Ali challenges Orton tonight and Randy accepts.
Main Card
Becky Lynch (c) vs Sasha Banks - RAW Women's Championship Hell in a Cell Match
Before the bell rings, Sasha attacks Becky and they go outside before the cell is lowered all the way.
Becky gets Sasha back in the ring, but Lynch grabs the chain and uses it on Sasha.
Becky wins via submission after a Dis-Arm-Her
Finish was set up by a top rope Bexploder onto a pile of chairs.
Roman Reigns and Daniel Bryan vs Erick Rowan and Luke Harper - Tornado Tag Team Match
Reigns pins Harper after a Superman Punch, a Knee and a Spear
After the match, Roman nods his head in respect at Daniel Bryan. Bryan puts out his hand and when Roman tries to shake it, D. Bry pulls away. He then holds out his arms for a hug, but Roman turns his back. Bryan gets the crowd to do the "yes" chants and eventually Roman gives Bryan a hug and a handshake.
Seth Rollins Interview
He's asked about his preparation for tonight. Rollins says he's done a lot in his career, but he's never encountered and faced anyone like "The Fiend." He says this is going to be the greatest test in his career. But no matter what he's going to burn it down, at least he hopes so.
Randy Orton vs Ali
Orton wins via pinfall after an RKO
The match was competitive
Alexa Bliss and Nikki Cross (c) vs The Kabuki Warriors - Women's Tag Team Championship Match
Asuka wins via pinfall after a roundhouse kick on Nikki Cross
The finish was set up when Asuka spit out green mist in Nikki's face when the ref wasn't looking.
Asuka and Kairi Sane were wrestling as heels throughout the match
The OC vs Viking Raiders and Braun Strowman
Viking Raiders and Strowman win via DQ after The OC didn't heed the referee's orders to get into their corner
After the bell, The OC gang up on Strowman but the Raiders make the save. Strowman ends up hitting AJ Styles with one punch (hyping up his encounter with Tyson Fury)
Gallows and Anderson have to help Styles to the back.
Street Profits Segment
They hype up the upcoming Draft when Truth and Carmella run into them. Tamina rolls up Carmella to become the next 24/7 Champion.
She runs off when she sees Tyler Breeze. She punches him and runs off. Truth and Carmella split up looking for Tamina.
King Corbin vs Chad Gable
Before the match, Corbin gets on the mic. He says that he's disappointed too that he has to face Gable again. He tells some short jokes and dubs Chad, "Shorty Gable."
Gable wins via pinfall after a roll up.
Finish was set up when Corbin tried to hit Gable with the scepter but the referee stops him causing the distraction for Chad to roll Baron up.
Bayley (c) vs Charlotte Flair - SmackDown Women's Championship Match
Before the match, Tamina is running where the international tables are. She grabs Funaki and uses him as a shield. Tamina throws Funaki into Truth but when she turns around Carmella hits the Superkick and allows Truth to pin Tamina for the win.
Charlotte wins via submission after a Figure Eight
After the match, Bayley screams that Charlotte has to fight her again. When Charlotte leaves, Bayley falls to the floor and cries.
Backstage
Gable is walking backstage when he's referred to as "shorty" and he accepts it. He says that this is the biggest win of his career and tonight we found out that Gable is the bigger man.
Corbin jumps Gable and lays him out.
Seth Rollins (c) vs The Fiend - Universal Championship Hell in a Cell Match
The Fiend wins via referee stoppage after Seth hits The Fiend with a Sledgehammer
The Fiend kicked out of multiple Stomps, a Pedigree, a chair shot to the head. A ladder shot to the head.