The Fiend Ends Monday Night RAW Again, but He and Seth's Match Didn't Stop With the Cameras
Bray Wyatt's "The Fiend" ended Monday Night RAW for the second week in a row, taking out Braun Strowman and instilling more fear into Seth Rollins.
However, there's more to the attack then what was shown on-air. Following the end of the September 23 episode of Monday Night RAW, Strowman left the ring leaving Rollins and Wyatt alone.
According to fans in attendance, The Fiend was ready to hit Rollins with a Sister Abigail, but the Universal Champion escaped and hit Wyatt with the Superkick. The Superkick was followed immediately by a Stomp, which The Fiend no sold - the first time that has ever happened.
Rollins would proceed to lay on a flurry of attacks that included Superkicks and multiple Stomps, but, just as it seemed Rollins was getting ready for the finishing blow, the lights went out and The Fiend was gone from the ring, leaving the champion and the fans confused.
Check out the dark segment after RAW ended below.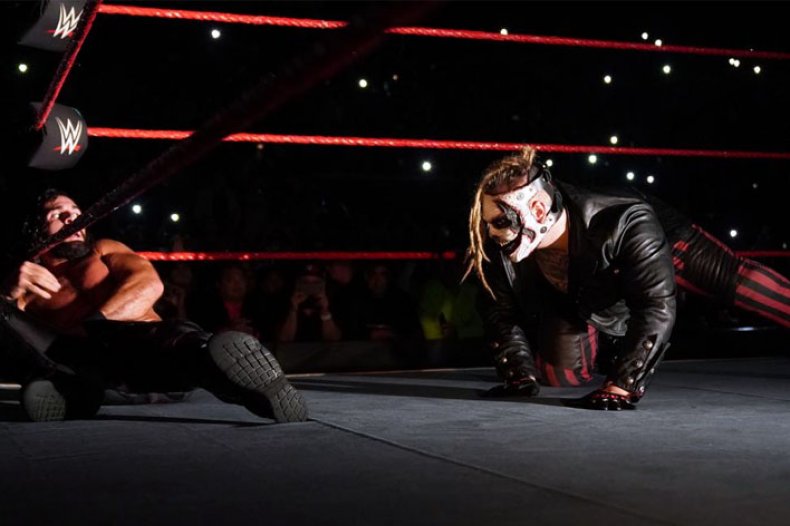 The segment was followed by a tag team match featuring Becky Lynch and Charlotte Flair teaming up against Sasha Banks and Bayley, with the former picking up the victory.
The Fiend is set to take on Seth Rollins at the Hell in a Cell pay-per-view on Sunday, October 6 for the Universal Championship. However, Rollins will fight Rey Mysterio for the title next Monday, so Seth may not be champion going into the pay-per-view.
The dark segment was there to not only give the fans in attendance more action featuring The Fiend, but these segments and matches after the cameras stop rolling are often a way for the wrestlers to work out an upcoming fight before it happens. This could be a taste of what WWE fans will see at Hell in a Cell, but it's too early to tell. It's also accepted that segments or matches that happen after the cameras stop rolling aren't canon to WWE programming.
As for the segment that ended Monday Night RAW, Strowman was taken out by The Fiend after two Mandible Claws. Those who have been following WWE programming the last few years will remember that Braun was a part of Wyatt's faction before he went solo and before Bray's repackaging.
It'll be interesting to see if Strowman will play a part in The Fiend and Seth's storyline moving forward but Wyatt sent an interesting tweet regarding his former Wyatt Family member, playing up his dual personality.
What did you think of the closing segment of RAW? Who do you think will win Hell in a Cell? Let us know your thoughts in the comments section.