WWE Monday Night Raw Live Results: New Firefly Fun House and a New Universal Championship Contender to Be Determined
The Hell in a Cell pay-per-view is less than two weeks away and the WWE is preparing for the build with some matches that have huge ramifications to the Universal Championship scene.
A Fatal Five-Way match will take place tonight pitting five of WWE's top contenders against each other to be the next number one contender for Seth Rollins' Universal Championship. Robert Roode, Ricochet, Rey Mysterio, AJ Styles and Shinsuke Nakamura will all go at it to earn the opportunity to face Rollins on next week's Monday Night RAW, which is also the season finale of the show.
The Fiend and Seth Rollins are scheduled to tango at the Hell in a Cell pay-per-view on October 6 but with his title on the line a week before, the match may not have the same stakes.
Speaking of The Fiend, a new episode of Firefly Fun House is scheduled for tonight's episode. Every episode of the Fun House have been cryptic and teased doom for Seth Rollins, but will tonight's edition be any different?
Over in the women's division, Sasha Banks and Bayley are looking to dominate both RAW and SmackDown's women's divisions. Following their tag team victory last week, Banks was challenged by Nikki Cross. Cross doesn't take kindly to those who want to hurt her best friend, Alexa Bliss and Nikki wants to play with Sasha. Where Banks is, Bayley won't be far behind so will they continue their momentum or can Cross get revenge for Bliss?
Baron Corbin won the King of the Ring tournament last week over Chad Gable, but praised his opponent the next night during his coronation. However, in typical Corbin fashion, he was more insulting than congratulatory so Gable took out his frustrations on Corbin's regal garb. The two will have a rematch tonight, but will Corbin go 2-0 against Chad or can Gable knock Baron down a peg or two?
Here's everything that happened on the September 24 episode of Monday Night RAW.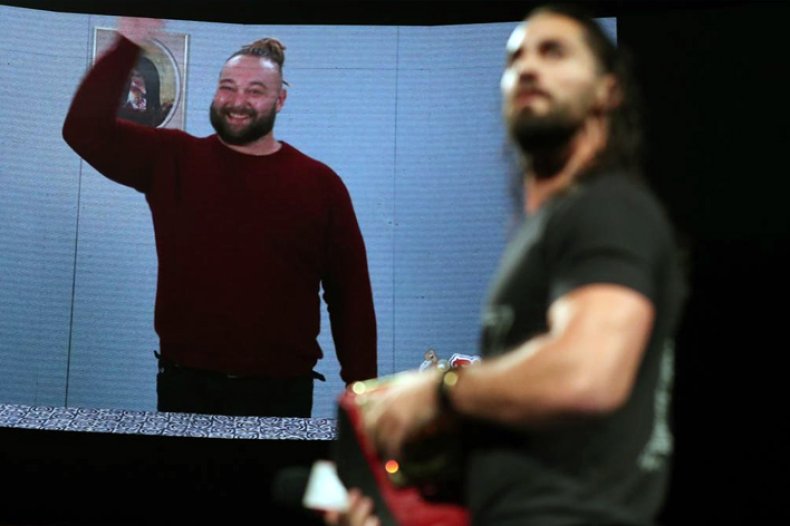 MONDAY NIGHT RAW RESULTS
Opening Segment
The opening credits are distorted thanks to The Fiend
After a recap of The Fiend and Seth Rollins' interaction during last week's episode, the Universal Champion comes out.
Rollins says that he has been in the WWE for seven years, but he's never experienced what he did last week. He says that he has to get over it because he needs to defend the Universal Championship at Hell in a Cell. He'll do what he always does when his back is against the wall, he will survive and prevail. He did it against Brock Lesnar at SummerSlam, and he did it against Braun Strowman at Clash of Champions. Seth says he will do it again at Hell in a Cell.
Braun Strowman interrupts Rollins. He gets in the ring and says that he prefers Rollins say what he wants to his face unlike Wyatt who likes to pretend to be Mister Rogers. Strowman says that Rollins not only lost the RAW Tag Team Championships but he doesn't want a rematch with him.
Rollins says he didn't say that. He said that he was glad he didn't have to face Strowman any time soon after the fight they had at Clash of Champions. He says he has to think about his Hell in a Cell match and defending the title next week against the winner of the Fatal Five-Way. Rollins says that if he wants to fight then do something.
Strowman asks if that's a challenge and Rollins tells him to take it however he wants.
The Viking Raiders vs The OC (with AJ Styles)
The OC come out to brand new music
AJ Styles is ejected from the ring after he tries to get involved. When Styles is at the top of the ramp, Cedric Alexander shows up to attack AJ before RAW goes to commercial.
Ivar pins Karl Anderson after a Viking Experience. This match was a back and forth fight. Easily the Viking Raiders' most competitive match on the main roster.
Backstage
Robert Roode is asked why he thinks he'll win tonight. Roode says he beat Seth Rollins already and with the Universal Championship on the line, it'll be glorious.
Becky Lynch Interview
Lynch has a sitdown interview with Michael Cole. He asks Becky if it's wise to challenge Sasha Banks in Hell in a Cell. Lynch says Sasha on a hot streak is exactly what she wants.
Cole says that Sasha is part of the only women's Hell in a Cell match. Becky brings up that Banks lost, but Cole says that this time Sasha will likely have Bayley. Becky says that the cell is to keep Sasha in, not Bayley out.
Rusev vs EC3
EC3 doesn't get an entrance
Rusev wins via submission after an Accolade
Rey Mysterio Backstage Promo
He thanks Dominick for convincing him not to retire and he says tonight's match is dedicated to him.
Sasha Banks (with Bayley) vs Nikki Cross (with Alexa Bliss)
Nikki hits Sasha with the Swinging Neckbreaker when Bayley gets on the apron to distract the referee. Alexa Bliss attacks Bayley to get her out of the match.
Sasha Banks wins via submission after Banks reverses the flying cross body into a Bank Statement
After the bell, Sasha kicks Nikki causing Alexa Bliss to get in the ring. Sasha puts Bliss in the Bank Statement too.
Street Profits Segment
Profits do their special brand of recapping and hyping up the main event.
The Miz comes out and says he has two announcements. The first is the birth of his second daughter. The second announcement is The Miz will host Miz TV with guests Hulk Hogan and Ric Flair.
Lacey Evans vs Ember Moon
Evans wins via submission after a Sharpshooter
Natalya is watching backstage when she's asked about Lacey using her finisher. Natalya says she hasn't mastered it and that if she wants a rematch she'll tap her out.
Firefly Fun House
A picture of Kane is shown on Wyatt's wall of Friendship. Bray then puts up a picture of a black photo. Bray says that there's always room for one more.
Huskus and Ramblin' Rabbit are fighting over a Seth Rollins figure. Bray says they need to learn to share because they will open themselves up to being abandoned.
Rabbit says that they don't want The Fiend to hurt Seth Rollins. Wyatt says that he knows what he can do, he then rips the figure in half to share before he stares into the camera menacingly before he says "see you in hell."
24/7 Segment
Carmella and R-Truth run into the ring. They are surrounded. Carmella tells the guys they can't do this any more, she's exhausted. Truth hugs Carmella, before she rolls up Truth to become the new 24/7 Champion. Truth celebrates with Carmella.
Some of the women's locker room comes out including The IIconics and Sarah Logan. Truth and Carmella run away.
Backstage
Banks says that Nikki and Alexa got what they deserve. Banks says she's not concerned about Becky, only about getting back the champion. After Hell in a Cell, Sasha will be the only one standing.
Baron Corbin vs Chad Gable
Corbin comes out with a wolf-skin robe and new crown.
Corbin gets on the mic before the match to say that the match will be rather short. After tonight, Corbin decrees that he won't have to compete against anyone under 5'5".
Gable wins via disqualification after Corbin used his scepter to hit Chad when he was put in the Ankle Lock. Corbin ends everything with a scepter shot to the back of the neck.
AOP Vignette
A new vignette featuring the AOP plays as they show why no one wants to fight them. Rezar and Akam get up from their chairs and beat up Curt Hawkins and No Way Jose in the halls before going back to their room.
Rey Mysterio vs Ricochet vs AJ Styles vs Shinsuke Nakamura vs Robert Roode - Fatal Five-Way Elimination Match
Nakamura pins Ricochet after a Kinchasa
Styles pins Nakamura after a Phenomenal Forearm
Roode pins Styles after a Glorious DDT
Mysterio pins Roode after a 619 and a Frog Splash
Backstage
Rollins is interviewed backstage and is asked about facing Mysterio next week. He congratulates Rey on winning and says that this is a dream match for him. But if he wins or loses next week, Seth will still have to take on Bray at Hell in a Cell. But he'll do what the best wrestler in the world does and that's fight.
Braun Strowman vs Seth Rollins
The match ends in a no contest because just as Braun was going to hit the Running Powerslam, the lights start to flicker out when The Fiend appears in the ring. He hits Braun with the Mandible Claw.
The Fiend approaches Seth in the corner like last week, but Braun comes to and charges at Bray but Wyatt hits him with another Mandible Claw before he laughs in the ring as the program goes black.