WWE Superstar Matt Riddle Denies Sexual Assault Allegations in New Video
WWE superstar Matt Riddle has again denied sexual assault allegations that were recently made against him, in a video he shared over Twitter on Wednesday.
"I'm going to make this quick," Riddle says in the clip. "I have never in my entire life sexually assaulted a man, woman or anybody."
The high-profile wrestler was responding to allegations made by independent wrestler Candy Cartwright, who alleged back in June that Riddle choked her in May 2018 and forced her to perform oral sex on him, while they were riding in a van with several other wrestlers who had fallen asleep. Cartwright made the allegations on Twitter, amid the #SpeakingOut movement that brought to light allegations of wrongdoing and misconduct by numerous wrestlers.
Immediately in the wake of the allegations being made public, Riddle released a statement through his lawyer, denying Cartwright's account.
"The allegations by this independent female performer are completely false and another attempt to harass and humiliate Mr. and Mrs. Riddle and to try to tarnish their reputation in the community," the statement read. "We have been aware for the last two years of this performer stalking the Riddle family. In 2019, our firm had drafted a pleading against this performer to seek an injunction for cyberstalking in the Circuit Court for Orange County, Florida."
Candy Cartwright has provided Newsweek with a response to Matt Riddle's video.
"Everything he said in the video is just meant to distract people. I know having an affair was wrong and I'm sure it brought a lot of pain to his family, but that doesn't take away from the fact that he assaulted me. Multiple times. Throughout the course of our relationship," Cartwright said.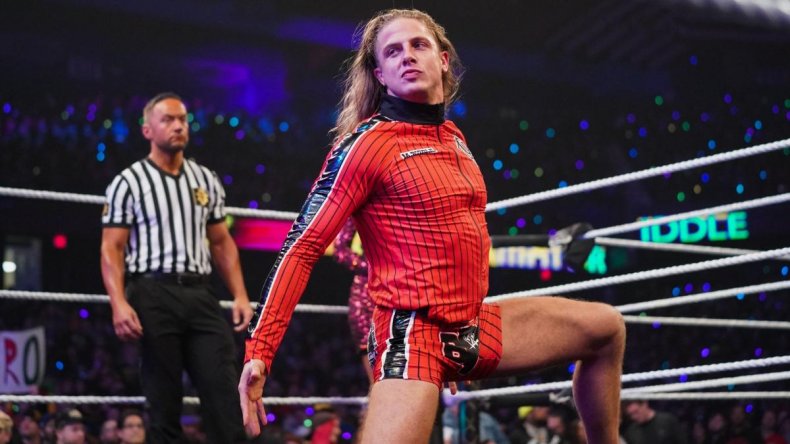 On July 4, Cartwright tweeted out a photo of herself and Riddle kissing that was apparently dated May 19, 2019, to counter the claim that she was stalking Riddle and his wife.
"This is crazy. It's been two weeks and I'm still getting hate messages/threats and seeing stuff like this," Cartwright wrote in the tweet alongside the picture. "If I've been 'stalking for years' then why is this from 2019? This was also taken after I went to see him on an NXT loop and he got me tickets to two shows..."
In his Wednesday Twitter video, Riddle not only denied the allegations against him, but also admitted to having an extramarital affair with Cartwright and repeated his claim that she has been harassing him.
"I never sexually assaulted you. The story about that van trip and the driver being asleep and me forcing you to do stuff and hop on whatever is a complete lie. It's a fabricated story because you're still mad," Riddle says in the video. "You know why you're mad? Because yes, you're right, we had an affair, you have plenty of evidence of that. You know what? I never denied it because it happened. Do I want to talk about it? Do I really want to share about it? No, it's embarrassing because I feel like a real piece of crap cheating on my wife and doing that and now having to talk about it publicly, but I have to."
Later in the nearly two-and-a-half-minute video, Riddle says, "At the end of the day, I'm not perfect. We did have an affair and I'm not happy about that. But, I never sexually abused anybody, I never sexually assaulted anybody."
Back in June, the WWE issued a statement to media outlets commenting on the allegations against Riddle. "We take any allegation of this nature very seriously and are looking into the matter," the statement read. "Individuals are responsible for their own personal actions. WWE has zero tolerance for matters involving domestic violence, child abuse and sexual assault."
In recent weeks, the promotion has dealt with sexual misconduct allegations against wrestlers Ligero, Travis Banks and Jack Gallagher, all of whom have been released from their contracts.
Update (7/8/2020, 7:00 p.m.): This article has been updated to include a statement from Candy Cartwright about Riddle's video.