A lot happened at Sunday's TLC pay-per-view. Titles changed hands and new feuds were created as we head into the start of 2019 and WrestleMania season. But for now all eyes are on the Monday Night RAW after TLC to see what the WWE plans to do with a seemingly blank slate.
WWE Chairman, Vince McMahon is scheduled to appear on RAW and he's ready to "shake things up." Baron Corbin's loss to Braun Strowman on Sunday ends his reign as RAW general manager, so the A-show needs a new leader. Will Kurt Angle return and resume his job as GM? Or will Alexa Bliss be promoted?
More fallout from TLC is expected on the December 17 episode of RAW as the first confirmed match for tonight is a match between Finn Balor and Dolph Ziggler. After Ziggler helped Finn defeat Drew McIntyre on Sunday, the two had a scrum backstage to set up tonight's bout.
Ronda Rousey got her revenge on Becky Lynch and Charlotte Flair to cost both women the championship in the TLC main event. The "Baddest Woman on the Planet" is seemingly riding high after her own victory over Nia Jax and her actions against Lynch and Flair, but how long until they come for a little retribution of their own?
The next WWE pay-per-view is the Royal Rumble in January and according to WWE.com, fans should expect superstars to declare themselves eligible for both Rumble matches. R-Truth and Carmella are confirmed to come in at the number 30 spots but who else will join them?
A lot is expected to go down on Monday Night RAW, here's everything that happened: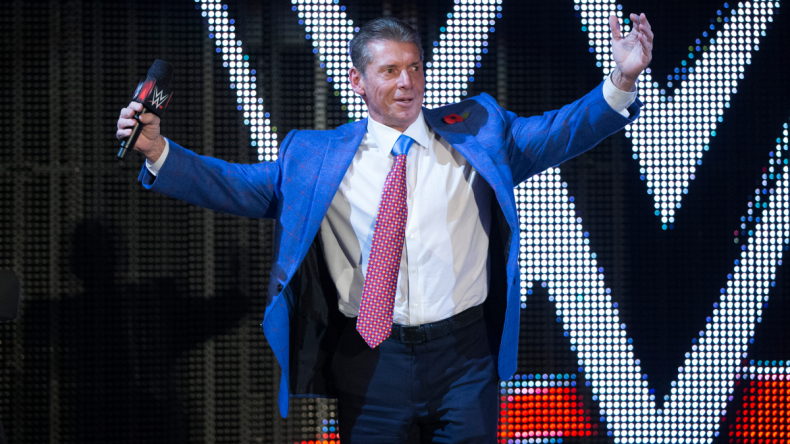 MONDAY NIGHT RAW LIVE RESULTS
Opening Segment
Mr. McMahon comes out to the ring and says that RAW has stayed on the air for 25 years because they have changed with the times and that he can't do it alone. He brings out Stephanie McMahon, Triple H and Shane McMahon.
Stephanie starts off and says they haven't done their jobs lately. They haven't listened to the fans, but they will start new tonight.
Triple H says that the four of them will start to run things better. In the coming weeks and months, the WWE Universe will see new faces and matchups, and that the people are the new authority.
Mr. McMahon says that as long as they give the people less of what they want and more of what they do, the WWE will be "then, now and forever."
Baron Corbin interrupts them, and says that there's no one more excited for a fresh start than he is. He's excited to see the entire McMahon family run Monday Night RAW, but says that what happened to him at TLC wasn't fair. He says that he tried his best to motivate the superstars, but he wasn't prepared for Strowman who wasn't scheduled to appear or the others who got involved. He asks for them to give him the position of GM. Trips, Stephanie and Shane say no, but Mr. McMahon says there may be a way all he has to do is defeat his opponent right now. Kurt Angle comes out with Heath Slater as the special guest referee.
Baron Corbin vs Kurt Angle
During the match, Triple H comes out to announce that it's actually a handicap match.
Bobby Roode, Chad Gable and Apollo come out.
During the match, Shane McMahon comes out and says he forgot to announce that this match is a No DQ.
Angle wins via pifall after an Angle Slam
Finn Balor vs Dolph Ziggler
Drew McIntyre comes out in the middle of the match
Ziggler wins via DQ after McIntyre hits Balor.
After the match, McIntyre beats down Ziggler and Finn.
Dean Ambrose Promo
Dean comes out with his gas mask entorage.
He says that everything he said would happen, happened at TLC. He lost control and dropped the ball. He says he took the most important thing in Seth Rollins' life (the IC Title) but he's not done. He won't stop until Seth has nothing. He's going to drag Rollins' career through the gutter.
Dean says he has an obligation as the moral compass of RAW to give Seth a chance to come out to say Ambrose was right.
Seth doesn't come out and says that he's giving an open challenge, not for the IC Title because he doesn't deserve it, but to have an opportunity to fight him. Seth still doesn't come out.
Dean says that since that didn't work, he's having an open challenge for the IC Title for anyone in the back not names Seth Rollins.
Tyler Breeze answers the call.
Dean Ambrose (c) vs Tyler Breeze - Intercontinental Champioship Match
Ambrose wins via pinfall after a Dirty Deeds
After the match, Ambrose gets on the mic and says that's the type of performance an Intercontinetnal Champion when Seth's music hits.
One of the gas mask guys is Seth Rollins in disguise who beats down Ambrose before the others pull him off the champion.
Backstage
Shane McMahon is asked what the McMahon's announcement means and Shane says
Drake Maverick and the Authors of Pain interrupt and ask for their rematch for the tag team titles. Shane says since Baron Corbin gifted them the title, so AoP will have to face Lucha House Party, B-Team and The Revival in a fatal fourway for the number one contendership.
NXT Call Ups
Bobby Lashley Segment
Lashley and Lio Rush are under the spotlight, mocking Elias' promos. He does the poses thing he does.
Elias comes from behind and whacks Lashley with a guitar.
Authors of Pain vs Lucha House Party (Kalisto and Lince Dorado) vs B-Team vs The Revival
The Revival win after pinning Bo Dallas
Seth Rollins Interview
He was asked what happened at TLC. Rollins says that he let Ambrose get into his head and that he heard what the crowd were saying during his match last night. He's going to make things right by first ending Dean Ambrose.
Baron Corbin comes in and says that everyone thought he was doing a good job before Seth came out and said what he said last week. Corbin says he would take Rollins' title if he wasn't jumped earlier in the night, but reminds Seth that he doesn't have it anymore. Rollins pushes Corbin and walks away.
Ronda Rousey Promo
Ronda says she didn't come out to justify her actions at TLC but to show what a real champion is. A real champion lives for the challenge and is more than the result of a match or the title they hold.
She proposes that after a pay-per-view, the champ should be in a match and Ronda proposes an open challenge.
We see the RAW women's division arguing with each other. Stephanie comes out and announces an eight-woman gauntlet match to determine the number one contender.
Women's Gauntlet Match
Alicia Fox vs Bayley: Bayley pins Fox with a roll up
Bayley vs Dana Brooke: Bayley pins Brooke with a Belly to Bayley
Bayley vs Mickie James: James pins Bayley with a DDT
Mickie James vs Ember Moon: Moon pins James with an Eclipse
Ember Moon vs Natalya: Natalya pins Moon with a reverse roll up
Natalya vs Ruby Riott (with Liv Morgan and Sarah Logan): Natalya pins Ruby
Natalya vs Sasha Banks: Natalya wins via submission after a Sharpshooter
After the match, Ronda Rousey comes out and congratulates Natalya. The two shake hands and hug.