Ronda Rousey Costs Becky Lynch and Charlotte the Title at WWE TLC
RAW Women's champion Ronda Rousey cost Becky Lynch and Charlotte Flair, helping Asuka win the SmackDown Women's title during the main event of WWE's TLC pay-per-view.
After minutes of brutality from Asuka, Lynch and Flair, it seemed either "The Man" or Charlotte were on the verge of capturing the championship when, Rousey stormed out from the back and pushed the ladder over. This gave Asuka the opportunity to climb the ladder and win her first title on the main roster.
But why did Ronda do this? The recent history between Rousey, Lynch and Charlotte dates back to the week before Survivor Series, when the SmackDown women invaded RAW.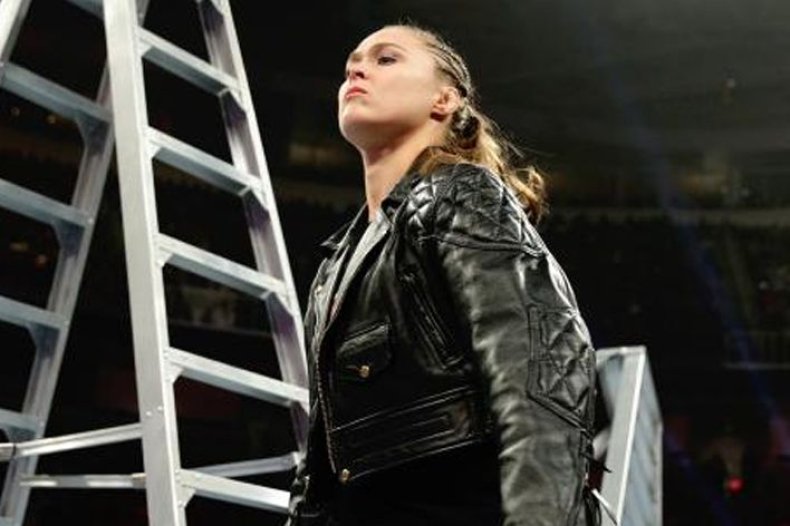 Lynch found Rousey in the locker room and put the Dis-Arm-Her on before storming to the ring where the rest of the RAW women were. After Lynch and the SmackDown women's division cleared the ring, Rousey came out again only to be beat down by Lynch, building up to their match at the pay-per-view later that week.
Unfortunately, Lynch suffered a concussion and a "broken face" from Nia Jax in the scrum, which caused her to be pulled from the match and Charlotte being chosen as her replacement.
After a stellar match at Survivor Series, which saw Flair not being able to put Rousey away, Charlotte got herself disqualified by taking a kendo stick and chair to the RAW Women's Champion.
Both Lynch and Charlotte left Rousey beaten in the ring in the span of a week. At the TLC pay-per-view, following her victory over Nia Jax, Rousey told backstage reporter Charlie Caruso that "payback was a bitch, and she's the baddest one in the world." Ominous words for what would happen later in the night.
Now that Lynch is no longer the SmackDown Women's Champion, this opens up a plenty of possibilities for the three women heading into WrestleMania season. Rousey was looking for revenge and got it by costing both women Lynch and Charlotte the title. But the WWE Universe knows Lynch and Charlotte won't let Ronda's actions slide.
The Royal Rumble is in about a month, and either woman could enter to get a title shot at WrestleMania. If Charlotte or Becky win, they can choose to face Ronda for her title in April.
The WWE Universe won't have to wait long, as Monday Night RAW will see the next part of the story between these three play out. In the meantime let us know what you thought of the TLC match and Ronda's actions in the comments section below.