WWE Monday Night RAW Live Results: Seth Rollins Prepares for Match with "The Fiend"
It's the final WWE episode before Crown Jewel in Saudi Arabia and the superstars of Monday Night RAW are getting ready, especially Universal Champion Seth Rollins.
Ahead of his championship match against Bray Wyatt's "The Fiend" at Crown Jewel, Rollins will take on new RAW superstar Erick Rowan in a Falls Count Anywhere match. Rollins and Wyatt's match in Saudi Arabia will also be a Falls Count Anywhere match, but in response to the end of Hell in a Cell it "won't be stopped for any reason." Can Rollins earn that all-important momentum ahead of his title match or can Rowan make a mark on Monday Night RAW with a victory over the Universal Champion?
The likely main event of Crown Jewel will be the Team Hogan vs Team Flair match pitting five WWE superstars against five others. Both Hulk Hogan and Ric Flair will be on tonight's Monday Night RAW to hype up their match and Ricochet will have a rematch against Drew McIntyre. McIntyre returned from injury last week as Flair's last member of his team and went on to defeat Ricochet in a highly-contested bout. Can Ricochet turn the tides or will McIntyre continue his dominance?
Rusev and Lana's degrading marriage has been a major angle on RAW, and the two will appear on King's Court tonight to address the issues. With Lashley on Team Flair and Rusev on Team Hogan, both competitors have other reasons for wanting to get into the ring.
RAW Women's Champion Becky Lynch will be in action tonight against Kairi Sane, one half of the Women's Tag Team Champions. This will be the first time these women face off in WWE and Lynch wants to continue to be the dominant force in the women's division.
Sane, on the other hand, with partner Asuka will defend the Women's Tag Team Championships against Tegan Nox and Dakota Kai on NXT this Wednesday so can she focus enough on tonight's match to shock the WWE Universe with a victory?
Here's everything that happened on the October 28 episode of Monday Night RAW.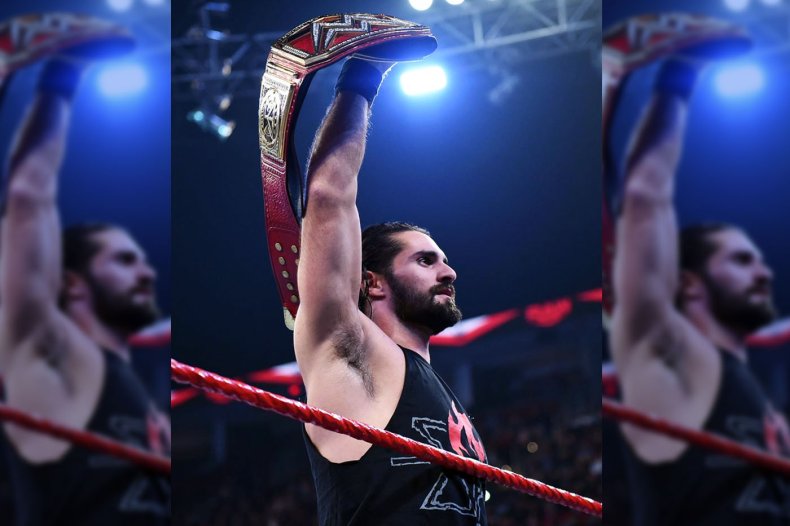 MONDAY NIGHT RAW RESULTS
Opening Segment
Paige comes out to start the night. She says she's proud to be a part of the success of The Kabuki Warriors. Paige brings out Kairi Sane and Asuka.
Paige runs down the accomplishments of Sane and Asuka as singles competitors. She's proud that both women have gelled so well together and have become Women's Tag Team Champions. Asuka snatches the mic from Paige and speaks in Japanese. Paige takes it back, before Kairi snatches it from her. Paige tries to take the mic back before Sane drops it on purpose. When Paige tries to get the mic, Asuka spits the green mist in her face.
Commentary is playing up that Asuka and Kairi don't need Paige any more. While Paige is trying to wipe the green mist off, Asuka looks to get in her face when Becky Lynch comes out and takes down Kairi. Lynch takes on both Kairi and Asuka, but the Kabuki Warriors get the upperhand before Lynch clears the ring.
Becky Lynch vs Kairi Sane (with Asuka)
Lynch wins via submission after a Dis-Arm-Her
The match was highly competitive with plenty of near falls
R-Truth vs Buddy Murphy
Before the match, Truth is asked about his most recent 24/7 title reign. Truth says he knew there was a brother and he went to the eye doctor so now he can get his championship back
Buddy Murphy comes out and says that Truth is so focused on the 24/7 championship and he is looking past him. He says after tonight, Truth won't forget him.
During the match, The Singh Brothers run out to the ring followed by the other members of the division. Truth goes out and chases after the Singhs too. Truth gets back in the ring and gets hit with a knee.
Buddy Murphy wins via pinfall
AOP Vignette
The AOP say they will own this the tag team division no matter what language they speak.
Street Profits Promo
They recap their victory last week against The OC with an assist from Kevin Owens. Angelo Dawkins says that other tag teams are on notice because The Street Profits are on RAW now.
Ricochet vs Drew McIntyre
Hulk Hogan, Jimmy Hart and Ric Flair are ringside.
Ricochet wins via disqualification after Randy Orton hits an RKO when it looked like Ricochet could win.
Backstage
The OC and AJ Styles are looking at Humberto Carrillo. Styles says he was impressed with Carrillo after last week's match with Seth Rollins.
AJ says he remembers when he was a rookie and now he's a veteran. He says it's cool what Humberto did, but if he wants to prove himself against the "real" champion he should face him tonight.
Viking Raiders vs Local Enhancement Talent
The local enhancement talent are dressed as Chicago Cubs and named Rizzo and Bryant. RAW was in St. Louis.
Viking Raiders win via pinfall after a Viking Experience
Andrade (with Zelina Vega) vs Sin Cara (with Carolina)
Before the match, Sin Cara is asked how he will counteract Zelina Vega. Sin Cara introduces Carolina
Andrade wins via pinfall after a roll up with his legs on the rope
The finish was set up when Carolina stopped Zelina Vega's interference, but the distraction allowed for Andrade to roll up Sin Cara
The IIconics vs Charlotte Flair and Natalya
Natalya submits Billie Kay
Seth Rollins Interview
Seth Rollins says he has to fight because that's what he does. He acknowledges Rowan was a part of the Wyatt family. He says he knows that the Firefly Fun House wouldn't go away forever, but the only way to defeat the Fiend is to beat the Fiend and he will burn it down.
Seth Rollins vs Erick Rowan - Falls Count Anywhere Match
The match eventually spills to the concession stands in the lobby.
Rowan kicks out of a Stomp on the announce table.
Seth hits Rowan with a Stomp on a ladder before rolling him under a forklift. He tells a backstage worker to turn on the forklift as he drops the lift on Rowan, allowing him to pin Erick.
Backstage
Bobby Lashley is sitting with Lana when he asks if he she wants him out there with her. Lana says she needs to do this herself.
Aleister Black Vignette
Black says the next time he walks to the ring either two things will happen. First, whoever Black faces will have an intimate relationship with fear. Secondly, they will come looking to pick a fight with him.
AJ Styles (with The OC) vs Humberto Carrillo
Styles wins via submission after a Calf Crusher
The match was highly contested with Carrillo getting a near fall after a Moonsault
After the match, AJ gets in the ring and puts his hand out for a handshake. Styles pulls it away, which makes Carrillo hit Styles before AJ beats down Humberto with the Styles Clash. The OC join in on the beatdown when the Street Profits come out for the save.
King's Court with Rusev and Lana
Lana says she doesn't want to embarrass Rusev, but every day she has to deal with the hate from the WWE Universe. She says that the only reason Rusev is with Lana is because he only wanted sex. That it wasn't about loving her, it was about having a child.
Rusev says that he wanted to grow their family because he loves her.
Another reason is that Lana says that Bobby Lashley told her that Rusev cheated on her. Rusev says that Lashley is talking "s---" when Bobby comes to the ring.
The two brawl with Rusev eventually taking his ring off and shoving it in Lashley's mouth. Lana tries to hit Rusev with a kendo stick but he stops her. While his back is turned, Lashley hits Rusev with a low blow and ends the segment kissing Lana over Rusev.