WWE Monday Night RAW Live Results: How Will Seth Rollins Respond to The Fiend's Attack?
It's the Monday Night RAW after this year's Clash of Champions and while there weren't as many title changes as a show with 10 championship matches would suggest, but the pay-per-view on Sunday is building towards Hell in a Cell.
Sunday's show ended with The Fiend attacking Universal Champion Seth Rollins and that likely means Bray Wyatt will take on "The Architect" at the October pay-per-view. But how will Rollins respond to the attack? Rollins and Wyatt may have a past, but this is a very different Bray and it's unclear if the Universal Champion is ready.
The 2019 King of the Ring tournament will see the finals on tonight's Monday Night RAW as Baron Corbin takes on the underdog, Chad Gable. Will RAW see the start of the King Corbin era or will Gable prove that he's more than his height?
In the women's division, Becky Lynch left Clash of Champions as the RAW Women's Champion after being disqualified. Lynch inadvertently hit the referee with a steel chair while trying to strike Sasha Banks. "The Boss" will certainly want a rematch for the title as she didn't lose, and with Hell in a Cell taking place in less than a month tonight will sow the seeds for a rematch.
And finally, we have Cedric Alexander getting destroyed by AJ Styles on the Clash of Champions kickoff show. While Alexander may have failed to capture the US Championship, The OC decided to beat down the young upstart after the match. What will be next for the former Cruiserweight Champion?
Here's everything that happened on the September 16 episode of Monday Night RAW.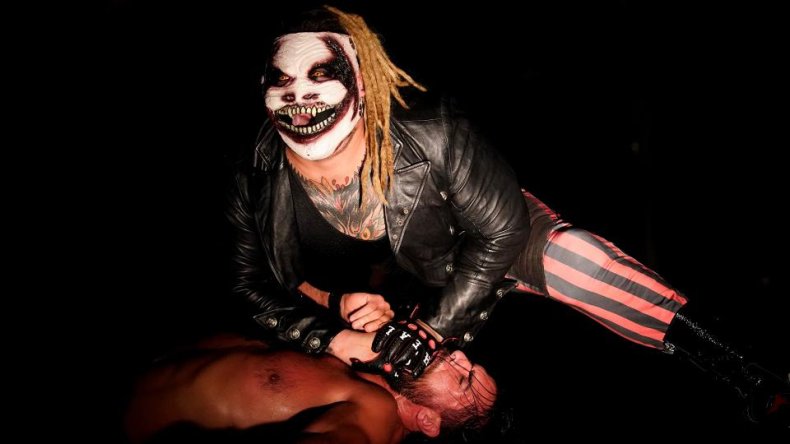 MONDAY NIGHT RAW RESULTS
Opening Segment
Seth Rollins comes out to start the night. Rollins says that last night didn't start well because he and Braun Strowman lost the RAW Tag Team titles. Rollins puts over Strowman by saying how many Stomps it took to keep Braun down.
Seth says that the last thing he saw before he lost consciousness was The Fiend. He says that when he came to, Bray Wyatt was nowhere to be found but that's ok because he will go one-on-one with Wyatt in Hell in a Cell.
Seth is interrupted by The Firefly Fun House. Wyatt appears and looks happy to see Seth Rollins and refers to him as his future best friend. He says that he's sorry for what happened last night.
Ramblin' Rabbit appears and tells Seth Rollins to run, but Wyatt tells the puppet to be quiet.
Rollins calls Wyatt sick, but Bray says that it's odd that Seth has made many mistakes in his life and people have forgiven him but "he" doesn't forget and that's why he paid him a visit at Clash of Champions. Bray says that The Fiend may even pay Seth a visit tonight. Rollins begins to look around waiting for an attack, but Bray just says bye and "see you in hell."
Backstage
Strowman is shown walking backstage when he's approached by Charlie Caruso. She asks why he's there tonight and he says that the next person in that ring is going to get these hands.
Tag Team Summit
The Revival, Dolph Ziggler and Robert Roode come out to the ring. Roode says that no one believed that Ziggler and him could win the tag team championships. Roode tells the people to look at them and the titles now.
Braun Strowman comes out as The Revival try to cut him off on the ramp. Strowman takes out The Revival and then gets in the ring and takes out Ziggler. He then goes after Robert Roode, but he runs away.
Backstage
Alexa Bliss and Nikki Cross are drinking coffee backstage. Bliss and Cross talk about how Sasha talked trash about the Women's Tag Team Championships and how Bayley just forgave her. They will show Banks and Bayley how important the titles are.
AJ Styles and The OC vs Cedric Alexander and The Viking Raiders
Styles pins Alexander after a Phenomenal Forearm
After the bell, Styles beats down Alexander some more but The Viking Raiders stop it before The OC gets in the ring and the two tag teams go at it. Alexander beats down on Styles on the top rope, but AJ hits Cedric with a top rope Styles Clash.
R-Truth Segment
Truth and Carmella take a tour of the University of Tennessee when Mayor Glen Jacobs (formerly known as Kane) arrives and says that he'd love to take the 24/7 Champion on a tour of Knoxville. He takes Truth while Carmella looks on suspicious.
Baron Corbin vs Chad Gable - King of the Ring Final
Corbin wins via pinfall after an End of Days
Kannellis' Gender Reveal Party
The party is hosted by The Street Profits. Maria Kannellis shows up and confirms she is having a boy. She turns to Mike and says that we all know who the real father of the child is, and it's Ricochet.
Ricochet tries to tell Mike that Maria is lying. Mike slaps Ricochet and tells him to go to the ring. Titus tells Ricochet to not let Mike hit him and go out to the ring.
Angelo Dawkins says that he thought she was going to say he he was the father of the baby.
Ricochet vs Mike Kanellis
Ricochet wins via pinfall after a Recoil in a relatively short match.
Firefly Fun House
Bray Wyatt is putting up a picture on his wall. His "Wall of Friendship" is filled of portraits of The Fiend's victims including Mick Foley, Finn Balor, Kurt Angle, and Jerry "The King" Lawler.
Wyatt says it's time to make more friends and leaves.
Maria Kanellis Promo
Maria gets on the mic while Mike is still in the ring. She says of course Ricochet isn't the father but this man is.
Rusev appears and gets in the ring with Mike. Mike stops Rusev and says that he's having a bad day and if it's true that he's the father then he congratulates Rusev and Maria.
Mike tries to leave but Rusev chases him down and beats him down.
Rusev gets Mike back in the ring and the referee rings the bell. Rusev hits Mike with the Machka Kick and the Accolade causing Mike to submit.
24/7 Segment
Earlier in the day, Glen Jacobs is taking R-Truth on a tour of the University of Tennessee when he introduces a referee dressed as a cop. Truth tries to run away but runs into the goal post at the football stadium. Jacobs pins Truth and becomes the new 24/7 Champion.
Rey Mysterio vs Cesaro
Before the match, Cesaro says that if Rey's son shows up he'll beat the hell out of him after he beats him.
Mysterio wins via pinfall after a Sunset Flip
Firefly Fun House
Bray is putting up a picture of Seth Rollins with red exes over his eyes. Wyatt then turns to the cameras with a smile as The Fiend flashes on the screen.
AOP Vignette
A vignette of AOP explaining who they are and saying that they haven't had a match since WrestleMania. They are fighters and they want to show the weak tag team divisions who they are.
Sasha Banks and Bayley vs Alexa Bliss and Nikki Cross
The story of this match is Alexa tweaks her leg and Bayley targets it, even going as far as to hurt Bliss causing officials to come out for her and take her to the back making this a handicap match.
Banks submits Cross with the Bank Statement, but Nikki held off both opponents for awhile.
After the match, Sasha grabs a chair is about to attack Nikki but Becky Lynch comes out with a chair of her own. Bayley grabs a chair of her own, and the two are about to attack Lynch when Charlotte Flair comes out. Flair knocks the chair out of Bayley's hands and attacks the SmackDown champion with the chair. Lynch then hits Banks with the chair as well
Lynch and Charlotte stare at each other in the ring.
Backstage
Sasha tells Becky that she doesn't care how many chairs she uses, but she's the money maker of the division and challenges Becky at Hell in a Cell for the RAW Women's Championship.
24/7 Segment
Earlier in the day, Truth is hiding on the top of Glen Jacobs' limousine when he rolls him up to recapture the 24/7 championship. Jacobs chokes Truth, when Truth tells him that he doesn't want the title because he'll need to defend it 24/7. Jacobs agrees and they walk into the arena.
Backstage
Lynch responds to Banks. And she says she's not interested in fighting Sasha at Hell in a Cell, she wants to destroy Banks IN Hell in a Cell.
Lacey Evans vs Dana Brooke
Evans wins via submission after a Sharpshooter
Evans hit Brooke with the Women's Right but decided to use Nattie's Sharpshooter to send a message.
Seth Rollins vs Robert Roode (with Dolph Ziggler)
Rollins wins via disqualification after Ziggler breaks up the pin after Seth hits Roode with the Stomp
Ziggler and Rollins start to brawl when AJ Styles and The OC come out and hit Seth with the Magic Killer and the Styles Clash.
Kane comes out for the save and lays out the heels when the lights slowly go out and The Fiend attacks Kane with the Mandible Claw.
The Fiend then crawls next to Seth Rollins who is visibly scared in the corner before the broadcast cuts to the Firefly Fun House intro as it becomes distorted for a few minutes.