WWE Monday Night RAW Live Results: Crown Jewel Fallout
WWE Crown Jewel is over (thankfully) but the results of the Saudi Arabia show will be felt on Monday Night RAW as the company moves toward Survivor Series.
Brock Lesnar won back the vacant Universal Champion after pinning Braun Strowman. RAW General Manager, Baron Corbin had a big part in Strowman's defeat after clocking the "Monster Among Men" with the belt before the bell rang. How will Strowman react on Monday night? Is Corbin safe?
The Survivor Series card currently has AJ Styles taking on Lesnar, Seth Rollins vs Shinsuke Nakamura, and Ronda Rousey against Becky Lynch as the scheduled matches. Rousey will come out on RAW tonight to respond to Becky's trash talk as the road to the brand vs brand pay-per-view begins.
Dean Ambrose's heel turn on Seth Rollins was the talk of the show for the past couple of weeks, but their current reign as RAW Tag Team Champions may be over before it can even begin. What does the future hold for the titles if the current champs aren't on the same page?
This episode of Monday Night RAW was already taped in Manchester, UK so the results of the show in full. If you don't want to know what happened on RAW before it airs in the states turn away now.
Here's everything that happened on the Nov. 5 episode of Monday Night RAW.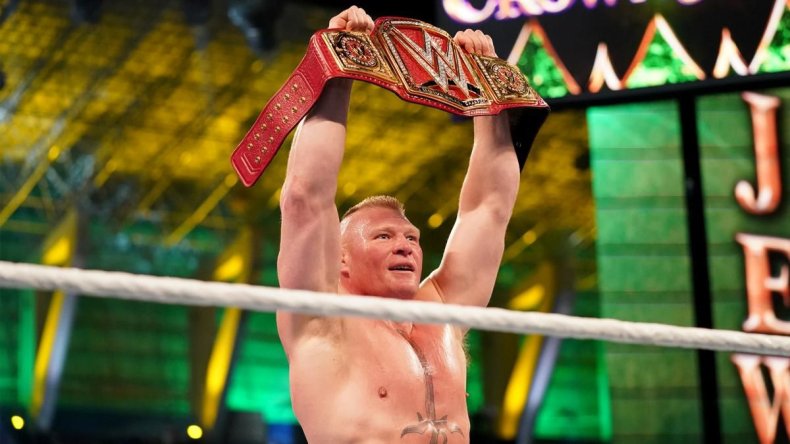 WWE MONDAY NIGHT RAW LIVE RESULTS
Opening Segment
Baron Corbin comes out to talk about Crown Jewel and the upcoming Survivor Series. He has security surrounding the ring to protect him from Strowman, but says that they have a score to settle with Shane McMahon for stealing the World Cup from RAW and Dolph Ziggler.
He announces that Dolph Ziggler, Drew McIntyre and Braun Strowman as members of the team.
He says that Braun needs to learn to respect authority and that's why he did what he did at Crown Jewel.
Corbin also announces that Alexa Bliss will be the captain of the women's team, and will choose the five members of the RAW Women's Team.
Alexa Bliss thanks Corbin and says that she will be more of a manager and that the rest of the RAW women can learn from her. She will watch the women's matches very closely and announces Riott Squad vs Natalya/Bayley/Sasha Banks for tonight.
Kurt Angle interrupts Alexa Bliss saying that participating in Crown Jewel lit a fire under him and he wants to be at Survivor Series. Angle challenges Corbin to a match in the main event to not only be on the team but be the captain. Corbin accepts.
Segment ends with Strowman coming out, taking out the security and chasing Corbin off.
Riott Squad vs Sasha Banks, Bayley and Natalya
Match ends in a no contest after Ruby Riott stomped on a pair of glasses that belonged to Jim Neidhart.
Apollo Crews vs Jinder Mahal
Seth Rollins Promo
Seth Rollins comes out with the IC, and both RAW Tag Team titles. He says he wished he won the World Cup. He also says that Corbin, for some reason, helped Lesnar win the Universal Championship undoing everything Roman Reigns fought for.
He would tell Lesnar in his face what he thinks of him but of course he's not on the show. He does want to talk to Ambrose but that's not going to happen. Seth says that he would love to defend two titles but he can't.
Corbin, on the titantron, appears and says that Seth can defend the titles against the Authors of Pain.
Authors of Pain vs Seth Rollins (c) - Handicap RAW Tag Team Championship Match
Authors of Pain win via pinfall
After the match, Dean Ambrose shows up and beats down Rollins.
Dolph Ziggler Promo
He says that he's the real best in the world and that they were conspiring against him, having a SmackDown referee and sending McIntyre to the back before the match.
Elias interrupts him and begins doing his musical number when Ziggler interrupts him and challenges him to come down to the ring.
Elias vs Dolph Ziggler
Ronda Rousey Promo
Rousey cuts a promo on Becky saying that Lynch is "the man" but she's not the "baddest bitch on the planet."
She tells Becky that she wants a challenge so bring everything she has to Survivor Series.
Nia Jax comes out and tells Ronda that she's representing RAW in her match against Becky so don't let them down. And that she's waiting for her Survivor Series.
Nia Jax vs Ember Moon
Nia Jax wins via pinfall
After the match, Tamina Snuka shows up like last week but she hugs it out with Nia and the two proceed to beat down on Ember.
Backstage Segment
Baron Corbin drives away from the arena to avoid Strowman but makes Drew McIntyre his replacement for the main event against Kurt Angle.
Bobby Lashley vs Finn Balor
Lashley wins via pinfall
After the match, McIntyre shows up and stares down Lashley before helping Balor to his feet. He proceeds to his Finn with a Claymore
Drew McIntyre vs Kurt Angle
McIntyre wins via submission using the Ankle Lock
Strowman makes the save after the match.