It's the final Monday Night RAW before this year's SummerSlam pay-per-view and tonight's episode will feature the return of a WWE Hall of Famer.
Shawn Michaels will arrive at Monday Night RAW to confront Randy Orton for what "The Viper" did to Ric Flair last week. Flair is one of Micahels' closest friends in the business so you know the "Heartbreak Kid" has a lot to say to Orton. Will Michaels be able to knock Orton down a notch or will "Mister WrestleMania" have the same fate as other legends?
Drew McIntyre is set to defend his WWE Championship against Randy Orton on Sunday, so how will Drew react to seeing Orton tonight?
Rey Mysterio is rumored to return to Monday Night RAW tonight. This will be the first time the WWE Universe has seen Mysterio since Seth Rollins gouged out his eye at Extreme Rules.
If Mysterio returns he would have made a full recovery, but he will also have to worry about what Rollins plans to do to his son Dominik on Sunday. Will Rey give Dominik the advice he needs to overcome the "Monday Night Messiah" or will Mysterio go back on the shelf?
RAW Underground continues into its third week tonight. After Shayna Baszler made a surprise appearance, who will be next to step into the Underground?
Asuka won the battle royal on Friday to determine Bayley's opponent at SummerSlam, giving her two matches on Sunday for two titles. Now that Bayley and Sasha Banks know they will be facing the same opponent, how will the "Golden Role Models" take to Asuka tonight?
Here's everything that happened on the August 17 episode of Monday Night RAW.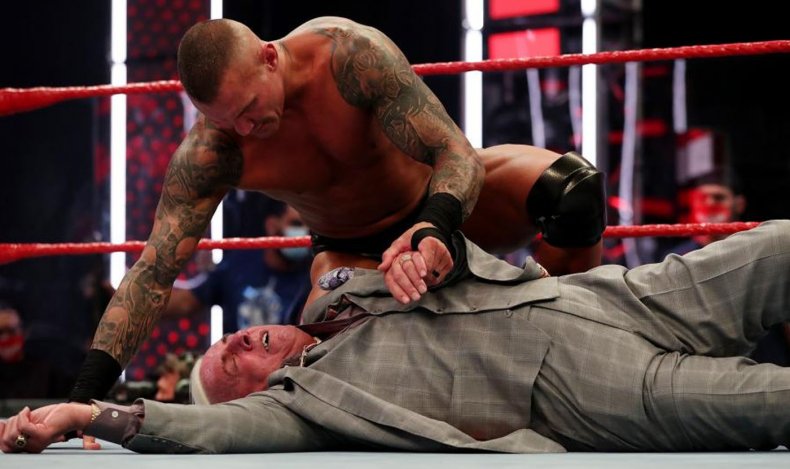 WWE MONDAY NIGHT RAW RESULTS
Before the show begins, the "Then, now, forever" opening was chopped and edited at the hands of Retribution.
Drew McIntyre Promo
After a recap of the Randy Orton and Ric Flair segment from last week, Drew McIntyre gets on the mic and says what Randy did was unforgettable.
He calls Orton evil and that on Sunday he's not just facing Drew McIntyre, he's facing a "fire-breathing dragon."
All of a sudden the production of Monday Night RAW goes haywire. Cameras go to the production truck and show Retribution causing havoc, before it goes to commercial.
Backstage
Backstage, Drew McIntyre is hanging out with the rest of the face locker room including Titus O'Neil, Viking Raiders, Ricochet, Mustafa Ali, Cedric Alexander, Akira Tozawa, Riddick Moss and Humberto Carrillo.
Titus asks about Ric, and Drew says he's alright. McIntyre says that on Sunday Randy Orton won't be ok and that they need to do something about Retribution.
Seth Rollins and Murphy come in and laugh at McIntyre. Seth says that they'll take care of Retribution and that he tries to remind McIntyre that he taught him to be a champion, and if he's not careful he'll be an ex-champion.
Ricochet and Alexander says that Rey Mysterio is coming tonight. Rollins says that's impossible causing McIntyre to tell Seth that he's scared. McIntyre says that if Rollins wants a match he only has to ask, Murphy tries to get in between them but Drew pushes him and Rollins and Murphy walk away.
MVP Promo
MVP comes out with the rest of The Hurt Business and he calls out to Retribution. He says that they are open to doing business.
MVP says that the only ones who have to benefit from Retribution are Apollo Crews and his friends. He accuses Crews of creating Retribution.
Apollo Crews comes out and says that MVP is making more excuses. MVP says that Apollo fears losing that US Championship because he'll go back to catering if he did.
Apollo agrees and says that if he was like MVP he would have joined the Hurt Business. Apollo says that if he beats Shelton Benjamin tonight, Lashley and Benjamin will be banned from ringside at SummerSlam and prove that MVP can't beat him without help.
Apollo Crews vs Shelton Benjamin (with MVP and Bobby Lashley)
During the match, R-Truth, Tozawa and the ninjas run across the ring distracting Benjamin enough to be rolled up.
Crews wins via pinfall after the roll up
After the match, Lashley and MVP beat down Crews. Ricochet, Mustafa Ali and Cedric Alexander come in for the save. It takes Ricochet, Ali and Alexander to take out Lashley.
When the faces leave, Truth runs back to ringside and Benjamin hits him with a boot. He pins Truth and becomes the new 24/7 Champion.
MVP challenges Crews to a six-man elimination tag match for later tonight.
Backstage
Demi Burnett from the Bachelor is talking with Angel Garza. Ivar comes in and says that he enjoyed talking with her. Ivar gives her a turkey leg and says that Garza didn't poison this.
Garza takes offense and says that they didn't poison Montez Ford and that The Street Profits are just trying to get out of their match on Sunday. He challenges Ivar to a match tonight and he accepts.
Ivar (with Erik) vs Angel Garza (with Zelina Vega and Andrade)
Demi Burnett is watching backstage, when Angelo Dawkins approaches her and starts talking with her.
Garza wins via pinfall after a dropkick
After the match, Dawkins and Burnett are on the titantron. Dawkins says that they should talk to Charlie Caruso. Garza tells Dawkins to relax and he says that he has a video to show. Garza runs to the back.
Samoa Joe says that they there is a video that's going to be shown. Zelina Vega asks what Joe is talking about. Joe says that with what's been going on with Retribution, WWE has looked over a lot of video and it's interesting what people do when they think no one is watching.
Backstage
Garza comes up to Dawkins and Burnett. Vega and Andrade come in and try to get the video from Dawkins. Charlie Caruso shows up and asks about the video and Dawkins plays it
The video shows Zelina Vega putting something in a cup before walking away. Charlie asks Vega if she's the one who poisoned Montez Ford. Dawkins says that Ford is his family and it's taken everything in him to not go off on them. Ford shows up and the two start fighting Garza and Andrade before they run off.
Mickie James vs Natalya (with Lana)
During the match, Seth Rollins and Murphy show up to approach Samoa Joe. Rollins asks how Joe knows Rey Mysterio is going to be there tonight. Joe is being coy and says that he has his sources and laughts at Rollins.
Natalya wins via countout
After the bell, Lana is taking photos of James and Mickie hits her with a roundhouse kick
Rollins gets on the mic and says that if Rey and Dominik Mysterio show up tonight it'll be the last mistake they make and neither will make it to SummerSlam.
Sasha Banks and Bayley Promo
Before the match, Sasha and Bayley get on the mic. Banks says that they've been on three brands and they need a break. And now they're expected to face Asuka. Bayley says that they are looking forward to Sunday because there is no chance Asuka can beat both of them in one night.
They argue over who should beat Asuka first at SummerSlam. Bayley says she will go first so Sasha Banks can have an easy time in her match. They start thinking about their tag team championship match at Payback and make fun of Kairi Sane not being in WWE any more.
Shayna Baszler comes out and says that she doesn't care who wins between Sasha and Asuka because she has next.
Asuka comes out next and starts ranting in Japanese before saying that tonight she faces both Sasha and Bayley. She turns to Shayna and says that she will fight with her before she fights against her.
Sasha Banks and Bayley vs Asuka and Shayna Baszler
During the match, Nia Jax breaks through the plexiglass to hit Shayna Baszler. The two brawl and officials break them up. This takes Baszler out of the match.
Baszler does return to the match after a few minutes to break up a submission
Baszler submits Bayley after reversing the Rose Plant into a Kirufuda Clutch
Asuka put Sasha Banks in the Asuka Lock on the outside and forced her to unofficially tap as well.
Backstage
Apollo Crews walks up to Ricochet, Alexander and Ali. Crews picks Ricochet and Ali for their tag match tonight
Alexander asks why he wasn't picked. Crews says it's not personal, he just thought Cedric could use a break after Lashley put him in the Full Lashley. Alexander nods disappointed and they walk out of frame.
Randy Orton walks into frame before RAW goes to commercial.
When RAW comes back from commercial, Shawn Michaels walks up to Drew McIntyre and tries to calm him down.
McIntyre says that he feels like he let Michaels down because Orton has been running wild on his watch. Shawn says Drew shouldn't feel that way and that he is the one who beat Brock Lesnar. He then asks for one favor, to give him space when he goes out to confront Orton.
The IIConics approach Liv Morgan and Ruby Riott and run them down before their match. The camera pans to show Shayna Baszler talking with Marina Shafir and Jessamyn Duke.
Peyton Royce (with Billie Kay) vs Ruby Riott (with Liv Morgan)
Royce wins via pinfall after the De Ja Vu
The finish was set up when there was incidental contact between Riott and Morgan.
RAW Underground
Erik wins his match and Shane McMahon asks Dolph Ziggler about Erik's performance. Ziggler gives it a 4 out of 10 which draws Erik's attention. He challenges Ziggler and the two go at it.
Ziggler wins after poking Erik's eye and choking him out
After the match was over, Ivar runs in and shoulder tackles Ziggler into the crowd.
Rey Mysterio Promo
Mysterio says that watching Dominik being hurt last week was the worst feeling. He says that he may never full recover from his eye injury, but there is no doctor that will stop him from protecting his son.
Dominik says that he will do anything to protect his family.
Mysterio says that he is so proud and he knows that Dominik will be ready for SummerSlam. And if Seth Rollins comes near him tonight, he'll be the one not making it to Sunday
Rollins and Murphy show up on the titantron. Rollins calls Rey Mysterio an idiot for showing up and no one could have gotten hurt if Rey just accepted to being a sacrifice. He says that it's the Mysterio name and legacy that will be the ultimate sacrifice for the greater good.
Rey calls out Seth to come to the ring to back up his words. Rollins laughs it off and reminds them that they asked for this and not to move an inch.
Rollins and Murphy come out and the Mysterios roll out of the ring. They draw Murphy in and take him out with kendo sticks. They then surround Rollins in the ring and start whacking him with kendo sticks. They then tie him up on the ropes like Dominik was, but Murphy comes in for the save and Rollins gets away.
Backstage
Cedric Alexander is sitting alone when MVP sits next to him. MVP says that his friends were never the reason he was sitting backstage and not in the ring. Alexander says that MVP is always trying to stir the pot.
MVP says that Apollo could be looking out for Cedric's best interest or it could be something else. He also says that it's hard to be with a tag team partner who calls himself the "one and only." He says that the offer he handed out weeks ago still stands. Cedric throws his water bottle after MVP leaves.
RAW Underground
Riddick Moss takes on Arturo Ruas.
There was no winner as the two ended up fighting on the outside and taking on some of the fighters watching on the side before Shane stops it
MVP, Bobby Lashley and Shelton Benjamin vs Apollo Crews, Mustafa Ali and Ricochet
Lashley eliminates Ali after a Denominator
Benjamin eliminates Ricochet after Pay Dirt
Crews eliminates Benjamin after a Tossed Powerbomb
Cedric Alexander shows up and rolls up Benjamin to become the new 24/7 Champion
Crews eliminates MVP after a Tossed Powerbomb
Lashley wins after a Spear
Cedric Alexander vs Akira Tozawa - 24/7 Championship Match
Alexander wins via pinfall after a Lumbar Check
After the match, Benjamin hits Alexander with the Pay Dirt and pins him for the win and the title
RAW Underground
Marina Shafir wins her match
She's attacked by Nia Jax from behind and she kicks Duke. Shayna gets in the ring and challenges Nia
When the bell rings, Jax rolls out of the ring and Shane tries to bring her back to no avail.
Andrade (with Angel Garza and Zelina Vega) vs Montez Ford (with Angelo Dawkins)
Ford pins Andrade with a roll up
The finish was set up when Bianca Belair showed up ringside and took out Zelina Vega, which sets up the distraction on Andrade.
Shawn Michaels Promo
After showing a recap of Ric Flair and Randy Orton's segment from last week, Michaels says that
Michaels says that either Orton will be on the receiving end of a Sweet Chin Music or a Claymore. Michaels is leaving the ring, but Orton comes out and hits him with an RKO and a Punt before Drew McIntyre comes in to fend him off
McIntyre tends to Michaels when Orton comes back and tries to hit the RKO and Drew, but the champion stops it and takes Randy out. Drew goes back into the ring to tend to Shawn when Orton comes back and finally hits the RKO.
Uncommon Knowledge
Newsweek is committed to challenging conventional wisdom and finding connections in the search for common ground.
Newsweek is committed to challenging conventional wisdom and finding connections in the search for common ground.
About the writer
Phillip Martinez is a game and culture reporter for Newsweek. Prior to joining Newsweek in 2018, he was a reporter and editor for iDigitalTimes and Player.One. A Bronx native, he graduated with his Bachelor's degree in Journalism from St. John's University in 2010. An avid Nintendo fan and wrestling mark, he's always looking to become a Pokémon Master while fantasy booking this year's WrestleMania. You can contact him at p.martinez@newsweek.com