WWE 'Monday Night RAW' Results: Retribution Returns, More RAW Underground Set
Last week, both of WWE's shows saw some major shifts with two new additions to its programming. The first is the introduction of RAW Underground and the reveal of this new Retribution faction.
Tonight's Monday Night RAW will see the second week of Shane McMahon's RAW Underground. After a week where wrestling fans were divided over the Fight Club-esque matches, viewers will see how the WWE will take this new direction. With MVP and the rest of the Hurt Business taking over, what can we expect? And who will be fighting next?
Retribution, the mysterious group that set a generator on fire last Monday and took apart the Performance Center on Friday Night SmackDown are set to make another appearance tonight. Will we learn more about this group and who is under the masks? Or will fans and the WWE superstars continue to be left in the dark about it?
Kevin Owens challenged Randy Orton last week after an impassioned talk with Ric Flair. With Orton preparing for his WWE Championship match against Drew McIntyre at SummerSlam, can KO pick up an impressive victory or is Owens destined to be the "Legend Killer's" next victim?
Former RAW Women's Champion Asuka is looking to recapture the gold at SummerSlam. However, she'll have to defeat Bayley to get to Sasha Banks tonight. Bayley cost Asuka the title two weeks ago by attacking Kairi Sane and forcing Asuka to choose to save her friend as opposed to winning the match, and now "The Empress of Tomorrow" will have a chance to get some revenge on the "Role Model." Can Bayley defeat Asuka and keep her from the RAW Women's Championship picture, or does Sasha have a date for SummerSlam?
Montez Ford of The Street Profits was poisoned last week and while Bianca Belair believes it was Zelina Vega and her crew who did it, Vega says she has nothing to do with it. Will we learn more about Ford's condition and who was behind it?
Here's everything that happened on the August 10 episode of Monday Night RAW.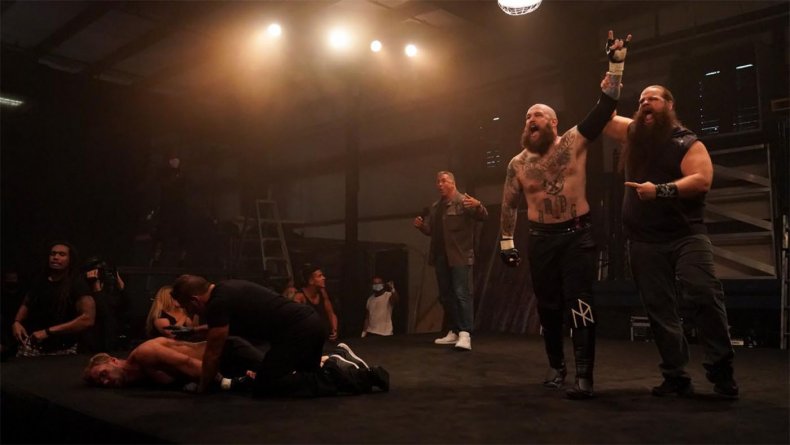 WWE MONDAY NIGHT RAW RESULTS
Contract Signing
Samoa Joe announces both Seth Rollins and Dominik Mysterio. Mysterio comes out with a kendo stick, while Seth has Murphy
Rollins calls Mysterio a coward for coming out with a kendo stick. Samoa Joe agrees and says he will hold it for him with a smile. Joe says this whole situation is sad because Rollins got "caught in his own feelings" and turned on the fans. And it's sad that he gave Dominik no other choice but to fight him.
Rollins says that everyone had a choice, including Rey Mysterio and Aleister Black. Seth is the only one who didn't have a choice. He tried to be the good guy and be the one they cheered, but they turned on him and he had no choice in becoming the "Monday Night Messiah" and doing things for the greater good. He asks when will it be enough?
Dominik interrupts and says it will never be enough. He says that Aleister and Rey's confidence isn't the same. Seth changed the lives of good men for the worst. He says that Seth claims to fight for the greater good, but he's only fighting for himself.
Seth says that he is the greatest wrestler of his generation and says that he'll let Dominik bring the kendo stick to their match at SummerSlam. He can use whatever he wants so there is no excuse when he ends Dominik's career before it starts.
Both men sign their contracts including Dominik who signs the contract to become an official WWE Superstar. Seth congratulates Mysterio and tells him to get out of his ring because he has a match with Humberto Carrillo.
Seth Rollins (with Murphy) vs Humberto Carrillo (with Dominik Mysterio)
Rollins wins via pinfall after a Stomp
The finish was set up when Murphy got on the apron when Carrillo was going for a moonsault. Mysterio hits Murphy down with the kendo stick and when Carrillo goes for his move, Rollins gets his leg up.
After the bell, Murphy tackles Mysterio and he and Rollins beat down Dominik in the ring. Dominik does get to tackle Rollins, but the numbers game is too much. Seth gets the kendo stick and continuously hits Dominik with it, even taking off his shirt so the two heels can hit him with kendo sticks.
Andrade (with Zelina Vega and Angel Garza) vs Angelo Dawkins
Before the match Zelina gets on the mic and says she's been saying all week that she had nothing to do with Montez Ford's poisoning. She says that no matter what Andrade and Angel Garza will take the RAW Tag Team Championships from The Street Profits at SummerSlam.
During Angelo Dawkins' entrance, the lights flicker like last week.
Dawkins wins via pinfall after the Cash Out
The finish was set up when Zelina Vega got on the apron to distract the referee from counting the three. Bianca Belair runs out and takes Vega out, which distracts Andrade.
Zelina Vega (with Andrade and Angel Garza) vs Bianca Belair (with Angelo Dawkins)
Belair wins via pinfall after a KOD
After the match, Bianca is interviewed. She says that she just knows that Zelina did it. Angelo Dawkins says that Montez Ford is not missing SummerSlam
VIP Lounge
MVP says that tonight is a different episode of the VIP Lounge. He says he's not in a celebratory mood. He talks about the production botches as a conspiracy theory and how he was right to bring them up. He says that Apollo didn't beat him, the lights did.
Apollo Crews comes out and says that MVP is just making excuses. MVP brings up how Apollo was ducking him with excuses that he was injured. Apollo says that was Lashley not him who did it.
MVP says that Apollo made a mistake coming out here alone. Apollo says he doesn't care about Shelton Benjamin, Bobby Lashley, but he does care about MVP. He says at SummerSlam, the only lights that are going out are his own. MVP tells Benjamin and Lashley to go after him, but Apollo slides in and hits MVP and then tosses the couch at all three men.
Apollo Crews vs Shelton Benjamin (with Bobby Lashley and MVP)
Benjamin wins via pinfall after a roll up
The finish was set up when Lashley tries to trip up Apollo when he runs the ropes. When his back is turned, Benjamin hits Apollo from behind and he slams his face into the ropes, which allows Shelton to to do a roll up
After the match, Lashley puts Apollo in a Full Nelson but MVP stops him. He says he needs Apollo healthy for their match. MVP says that he's just looking out for Apollo and is about to punch him, but Crews hits him with a kick and rolls out of the ring.
Retribution
Todd Phillips informs the viewers that Retribution has broken a window in the Performance Center. We're shown the front door of the PC where Retribution is gathered. An official tells them to get out, but one of them tells him no and another throws a cinderblock through the glass door. They then throw a second cinderblock at the same glass door.
Mickie James Interview
Mickie James returns and says that she's back to lead the women's locker room and has gold on her mind.
Lana and Natalya interrupt. Nattie says she's the winningest woman of all-time. Mickie James says that she expects this behavior from Lana but not Natalya. She says she'll see Nattie next week.
Backstage
Ivar is talking to a woman backstage when Erik comes in and says they have to get ready for their match. Ricochet and Cedric Alexander also come in to talk about their match. The woman says that Ivar is cute and Erik, not so much.
The Viking Raiders, Ricochet and Cedric Alexander vs Akira Tozawa and the Ninjas
The Viking Raiders pin one of the ninjas after a Viking Experience
After the match, Akira and one of the ninjas goes up the ramp. R-Truth rolls up Tozawa and wins the 24/7 Champion.
Drew McIntyre Interview
McIntyre says that at SummerSlam he's going to rip the torch that was passed to Orton out of his hands. He says that Randy is going to realize that evolution has passed him by.
Charlie Caruso asks what will happen if Kevin Owens snatches that torch from Orton tonight. McIntyre says if that happens the two of them will have a talk about the future of Monday Night RAW.
Liv Morgan (with Ruby Riott) vs Peyton Royce (with Billie Kay)
Before the match, The IIConics get on the mic. They run down the reunion of the Riott Squad and say they have been carving out their future.
Royce pins Morgan after the Deja Vu
The finish was set up when Billie Kay got on the apron to distract, and Ruby Riott went on the apron to get her off, which distracts the referee and in turn distracts Morgan.
RAW Underground
Riddick Moss is the first fight and after going to the outside and eventually back in, Moss wins his match
Asuka vs Bayley (with Sasha Banks)
During the match, the lights flicker
Asuka wins via submission after an Asuka Lock
The finish was set up when Bayley was mocking Asuka by doing some of Kairi Sane's moves.
RAW Underground
Arturo Ruas wins his match
After the commercial, Dabba-Kato wins his match. Afterwards, Shayna Baszler shows up and steps up to Dabba-Kato, but Shane McMahon tells Kato to get out of the ring. After asking for any takers, Shayna goes into the crowd and hits one of the women.
Shayna throws the woman in the ring and starts fighting. Two other women come in to triple team her, but she dispatches them and wins.
Retribution
Outside, Retribution is shown in the parking lot with an overturned car
Randy Orton (with Ric Flair) vs Kevin Owens
Orton wins via pinfall after an RKO
The match was highly competitive. After the bell, Orton gets on the mic and asks Flair to stay put in the ring. He says they need to talk as RAW goes to commercial.
Randy Orton Promo
After returning to commercial, Orton says he has every right to be upset with Flair but he can't. He says this match with Kevin Owens was unnecessary and was only happening because of Flair's ego.
No matter what he can't be mad at Ric. Orton talks about a time in the early 2000s when Flair bailed him out of trouble. But Flair has become a liability. Orton says that Ric took Randy under his wing because he wanted him to be the son he never had. He says that Ric Flair today is not the same one that he and everyone respected. This Ric Flair is old and is a "whore for the spotlight."
Ric Flair takes the mic and says that he takes this personally. He agrees with Orton that he wants the spotlight. Flair says that he is here because he wants to see Orton win the WWE Championship at SummerSlam and eventually beat his record. He says all he wants is for Orton to be better and do better.
Orton hugs Flair and when Ric tries to get out of the ring, Randy low blows him--the Retribution lights flickers again here. Orton gets ready for a punt, and just as he's about to the lights go out and Flair is lying on the floor.
Drew McIntyre runs in and Orton rolls out. McIntyre tends to Flair and calls Orton an "evil son of a b****."