WWE 'Monday Night RAW' Results: Will Drew McIntyre Address Randy Orton's Attack?
It's the first Monday Night RAW of August and WWE is building towards SummerSlam in a big way tonight.
Last week, WWE Champion Drew McIntyre defeated Dolph Ziggler in the main event but Randy Orton took him out with an RKO as the show closed. Orton has set his sights on McIntyre and the WWE Championship and this will be the match for SummerSlam, but how will Drew address "The Viper's" attack tonight?
Sasha Banks shocked the WWE Universe by defeating Asuka to become the new RAW Women's Champion. While Bayley helped Banks win by taking out Kairi Sane, how will Asuka react to her loss and what's next for Banks and Bayley?
WWE has confirmed that Shane McMahon will appear on Monday Night RAW. What is he doing on RAW and does it have to do with SummerSlam?
United States Champion Apollo Crews is scheduled to return to Monday Night RAW tonight and will take on MVP for the title. MVP has been boasting that he is the "real" US Champion ever since Apollo couldn't make his scheduled match at Extreme Rules, but now that Crews has returned we will see who will hold the brand new United States Championship.
Angel Garza and Andrade won the number one contendership match last week to earn the right to face The Street Profits at SummerSlam for the RAW Tag Team Championships. What's next for both teams and how will their feud proceed tonight?
Seth Rollins and Murphy laid into Dominik Mysterio and Aleister Black last week, with the son of Rey Mysterio getting the upper hand by the end. Rollins is hell-bent on saving Monday Night RAW and bringing it to the next level, but will Dominik stand in his way?
Here's everything that happened on the August 3 episode of Monday Night RAW.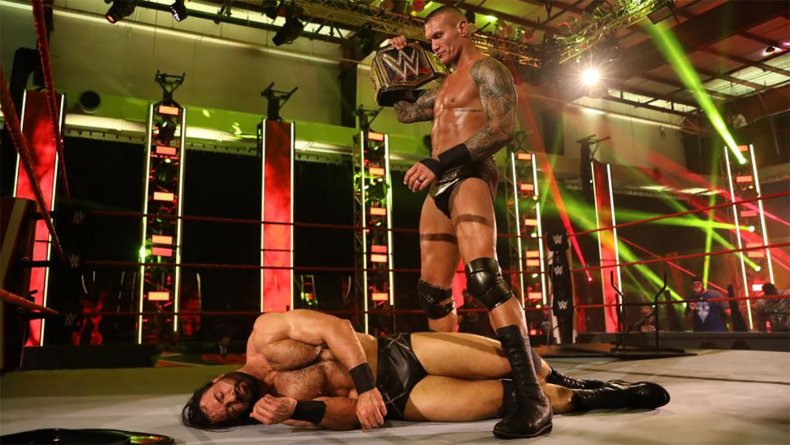 WWE MONDAY NIGHT RAW RESULTS
Apollo Crews (c) vs MVP (with Shelton Benjamin and Bobby Lashley) - US Championship Match
During the opening segment and during Apollo's entrance, the lights in the Performance Center go out and come back up. Commentary and no one knows what's going on. They say weather is a factor and the lights will flicker throughout the match.
Before the bell, MVP says he's the real US Champion when Apollo didn't make their match at Extreme Rules. He says that after he wins, Apollo can hang with Cedric Alexander and Ricochet in catering.
Apollo wins via pinfall after a Toss Powerbomb
After the bell, Lashley went for the Full Nelson but Apollo escapes with both US Championships
When he goes to the back, Charlie Caruso interviews Apollo and he says he's the rightful US Champion. He says that Bobby Lashley's power is unlike anything he's ever seen. Lashley put him on the shelf, but it was hard to sit at home and watch MVP talk a bunch of trash to him. He thanks MVP for paying for his new title.
MVP grabs the mic and yells at the commentary team because he blames the flickering lights for his loss. He says Apollo didn't show up at Extreme Rules and now he stole his US Championship. MVP wants his rematch. Shelton Benjamin talks in MVP's ear and he says that he wants that rematch at SummerSlam.
Backstage Interview
Bayley and Sasha Banks are asked if they'll defend any or all of their titles at SummerSlam. Bayley says they brought something special for everyone.
They play a video package of last week's match for the RAW Women's Championship complete with a movie voiceover guy.
Asuka then cuts in and yells that "revenge is going to be sweet"
Sasha and Bayley get upset when Shayna Baszler interrupt. Shayna says that Sasha "snaked" her way to the women's championship. She says she's been waiting in line long enough for her chance. Shayna then punches Sasha and Bayley consoles her.
Backstage
Kevin Owens is walking backstage and is approached by The IIconics. They ask to be on the KO Show, but he says he already has a guest.
Kevin Owens Show
KO says that tonight will see the return of Shane McMahon and while he has a lot to say about that, that's not why he's out there. His mic drops out for a second. He brings out Ruby Riott as his guest
Owens asks why Ruby got emotional after her win over Peyton Royce. Ruby says that it's no secret that she's had a hard time since returning from injury, and she finally got to shut up Peyton. She wishes Liv Morgan was there to celebrate with her.
Kevin Owens says that speaking of Liv Morgan, he brings her out.
Liv Morgan gets on the mic and says that Kevin convinced her to come here to hear what Ruby has to say. KO says that he saw them when they and Sarah Logan came up and they are all great. He says that they bring the best out of each other.
Ruby says that when she came back she thought everything would be the same. She says this place and Liv was different. Liv coming into her own made Ruby feel like she didn't need her and after she beat her twice that was affirmed. She took it out on Liv and she's sorry. She wants the Riott Squad to be stronger than before.
The IIConics interrupt and Peyton says that people are sick of them and their story. Peyton and Billie say that they are better than Ruby and Liv.
Liv says that she and Ruby are not friends like The IIConics, but there is one thing that is undeniable and that's no one starts a riot like them. They say they'll have a match anytime anyplace. The IIConics don't give an answer when KO interrupts them, causing Peyton and Billie Kay to smack KO. He asks Ruby and Liv for help. The Riott Squad jump The IIConics.
Riott Squad vs The IIConics
Liv pins Billie Kay after a roll up
Peyton Royce immediately jumps Liv and Ruby comes in for the save. The segment ends with Ruby and Liv hitting Billie with a tag team move.
Backstage
Charlie Caruso informs everyone that a giant box was pushed over by someone, the same people who may be messing with the audio and lights
MVP comes out and talks about there are more pressing matters. Charlie informs MVP that Apollo has accepted his challenge. Shelton Benjamin comes out and says that someone stole his 24/7 Championship
Drew McIntyre Promo
McIntyre says he learned his lesson from last week. He says that a while ago Randy Orton was a young superstar, but their similarities end. He says that when he was younger he got fired, but when Orton was younger he got Evolution all because of his father and his legacy.
Orton comes out with Ric Flair. Orton says that he was always the chosen one, then now and forever.
McIntyre says that Orton never used his status to pass down knowledge to the next generation. He says that Orton isn't someone who the guys in the back respect, he calls him a prick. Drew McIntyre says that he has receipts from current and past superstars and he'll cash them at SummerSlam.
Backstage
Ric Flair approaches KO and the Riott Squad. He talks to KO alone and says that he can be better than this. Owens says that he's done a lot of crappy things in his career and now he just wants to take a different path. He wants people to look up to him.
He wants to be Randy Orton, if Orton wanted to be that way.
Flair says that he should take his advice. KO says that he'll show Flair what he means when he takes on Randy Orton next week.
Nia Jax Promo
Nia shows a recap of last week's events. Nia says that anyone who steps to her, it's her responsibility to back up. She turns to Pat Buck and challenges him to a match instead of an apology.
Buck gets on the mic and suspends Nia indefinitely without pay.
Nia, upset, headbutts Buck and kicks him out of the ring. She storms to the back.
R-Truth runs to the ring with the 24/7 Championship and is chased by Akira Tozawa and the ninjas. Shelton Benjamin comes out, but Truth gets away.
Shelton Benjamin (c) vs Akira Tozawa vs R-Truth - 24/7 Championship Match
Tozawa pins Truth after a Senton Bomb
The finish was set up when Tozawa's ninjas distract Benjamin and the rest of "Hurt Business."
RAW Underground
Shane McMahon is shown backstage with a bunch of fighters. He introduces RAW Underground, which will be shown at 10pm.
Dominik Interview
Backstage, Dominik says that it may look crazy to fight Seth Rollins. He had to witness his father be brutalized so it makes sense for him to want to keep fighting Rollins. And he challenges him to a match at SummerSlam
Shayna Baszler vs Sasha Banks (with Bayley)
The match is thrown out when Asuka comes out to attack Bayley who is not in the match.
Asuka Interview
Asuka is interviewed in the ring. A recap of last night's title match is shown.
Asuka says that Kairi will be ok, but she's not here anymore. Sasha, Bayley and herself are still here and she wants her rematch for the RAW Women's Championship at SummerSlam.
Shayna Baszler comes out and says that she's rooting for Asuka because she wants to take the RAW Women's Championship off of her.
Sasha and Bayley come back out. Sasha says she has a message for both women. She'll give Asuka her rematch if she can beat Bayley next week. Bayley looks annoyed.
Backstage
Angel Garza is flirting with Debby backstage. Andrade comes up with Zelina Vega who says she needs to talk to him.
RAW Underground
Shane McMahon introduces RAW Underground and Dabba-Kato, the former Babatunde. He makes quick work of two fighters as he slams them onto a rope-less ring and continues striking until Shane stops the fight.
There's also dancers
Angelo Dawkins vs Angel Garza
Before the match, the Street Profits talk about Garza's new friend Demi from the Bachelor.
But the duo get serious and say that once they attack their brother they will pay and they want the smoke.
Garza wins via a dropkick to Dawkins head
The finish was set up when Montez Ford bowled over, which distracted Angelo. Before the match began, Ford looked into his cup after he drank from it like it tasted weird.
Montez Ford vs Andrade
The match is thrown out when Ford passes out all of a sudden. Medics come in and tend to Ford
Backstage
Murphy watches the replay of him hitting Aleister Black's eye onto the metal steps when Seth Rollins says that he did good last week.
Murphy asks if Seth will take Dominik's challenge. Murphy runs down Dominik and how he has never been in a ring. Seth doesn't answer, he just smirks before walking away.
RAW Underground
Back in the underground, Erik from the Viking Raiders destroys a fighter.
Backstage
Charlie Caruso is outside the trainer's office waiting for an update on Montez Ford. Angel Garza comes up and says that everyone will be fine and gives Charlie a rose
Zelina Vega shows up with Andrade and hopes Montez Ford is ok, but
Angelo Dawkins comes out and says that Ford was poisoned. Bianca Belair comes out and says that someone poisoned her husband and she wants to know who did it. Zelina denies doing anything, but Bianca jumps her and the men pull them apart.
Outside
Commentary shows video captured from earlier in the night that shows people dressed in black throwing molotov cocktails at what looks to be a power generator before running off.
Backstage
Hurt Business is approached by Charlie. She recaps their struggles tonight, but MVP interrupts and says that everything that happened tonight was sabotage.
Shelton Benjamin says that it isn't a coincidence that this is happening when the RAW Underground shows up. MVP says that he knows what they have to do.
Seth Rollins Promo
After a lengthy recap of the Mysterio/Rollins feud, Seth comes out and calls out Tom Phillips. He asks Tom if he is a professional, unbiased journalist. He asks if Tom takes pride in his job.
Seth says that Tom was inciting Dominik's rage and that his voice matters. He instructs Murphy to take Tom so he can find a new voice of RAW. Samoa Joe gets in between Murphy and Tom. Joe tells Seth to get back in the ring. Rollins tells Joe to get in the ring.
Murphy and Seth are in the ring with chairs when Joe is about to get in when Dominik comes up from behind and hits them with a kendo stick.
Rollins at the top of the ramp accepts Dominik's challenge at SummerSlam.
RAW Underground
Dolph Ziggler submits a fighter
The Hurt Business shows up and MVP says that they are in control of RAW Underground now. Bobby Lashley takes out one fighter, while MVP and Shelton Benjamin take out their own fighters. The Hurt Business start fighting the bystanders and Shane says that they can come around any time they want.