WWE 'Monday Night RAW' Results: Will Sasha Banks Defeat Asuka Tonight?
Tonight's Monday Night RAW looks to have major SummerSlam implications.
The July 27 episode of WWE's flagship show will see one title match, a number one contenders match, and some Extreme Rules rematches.
First, Sasha Banks will take on Asuka for the RAW Women's Championship. Banks "defeated" Asuka at Extreme Rules after Sasha's best friend Bayley acted as a referee and counted the pin when the actual official was incapacitated. Stephanie McMahon announced last week that the two will have a rematch tonight to determine who is the true RAW Women's Champion.
Stephanie also put a twist on tonight's stipulation. The title can be lost by disqualification, which may keep Bayley at bay during the match.
WWE Champion Drew McIntyre will take on Dolph Ziggler tonight in another Extreme Rules rematch. What was originally a WWE Championship opportunity has now turned into a non-title affair. Despite that, Ziggler will look to get one over on the champ but he'll have to overcome whatever stipulation McIntyre chooses tonight.
This year's SummerSlam will go down in late August, and the RAW Tag Team Champions, The Street Profits, will see who their opponent is tonight. The Viking Raiders, Andrade and Angel Garza, and Ricochet and Cedric Alexander will square off in a triple threat match to determine the number one contender. Who will Montez Ford and Angelo Dawkins face at SummerSlam?
Randy Orton is scheduled to start tonight's Monday Night RAW with a message for the WWE Universe. After dispatching The Big Show last week, what's next for the "Legend Killer"?
Here's everything that happened on the July 27 episode of Monday Night RAW.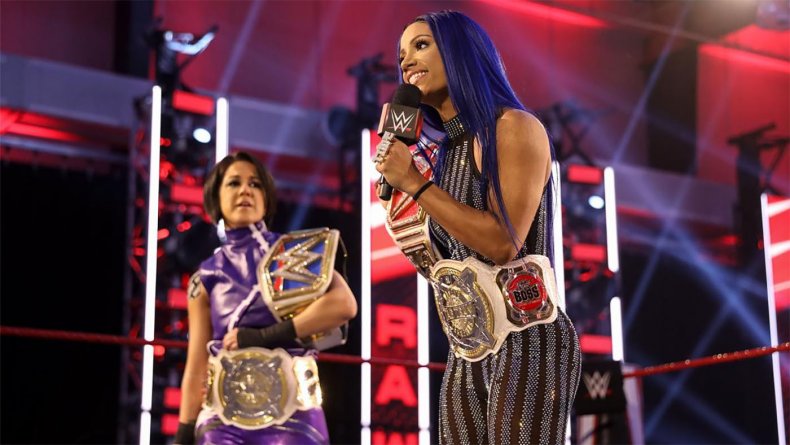 WWE MONDAY NIGHT RAW RESULTS
Randy Orton Promo
After a recap of Orton and Big Show's Unsanctioned Match from last week, Randy lists his accolades in the WWE.
He says that Stone Cold and The Rock can't hold a candle to his accomplishments. He says that he wants another title reign and that means going up against Drew McIntyre. Randy talks about how in the past McIntyre was so far up his own a$$ that he got fired, but he showed hustle to get back to the WWE. Randy says that Drew has his respect when he defeated Brock Lesnar in quick fashion at WrestleMania.
Randy says that he has a problem with Drew because he has what he wants. Orton says he wants a WWE Championship match at SummerSlam and when he RKOs him he will never see it coming.
Nia Jax Promo
Jax comes out as Randy goes to the back. She says that she never got her rematch for the RAW Women's Championship. And she understands that Sasha Banks has her match tonight, but she wants the winner of that match next.
Shayna Baszler interrupts and says no one cares what Nia wants. Jax punches Baszler and the two brawl before officials break them up.
Viking Raiders vs Ricochet and Cedric Alexander vs Angel Garza and Andrade (with Zelina Vega)
Street Profits come out as the ring announcers. They introduce all three teams and sit in on commentary.
Garza and Andrade jump the Viking Raiders before the bell
Garza pins Cedric after a Wing Clipper
After the match, Garza and Andrade get in the Street Profits' face and they push them and lay them out.
Garza and Andrade are now the number one contender for the RAW Tag Team Championship.
Nia Jax vs Shayna Baszler
The two run at each other at the bell. The two fight onto the outside and both are counted out.
Security comes out after the bell, but both women take them out. Jax throws Shayna into the ring. Baszler takes out an official (not a referee) with the Kirufuda Clutch. Jax pushes the other into Shayna causing her to roll out.
Backstage
After a recap of Seth Rollins' and Rey Mysterio's feud, Rollins asks a concerned Murphy if he's with him. Murphy asks if he think Mysterio will be there tonight.
Rollins tells him not to worry because the greater good will move forward and to trust him.
Seth Rollins Promo
Rollins and Murphy come out and says that the Monday Night Messiah is on a roll and he should be happy, but he's not. He's not because Dominik Mysterio plans to confront him tonight. He says this is becoming a recurring theme that whenever he takes a step forward something brings him back.
He says that the last time he had to get violent but tonight will be different. He has a soft spot for the Mysterio family. Rollins asks Dominik to come to the ring and confront him face-to-face to talk things out.
Dominick comes out and slowly gets in the ring. Rollins says that he's here for Dominick and if he needs guidance he's there. Dominik takes Seth down, but Murphy pulls him up. The two start to brawl when Rollins hits Dominick from behind. The two beat down Mysterio's son and throw him against the barricade. Rollins screams "what's wrong with you and your whole family?"
Aleister Black comes in for the save with his arm in a light cast, but Rollins and Murphy eventually get the best of him. Segment ends with Rollins hitting the Stomp on Black on the outside. Rollins grabs Murphy and says that he needs to do what he has to do. He slaps Murphy who grabs Black and puts his eye on the corner of the steel steps.
Dominik hits Murphy and Rollins with a kendo stick and fends them off.
Backstage
R-Truth approaches Mustafa Ali backstage. Truth asks if Ali is going after the 24/7 Championship. Ali says no he has a match with Lashley later tonight. Truth says he's going to get his baby back and he has his eyes on Ali, who he calls "mufasa."
VIP Lounge
MVP says he went to celebrate his victory at Extreme Rules where he became the "real" US Champion. The night didn't go so well, but that's ok because he got to meet a young man. He wants to help him. MVP introduces Mustafa Ali as his guest
MVP says that if he's unsatisfied he can help. Ali says that he's happy that he's back on RAW and that he has the opportunity to climb the ladder and become a "real" champion.
MVP calls Ali a talented individual and everything Mustafa wants he can make happen with the right decisions and hanging with the right people. Ali says that it won't work for him and he thinks for himself. MVP says he can stay a chump or be a winner with him.
Ali says no when R-Truth tackles Shelton Benjamin and tries to pin him, but Benjamin kicks out. Truth is surrounding and he runs away.
Mustafa Ali vs Bobby Lashley (with MVP and Benjamin)
During the match, Akira Tozawa tries to pin Benjamin but he kicks out. Benjamin throws Tozawa and Akira's ninjas come out one by one but are destroyed by the Hurt Business.
Lashley wins via submission after a Full Nelson.
The match was very competitive with Ali reversing numerous finishers
Backstage
Ziggler is asked if he knows McIntyre's stipulation. Dolph says no, but Randy Orton can wait. He's going to beat Drew tonight and go on to win the WWE Championship at SummerSlam.
Sasha Banks (with Bayley) vs Asuka (with Kairi Sane) - RAW Women's Championship Match
The title can change via DQ or count out
Before the match, Sasha says there's no bigger bully than Stephanie McMahon because she's forcing her to defend her RAW Women's Championship. She says Stephanie is jealous of Sasha and Bayley not because they hold all the gold but they run the company
Bayley says they are the show on every show in WWE. They lead by example and stand against injustice, which is why Bayley had to run in and check on the referee and she did what any role model would have done. Banks says that they set out to capture all the gold and they did and tonight they'll put an end to any doubt when Banks taps out Asuka.
Before the match, Kairi Sane runs off Bayley
Sasha Banks wins via count out
The finish was set up when Bayley beating up Kairi Sane in the back is shown on the titantron. Asuka, having Sasha beat, had to make a choice and chooses to save Kairi getting herself counted out
Backstage
Charlie Caruso is outside the trainer's office waiting for an update on Kairi Sane when Sasha and Bayley come in to celebrate having all the titles.
Asuka comes out when the champs walk away. She's asked about Kairi, and Asuka starts yelling in Japanese.
Murphy vs Humberto Carrillo
Murphy wins via pinfall after Murphy's Law
Drew McIntyre vs Dolph Ziggler
Before the match, Drew makes the match between Randy Orton and himself at SummerSlam official. McIntyre says that he won't pretend to have the pedigree he does because no one does. He calls Orton is the biggest threat to his championship, and while everyone thinks Drew is the underdog he hopes Randy thinks so because he wants him to underestimate him. Orton will see the Claymore coming.
Dolph Ziggler interrupts just before McIntyre announces the stipulation. Drew makes the match an Extreme Rules match and hits Ziggler with the mic before commercial.
McIntyre wins via pinfall after a Claymore through a table in the corner
After the bell, Orton hits McIntyre with an RKO out of nowhere. Orton picks up the WWE Championship and holds it over him.